By nancy2001

Welcome to another installment of "In Stitches", the new PR humor column!

We've all had them happen...funny sewing incidents.

Maybe your first pair of pants looked like something a clown might wear. Maybe you cut out a dress without realizing that those big circles might look like bulls-eye targets. Maybe you had the sewing day from hell.

In this month's column, nancy2001 shares her experience with DH and the Bernina 1008, a tool that was NOT the machine of her dreams.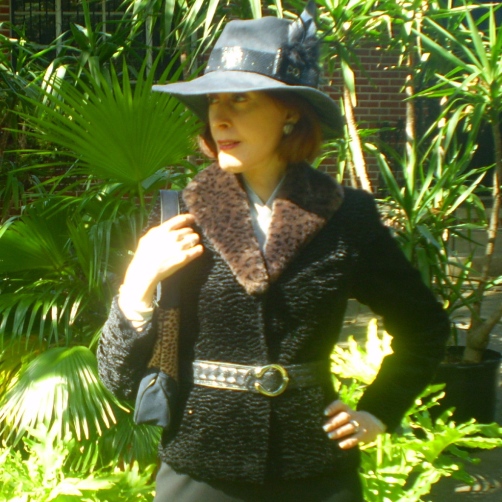 nancy2001 models her Self Drafted Pattern: 45793-1012.
She didn't sew it on a Bernina 1008!

Several years ago when I was learning to sew, my husband bought me a manual Bernina 1008, the very same machine the high schools used -- just before they kicked sewing off the curriculum for good. The 1008 was a trade-in for my very first machine, a three-week-old computerized Bernette that was fun to use but lacked oomph.

The 1008 cost an extra $400, which my husband eagerly paid because he was impressed by its "reliable, Swiss-made workhorse" review in Consumer Reports. The 1008 was exactly the type of no-frills product Consumer Reports loves. If the 1008 morphed into a human being, it would be Ralph Nader -- crunching granola in a twenty-year-old suit, eager to spoil the fun -- and one more presidential race.

As soon as I brought the 1008 home, I knew I'd made a mistake. Gone were the Bernette's automatic needle threader and all those handy pushbuttons. In their place was a collection of 19th century mechanical levers set in a hunk of cold, hard metal straight out of Charles Dickens. The two-hand contortions required to sew a reverse stitch were beyond me. But I thought I might master the six-step manual buttonhole -- all I had to do was chain myself to the sewing chair and practice it ten thousand times.

Nothing was technically wrong with the 1008, but every time I used it, I felt deprived. Millions of women were happily stitching away on sleek, computerized models and turning out flawless keyhole button holes with pushbutton ease. Yet here I was -- struggling with the handwheel and manually threading needles with a magnifying glass. Surely, I'd been cast back into the Stone Age with nothing but an awl and a wooly mammoth hide.

I racked my brain when inspiration struck -- I would create a "disinformation campaign" designed to turn my husband against the Bernina. I waited until my husband was in a particularly good mood and then channeling Lucy Ricardo I asked him, "Did you know the 1008 wasn't assembled in a Swiss factory but thousands of miles away? And that solid-metal body just refers to the machine's exterior. Most of the interior parts are actually made of...," I paused for emphasis, "plastic."

Of course, whenever there was a problem - no matter how trivial - a burned-out light bulb, a broken needle, or even a thread nest, I brought it to my husband's attention, careful to hide my glee. And then there were all those totebag projects I made with half-a-dozen layers of the heaviest canvas I could find just to prove the "reliable, old workhorse" couldn't handle them.

After a few weeks the message finally sank in. My husband no longer believed the 1008 was a miracle of Swiss engineering -- but a lemon like Ralph Nader's Corvair. And I began to search for the perfect computerized sewing machine -- a high-end, gently-used Viking.

Dear Reader, I had it by Christmas.


Read nancy2001's sewing machine reviews.

Read nancy2001's pattern reviews.

Read November 2011's "In Stitches": Polyester Plus Hot Iron Equals Molten Goodness.

Do you have a funny sewing story for In Stitches? We'd like to hear about it in your own words. Send your stories to

[email protected]

. Stories should be between 350 and 500 words in length. Include your real name and PR name, and attach pictures relating to the story.

If we select your story to be published, you'll receive a Friends of PatternReview membership (or an extension to your current membership).