Remember all the fabric you bought at last year's PR Weekend? And the PR Weekend before that? You intended to make lots of great things with it, but somehow that never happened...

...until this Fabric Stash Contest came along!

The objective of this contest was to reduce the size of your fabric stash significantly in one month! This contest was a great motivator to use your 6 month old or older fabric in making all kinds of usable sewn items: clothing, accessories, home dec, things for pets. There were some rules you had to follow, though.

For example, you couldn't use more than 5 yards in any sewn item. You could make muslins before the contest and pre-wash the fabric, but you couldn't actually cut out or sew the fabric before the start date of the contest. See more of the rules here.

The winners were determined by points. Contestants were awarded points based on the total yards sewn up during the contest. Each yard sewn earned the participant one point.

There were 158 participants in this contest...all eager to make that stash disappear! They made a total of 893 projects and sewed a whopping 1043.40 yards. Wow! That's a lot of fabric! (Almost 9 football fields' worth, if the Super Bowl is on your mind these days...)

Curious about what projects they completed? Check out the gallery.

Now it's time to announce the winners! It was a close run for second place. Just under 1.5 yards separated the second and third place winners.



First Prize (By Points):
racehorse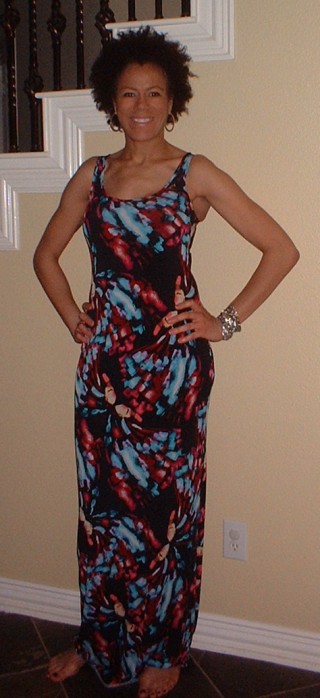 Pictured at left: racehorse wearing Jamie Christina: The Mission Maxi



racehorse accomplished the following in this contest: 82 points, 46 projects and 82.765 yards sewn. She made tops, pants, dresses, pillow covers, grocery bags, kids' clothes, toddlers' clothes, swimwear, loungewear and skirts. Busy lady!

She is pictured wearing the Jamie Christina: The Mission Maxi, a dress that she had made before this contest and sewed multiple times specifically for this contest.

She rated this pattern "easy and great for beginners" and finds it very flattering on her. Because she likes wearing her dresses long, she lengthened it by 10 inches (way to use up that stash!). She sewed it in a rayon-lycra from Emma One Sock.

She calls it "[A] great pattern, a real winner" and highly recommends it.

Here are some of the comments members made on her review:

annie11: "Gorgeous dresses. I love your fabric choices."
SewWil: "Love, love, love these dresses!!!"
no7262: "Love it! I have made 3 for myself and will most likely make more this summer."

Sounds like a "must-sew"!

Congratulations, racehorse!

Second Prize:
Sarah Sew and Sew for 58 Points, 30 Projects and 58.125 yards sewn.

Congratulations, Sarah Sew and Sew!




And congratulations to all our contestants for entering the contest and reducing your fabric stash!

We thank Patterns From the Past for sponsoring this contest.




We thank PR member Aroura for managing this contest.

Discuss the contest.

Look at the contest rules.

Look at the contest statistics.

Look at all the contest entries

Never entered a contest before? It's easy! Our contest tutorial will show you how to enter.

Check out the current contests.

Check out the 2012 contests.