Whether it's the thrill of converting a flat piece of fabric to a wearable 3-dimensional garment, or it's addressing those imperfections in our bodies (one leg shorter than the other - raising hands here!), one thing is certain. We all want to wear beautiful clothes which fit us like a dream. Fitting is an ongoing process and just like everything else in life, perfection is not easy to achieve. Which is why I was so excited when I found out that our very own fit expert, Sarah Veblen has a new book out - The Complete Photo Guide to PERFECT FITTING!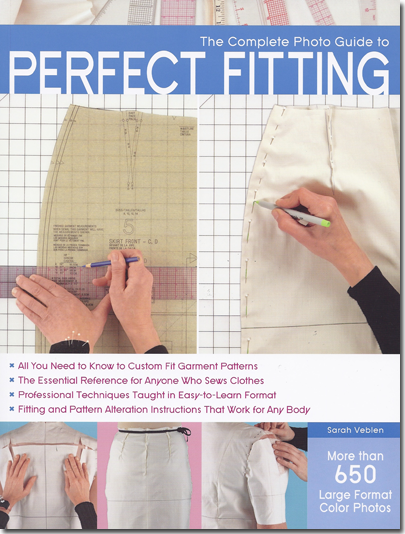 We've been reading this book for weeks now, and here are our reviews.

- Deepika
My first thought when I opened the book - this is like a textbook. Which is a good thing if you're serious about fitting. A little intimidating if you're just starting out, which is why I wouldn't recommend this book to a beginner but if you're like me and want to address and solve fitting issues in patterns, I highly recommend this book.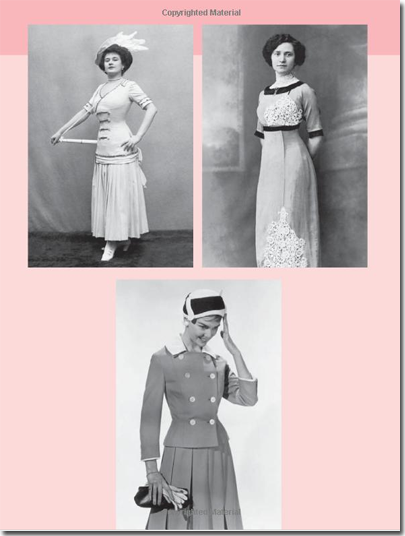 Sarah starts with fundamentals of fitting and how fashions and fit have changed over the years. Commercial pattern size charts and symbols are also discussed in the introduction which are very helpful.

If you're not willing to make muslins (test garment) to learn from this book, walk away now
However, if you let her, Sarah teaches you the fundamentals of fitting muslins and goes on to fundamentals of alterating paper patterns.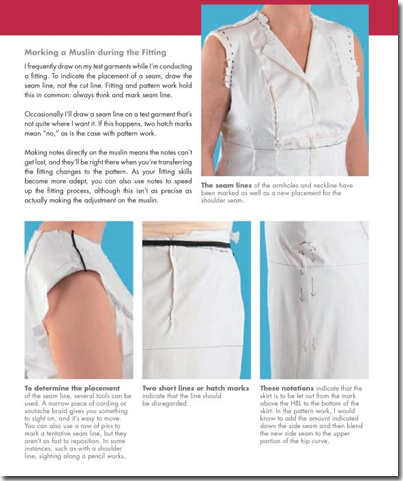 Fitting and Pattern Alteration are addressed separately, which is very different from what most of us are used to. But if you think about it, it totally makes sense. Most of the fitting is explained on unbleached muslin on a sample body with wedges, pinned darts and such. Once the problem has been identified, Sarah talks about how making one change can affect other areas of the garment.

Impatient that I am, I looked up some of the alterations which I need most. I was pleasantly surprised to see that the fitting chapters are grouped not only by body type but also by garment type. How helpful! I learned that not only do I need a big closed wedge in the back, I need to follow it up with a dart in the front. This was news to me! I cannot wait to try this alteration on my next project. Thank you Sarah!

And because Sarah is so generous with her knowledge, she also talks about using style lines to create pleasing proportions in garments.

The book is beautifully edited with easy-to-read font styles and color coded chapters. I highly recommend this book to anyone who is serious about FIT. You will not be disappointed.

Diane Severin:

Of all the aspects of sewing, fitting is the one I dread most.

I would love for every commercial pattern to come out of the envelope suited perfectly to my body. Unfortunately, that will only happen in the world of fantasy!

So...fitting is a necessary evil. And it seems so daunting, unless you have a system for attacking it and a good instructor who can show you the whys and wherefores.

That's why I found Sarah Veblen's The Complete Photo Guide to Perfect Fitting so interesting.

Early on in the book, Sarah gets to the crux of the problem: "Since no two bodies are the same, fitting requires individualized problem solving."

We don't all have the same body issues: right shoulder higher than the left, the left shoulder higher than the right, the full bust, the small bust, the pear shape, the apple shape, the pencil shape (some of us wish!), but we can all made adjustments to a pattern to make a garment look more like it does on the pattern envelope and not some parody of it. Sadly, there is no airbrushing in real life!

With this book, Sarah strives to give "a methodology that will help you interpret specific fitting examples, and then apply the information to your own fitting issues..."

Among the many topics in this book, Sarah discusses taking your measurements, creating muslins to test the design, transferring the changes to flat patterns, and making adjustments to the pattern.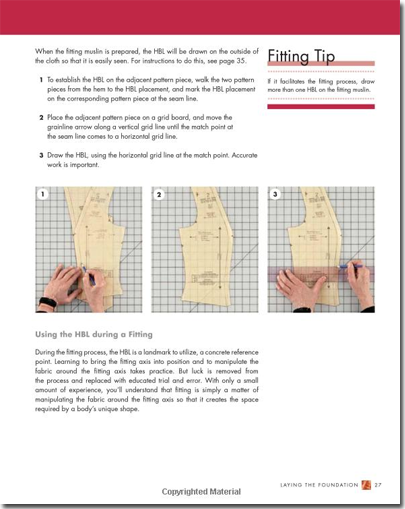 This book solves many problems that you thought you had to live with: that shirt front hem that bows up, that shirt back waist that creases, that bodice front that's tight, that sleeve that pulls in a funny way and how about those crinkle lines that form around the crotch. Sarah gives you solutions to them all, accompanied by illustrative photos.

Speaking of the photos, there are many of them (650!), and they capture the problems well. Each photo is sequentially numbered to illustrate the text that describes it.

One thing occurred to me in reading this book. How do you fit yourself? Sarah recommends having a "fitting buddy". In this way, you can fit garments on each other and put your heads together to solve fitting issues. (And it takes the pressure off your having to problem-solve all the fitting details on your own.)

At 224 pages long, this book is not light reading but is a good one for the sewist who is seriously interested in fitting.

And I'm a little less intimidated by fitting now that I know that there's a good book to help me through it.

Noelle MacMahon:

Sarah Veblen's new book, The Complete Photo Guide to Perfect Fitting reads like a text book - it is very dense and very detailed. As an occasional sewist with no patience and a love of unstructured garments, this book is far beyond my abilities or inclination. However, if you are interested in finding the perfect fit for your exact body measurements, this is the book for you.

Sarah has designed this as a visual step-by-step guide to fitting so that you can see in great detail exactly what is happening with each adjustment. For the visual learner, this is a great feature. The photographs are really instrumental in explaining the process of adjusting a garment for fit from every step along the way.

There are three main chapters, with a series of sections within each chapter so if you want to skip around to a specific fitting topic you may do that. Sarah covers literally everything from how to see the body as a volume, to scaling patterns up and down.

I am sure this book will become an invaluable addition to many sewists' home libraries.

Win a free copy of this book!

We have a signed copy of this book which we'll give to one lucky winner who posts her or his fitting challenges here on this blog posting. We will announce the winner on February 10th. Good luck!

Don't want to wait? Buy your copy from Amazon.com