We have a giveaway to announce!

Reply to this blog entry with your favorite sewing notion and be entered in a drawing to win a set of the Original "How Much Fabric?" Reference Cards. In your reply, we'll need you to tell us if you're from the U.S. or outside the U.S., and here's why...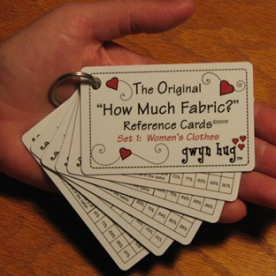 Post your favorite notion and your country here and you could win these handy cards!



Donated by gwynhug.com, a U.S. set of these cards will go to 2 winners in the U.S., and a set of metric cards will go to 2 winners outside the U.S.

Each winner will be able to choose one set from this list: a) women's, (b) women's plus sizes, (c) men's, (d) baby & toddler, and (e) children).

These cards are one of those handy notions a sewist dreams of...

These reference cards will help you estimate how much fabric you'll need to buy, without a pattern in hand, as accurately as possible, by providing tables that summarize actual fabric requirements from real patterns, broken down by outfit size and fabric width.

More than 3,000 patterns were used to build the tables, including patterns from Simplicity, McCalls, Butterick, Vogue, Burda, Neue Mode, Kwik Sew, Hot Patterns, & New Look.

You can read more about these card sets at www.gwynhug.com.

So post your favorite notion and your country of residence now, so we can enter you in the drawing! We will announce the winner on February 12th, so post soon!

Thank you, gwynhug.com, for donating this giveaway!