Jeans are a "must-have" part of every person's wardrobe.

But how many of us dare to make them?

87 brave souls accepted the challenge to make a pair of jeans for themselves or someone else. The contest rules defined jeans as "trousers made out of denim." The denim could be "stretchy", but couldn't contain more than 10% lycra. And, the fabric could be any color denim.

The entries could be of any style - traditional five-pocket jeans, skinny jeans, slouchy jeans, or trouser jeans - but the rules advised that the way to stand out in this contest was to focus on quality of sewing and special details. Read more of the rules here.

Didn't all the jeans come out great?

By far, the favorite pattern for this contest was Jalie 2908. Many contestants opted to draft their own patterns too!

The contest committee provided a link to a posting of jeans tips and tricks (written by cabinbaby) to help the contestants create the jeans of their dreams.

Members selected the first and second place winners by vote.

And here they are!



First Prize (By Member Vote):
sfshaza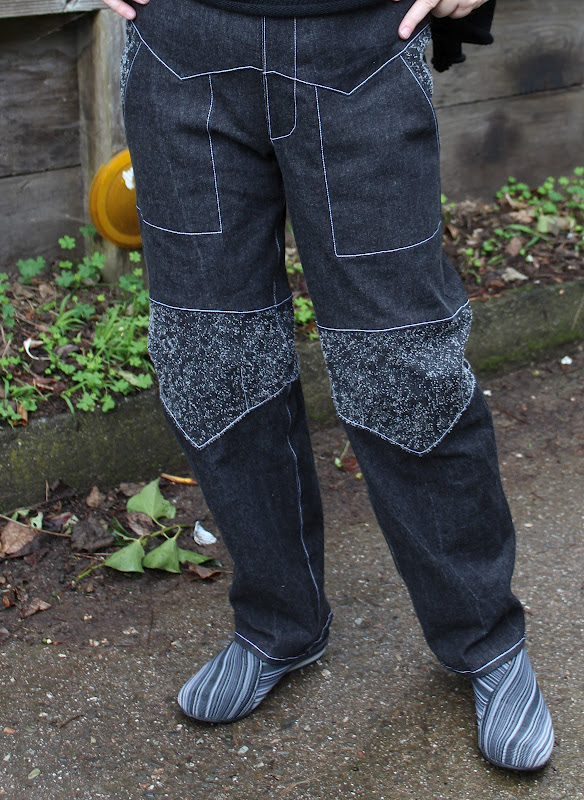 Pictured at left: sfshaza wearing Au Bonheur des Petites Mains: 0134152 Pantalon droit avec découpes



This is the third time that sfshaza has sewn this pants pattern. Because the instructions were in French, she didn't use them. But practice makes perfect! The first time she made the pattern in black ponte but did not like how the vertical front pocket gaped.

The second time, she made the pattern using an indigo stretch denim and navy thread for top-stitching. She changed the angle of the front pockets and liked it much better.

The contest version benefited from previous two projects. She used black cotton/lycra denim and white top-stitching thread. She changed the design of the front and back pockets and changed the fly to a faux fly front and an elastic waist. She created the contrasting fabric by running the denim through her embellishing machine and added a back pocket of her own design.

She loves the funky styling and comfort of these jeans and would definitely recommend this pattern to others.

Here are some of the comments members made on her review:

HawkeMorningStar7: "These are way cool looking jeans, very interesting design details, love all your topstitching and self made fabric contrasts."
DorothyK: "These pants are fabulous. I love all the versions. Love the faux fly."
mhoutz: "Fabulous...and oh so funky! Love the black and white contrast."

Congratulations, sfshaza!

Second Prize (By Member Vote):
poppykettle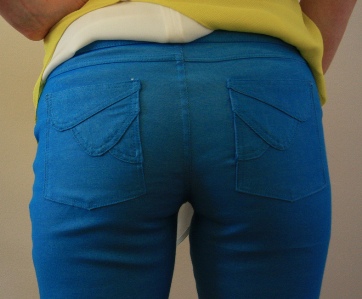 Pictured at left: poppykettle wearing Vogue Patterns 8774 Misses' Jeans



When poppykettle sewed this Vogue 8774 pattern, she was sewing her first pair of pants. She used turquoise cotton twill denim as a fabric. She followed instructions to the letter but made some adjustments, based on the size chart and on how she likes her jeans to fit (like a glove!). She found the instructions pretty good (except for the section on inserting the zipper) and wished that she had found Sandra Betzina's video on inserting a flat front fly zipper before she had cut out the fabric.

She likes the leg cut and the drop-waist. She was disappointed in the lack of instructions for flat-felled seams, especially considering that it is a Vogue pattern. Although she made a lot of changes to the pattern, she still recommends it. She plans on trying other jeans patterns to see how they compare.

Congratulations, poppykettle!




And congratulations to all our contestants for entering the contest and creating jeans!!

We thank Fashion Fabrics Club for sponsoring this contest.




We thank PR member treefrog for managing this contest.

Discuss the contest.

Look at the contest rules.

Look at the contest statistics.

Look at all the contest entries

Never entered a contest before? It's easy! Our contest tutorial will show you how to enter.

Check out the current contests.

Check out the 2012 contests.