We spend so much time on PatternReview writing about women's garments that we forget about sewing for the menfolk!

This contest was an opportunity to highlight sewing menswear. For this challenge, contestants had to sew something substantial - pants, shirt, coats - for a man over the age of 18 who would also be willing to pose for a photograph wearing said menswear. The rules stated "No accessories allowed!" (Sorry, ties!)

There were 21 participants in this 2-week contest. See what they sewed! As you can tell, shirts were the most popular garments entered in this contest.

First and second place winners were decided by member vote. And there was a tie for 2nd place! Let's meet these contestants now!



First Prize (By Member Vote):
treefrog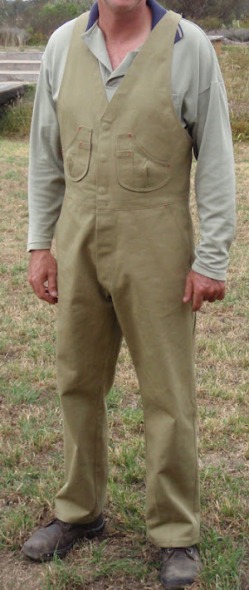 Pictured at left: treefrog\'s DH wearing "Drafted from RTW: Overalls"



treefrog's DH had been asking her to make him a new pair of overalls for a year. This contest came as the perfect motivation. He liked the design of his RTW pair, so she used them as a model.

When she started working on the overalls, the most inconvenient thing happened...her machine broke! The repairman said it wasn't worth fixing (too expensive), but DH saved the day! He made a couple of quick fixes and had the machine working in no time.

She made the overalls from heavy tightly woven cotton drill treated for fire-resistance and used hearts and crosses quilting fabric for the pocket lining. She was able to get the same fabric as the original pair of overalls from mill where the overalls were made. She washed the fabric four times in cold water to preserve the flame-retardant and to shrink them.

She dismantled the original pair, taking lots of photos. DH wanted some features added, and she made some improvements on the original design.

The net result was that the overalls turned out very similar to the original, and (big bonus!) DH loved them! He has already christened them in a project rebuilding huts in the Australian High Country.

Here are some of the comments members made on her review:

Mary Stiefer: "These look fabulous - OMG - I'm sure he will get lots of use from them. You have more patience than I do - Well done."
21wale: "Wow, these are amazing with so many excellent details and a good fit. How great you were able to find the right fabric, too. My husband has been hinting for me to make him coveralls. He think it'd be easy to draft a pattern. hahahaha"
jannw: "Wonderful!! Such a fantastic job!! love the little red bar tacks...and all the other improvements. Did you tell him he is not allowed to put holes in them? A suitable reward for fixing the machine."

Congratulations, treefrog!

Tie for Second Prize (By Member Vote):
CMae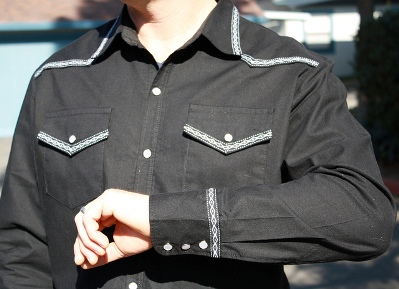 Pictured at left: CMae's DH wearing McCall's 6044 Men's Shirts



CMae made McCall's 6044 for her DH. She used a medium weight 100% cotton, a contrast fabric for the inside of the neckband and cuffs and pearl snaps for an authentic Western look.

When cutting out the pattern, she added a bit of length to the cuffs because she wanted them to accommodate three snaps rather than just two.

She found the instructions easy to follow, far less technical than for a woman's shirt!

If she makes this pattern again, she will try using a standard shirt weight cotton, because adding the yoke pieces to the front and back of the shirt makes it a bit thick. And, she will add a bit more room across the back to give DH a bit more reaching room.

Her conclusion: "Easy to construct men's shirt. This is a great go to basic pattern for a man's shirt. Went together nicely and the finished product looks like ready to wear!"

Congratulations, CMae!

Tie for Second Prize (By Member Vote):
allycovey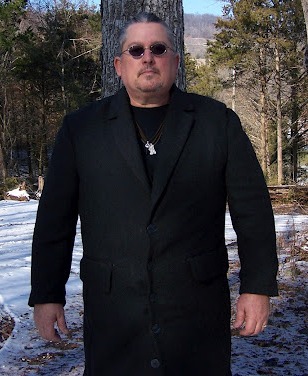 Pictured at right: allycovey's DH wearing Burda 8186 Men's Suit



allycovey's DH loves blazers like this one that she made from Burda 8186. So of course she had to make it for this contest! She chose a wool with a herringbone weave. She was a little nervous that she wouldn't have enough fabric, so, as she says, "[I] somehow ended up with 9 yards of the stuff" and, as a result, will also make something nice for herself.

She found the instructions difficult, even for a Burda pattern and says that each time she makes it, she understands more about the pattern. It is not for beginners, she states.

She had to make some adjustments in the shoulders and the abdomen (don't tell dieting DH, she asks) but says that the darts and extra seams contour the form of the jacket and make the jacket look very nice on him.

One wrinkle popped up in the process. Her lhaso apso thought the pattern paper was for playtime, so allycovey had to recreate it. Poor doggy is now barred from the sewing room.

She loves this pattern and will sew it again.

Congratulations, allycovey!




And congratulations to all our contestants for their wonderful menswear entries!

We thank Threads for sponsoring this contest.




We thank PR member mrsbewley for managing this contest.

Discuss the contest.

Look at the contest rules.

Look at the contest statistics.

Look at all the contest entries

Never entered a contest before? It's easy! Our contest tutorial will show you how to enter.

Check out the current contests.

Check out the 2012 contests.