Well, it's editorial review time again. This month we're reviewing Kay Whitt's Sew Serendipity: Fresh and Pretty Designs to Make and Wear.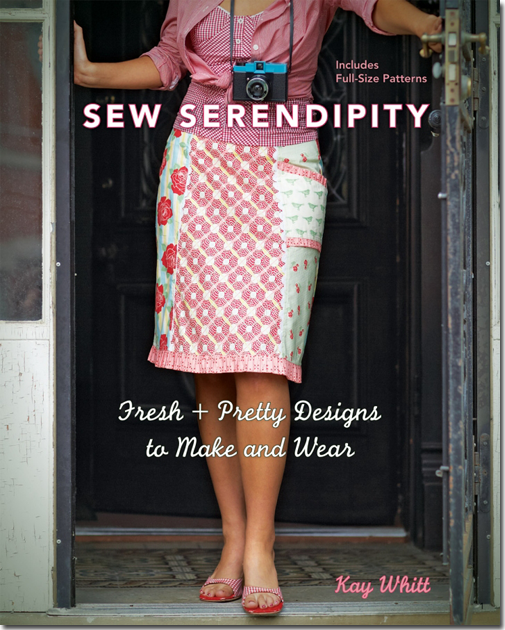 Here are our reviews.

Deepika:

"Fresh and Pretty Designs to Make and Wear." The book's title is completely justified. Beautiful fabrics are showcased in projects throughout providing tons of inspiration and design ideas. This is a pattern book with 3 full multi-sized patterns ranging from XXS - XXL and bust sizes (32" - 44"). A great investment in my opinion.

The book begins with an introduction to garment-making and fitting tips. The author encourages the reader to spend the time making and tweaking the muslin for each of her patterns. This is a good idea because once you have the pattern which fits you, there are tons of variations in this book to make lots of garments from the same pattern. There are three master patterns - a Skirt, a Tunic and a Jacket. All of these patterns can be altered to make dresses, tops and tunics as well.

The chapter on jackets itself is worth purchasing this book for! The jackets are beautifully designed and will work for a lot of different body types.

The first few chapters focus on Tools and Sewing Techniques which will be really helpful to sewers of all skill levels. Since ruffles are used in almost all the patterns, there are detailed instructions on how to make them manually or by using a ruffler attachment. The directions were so good that I decided to buy the ruffler attachment!

The pattern chapters are like mini sewing guides. There is construction order for each type of pattern and then there are ideas to "Make it your own". The author has also included her inspiration sketches throughout the book which gave me an insight into her design process. Very cool!

Probably the most useful feature in this book for me was the use of coordinating cotton prints in one pattern. Example: Three fabric skirt. As a garment sewer who sews primarily with knit fabrics, this was really helpful for me and put a completely different spin on projects. There are so many lovely cotton prints available to us these days and this book has projects to please everyone.

My only minor dislike about this book is the quality of the print and the pages. The print is a little hard on the eye because of the paper. It's lighter in weight than most books and is matte. I was expecting a little thicker paper, but then again it could have been to keep the costs lower.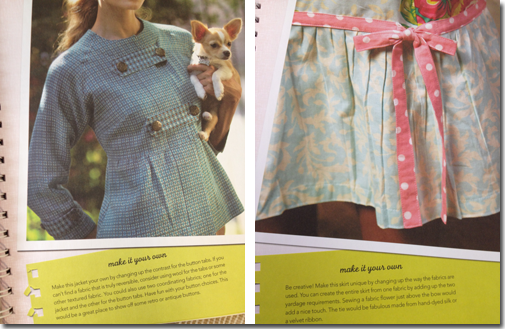 The book is spiral bound, which we love!

If you love girlie details like ruffles, gathers and rosettes, this is a must have book for you! If not, there are still tons of ideas in this book to create a complete wardrobe.

Diane Severin:

I had this immediate reaction to Kay Whitt's Sew Serendipity: Fresh + Pretty Designs to Make and Wear: these are contemporary styles in contemporary fabric with an old-fashioned flair. Some of the designs, like the Multi-Fabric Skirt, are like wearing a quilt (in a good way): they are pieced creations, complete with calico color-blocking. The fabric really makes these styles pop!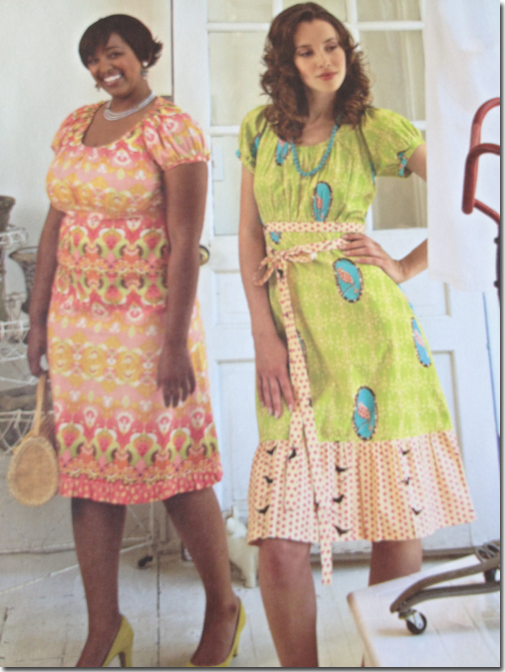 There is a brief introduction to adjusting fit in this 160-page book. Kay suggests making a muslin first...a good idea, since the piecing can make the process more challenging. She also outlines sewing machine techniques that are tailored to the garment styles in this book (where else can you see instruction on pressing intentional creases?). You also get instructions on topstitching, understitching and other techniques, a hint at what awaits you. Oh, and get out that ruffler attachment! There's a how-to on that as well.

The book is organized by project type: skirts, tunics and dresses and jackets. Some of the directions for these projects require careful reading, combined with examination of the project illustration. Maybe it is just me and not enough coffee, but I found the instructions to the skirt pocket project overly complex. I wish that the instructions were spaced out a little more and not massed in blocks. I also found the grainy shading on the project illustrations a bit distracting and would have liked solid pastels on these directions instead.

There are helpful tips here, like the one for working with silk. Never having worked with silk, I didn't realize that it has a tendency to fray. Kay's advice for sewing a silk ruffle strip is to serge the edge before gathering it or to use your machine's zigzag or overlock stitch.

I love the skirt and dress designs in this pattern book. Although ruffles, full and flat, dominate the designs, there are a few ruffle-less tunic patterns for those of you who think that top-tier ruffles may be too much for your body type. The jacket patterns are for the most part sleeker but still whimsical in design. Each is high-waisted.

Best of all, the book includes 3 basic tissue patterns from which you can make all 18 styles in the book. And the patterns cover sizes XXS to XXL (small and plus-size women thank you!).

These styles are suited for warmer climates and warmer seasons, unless you wear layers. The exceptions are the jackets, which can be made in wool.

This book is hardcovered and wire-o bound (yes!) with a spine that covers the wire-o so that you don't need to wonder if it's one of your cookbooks or the pattern book when it's sitting on your shelf.

All in all, this book scores points with its novel collection of fun and charming pattern ideas.

Noelle MacMahon:

Kay Whitt is the author of the next book in our Editorial Review series: Sew Serendipity: Fresh and Pretty Designs to Make and Wear. She designs patterns for her company, Serendipity Studio, as well as for the McCall Pattern Company.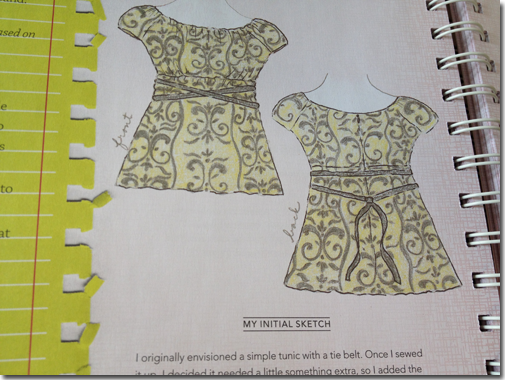 First of all, this is a REALLY pretty book. Sometimes, it is just so nice to sit down with a book that is artfully arranged and has lovely colors. That being said, it is also full of gorgeous designs with lots of options for adaptations and embellishments. It is spiral bound, which we all love, and comes with a pink envelope full of patterns at the back. Kay has an eye for that retro, fun style and has given us some basic patterns with which to create our own spin and really personalize our garments.

She starts out with a couple of pages devoted to fit- nothing complicated but still helpful. Then a few pages on notion suggestions and technique tips, including a couple pages for ruffles-these designs are heavy on the ruffles!
Kay has devoted the next three chapters to three sets of garments: Skirts, Tunics and Dresses, and Jackets. She has designed a set of pattern pieces for each garment, which is then adapted in six variations. At the beginning of each chapter, she outlines basic construction techniques for that particular garment. Then, each variation has its own instructions for sewing.

These patterns all feature a multiple panel style which is perfect for playing with contrasting and complementary fabrics. The hand-drawn sketches used to illustrate the designs and construction add a personal touch to the book. Her photos and models are all really fun and, I have to say, have inspired me to add some prints into my wardrobe!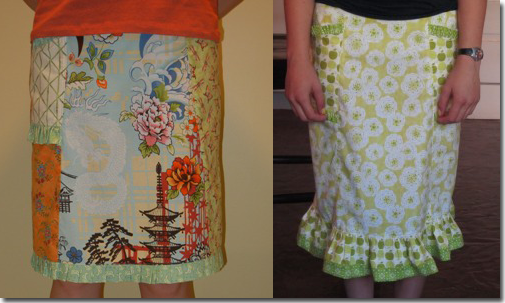 Left:
KrissyB
Right:
Carolinalu


Read what PatternReview members had to say about Sew Serendipity patterns.

Win a free copy of this book!

We have a signed copy of this book which we'll give to one lucky winner who posts the name of her or his favorite pattern book here on this blog posting. We will announce the winner on March 15th. Good luck!

Don't want to wait? Buy your copy from Amazon.com