PR Name: stirwatersblue
Full Name: Elizabeth C. Bunce
Member Since: 2008
Blog: Elizabeth's Needle - http://elizabethcbunce.wordpress.com/
Website: http://www.elizabethcbunce.com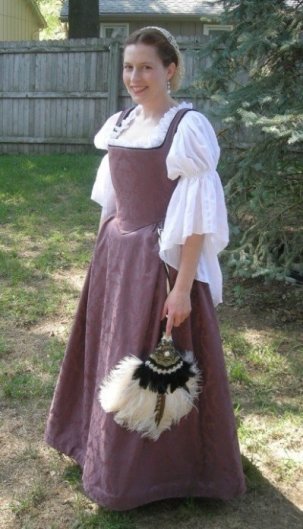 Pictured at left: Member In Focus stirwatersblue models one of her historical costumes



How did you learn to sew?
I've been a needleworker almost as long as I can remember (my first work was an embroidered hippo when I was five), but my first real sewing experience was a short unit in junior high home ec. Throughout high school, I dabbled a little with Halloween costumes and that sort of thing, but didn't have anyone to learn from or help troubleshoot our machine (my mom was a professional woodworker, but she was totally skipped by the needlework gene!), so my early efforts were exercises in frustration more than anything else.

Years and years later, my husband and I moved to a region with a busy Renaissance fair, which rekindled my lifelong love of historical clothing, as well as my desire to sew. Since then, I'm largely self-taught, or more accurately -- Internet-taught -- through discussion boards like Pattern Review, online tutorials, etc. My local Viking dealer, where I bought my Emerald in 2008, also offers a guided studio, where you can get expert, one-on-one coaching for any projects you bring in. It's wonderful to finally have an in-person mentor, after all these years!

What aspect of sewing do you find most challenging?
Like anybody, I think it's always fit. The proper fit can make the difference between a garment that looks professional, and one that... doesn't, and we're all trying to achieve the best results possible. But following that, I always wish I were faster! I'm never going to be a seamstress who can whip up a new blouse or top on a weekend afternoon, and it's difficult to let go of the sense that I ought to be able to.

Which sewing book do you refer to most often?
The costuming book that's always next to me is The Tudor Tailor by Ninya Mikhaila and Jane Malcom-Davies, which is a compendium of their academic and practical research in 16th c. English costume. But for general sewing know-how, you can't beat the classic: Sewing Made Easy by Mary Lynch and Dorothy Sara. What it lacks in modern notions, it makes up for in clear, comprehensive instructions of techniques, stitches, etc.

What are your sewing goals for this year?
This year, I'm hoping to actually use my serger, and learn to work with knits!

What are you sewing right now?
I'm in between projects at the moment but have pulled supplies for a sixteenth-century velvet jacket.

Pick your favorite pattern (only one please).
I draft a lot of my patterns, so if I'm being honest, it's my bodice block. But that's not helpful to others, so I'm going to recommend Simplicity 2621, 16th c. undergarments. The corset pattern is well-drafted and creates the proper period silhouette, and it's a TNT for me now.

What you love most about PatternReview?
The Message Board. I've been in a lot of online communities, but PR is second to none when it comes to the knowledge and support of its members. I've learned so much just from reading other people's threads!

Any other hobbies?
I do a lot of needlework, mostly counted thread embroidery (like cross stitch), and I also enjoy scrapbooking. I've dabbled in pretty much everything, though-- cake decorating, floral design, mosaic, knitting, craft painting -- you name it, and our basement is littered with the bones of dead craft projects!

Your profession, where do you live, etc.
I live in the Kansas City area (waves to the folks at Harper's Fabric & Quilt!), where I work as an author of young adult novels. This is a wonderful place to live to indulge both my great passions. We have a thriving children's writers community and a major Renaissance festival. The only thing we're missing is a fabulous garment district for all those wonderful fabric deals. Alas!

You are an author of historical fantasy fiction for young adults [as Elizabeth C. Bunce]. How does sewing play a part in your writing?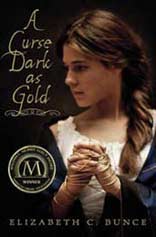 My needlework has informed my writing more than I ever expected! It forms the basis for my first novel, A Curse Dark As Gold, which is a retelling of the fairy tale "Rumpelstiltskin" set in an 18th century woolen mill. I drew on a lot of my needlework knowledge when writing that book -- and added to it tremendously, as well -- with research into the wool trade during the Industrial Revolution.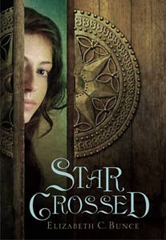 In later books, my understanding of period clothing has helped me create very textured and realistic worlds for my characters, as well as providing occasional flashes of inspiration! In my novel Starcrossed, the main character is a common street thief who winds up masquerading as a lady's maid in a grand castle. The nuances of dress between social classes help form part of that character's view of her world... and my knowledge of period garments gave me the idea of where this "lady's maid" might stash her lockpicks (slipped down alongside the bones in her corset).

You have an interest in historical costuming. What periods do you sew for? What are the differences you see between sewing historically and sewing modernly?
First: I have never installed a zipper or put a pocket in anything, and I have only barely made a buttonhole! My primary period is the Renaissance (late 1400's to early 1600's). Aside from modern techniques that most garment sewers take for granted, the fit of historical clothing is based on a fundamentally different philosophy. Modern clothing shapes the garment to the body through the use of darts and other techniques, but historical clothing typically shapes the body to the garment, through the use of corsetry, hoopskirts, etc. That's a sweeping generalization, of course, but it's a good way of looking at things.

What would PR members be surprised to know about you?
Probably what I said above--for all the seemingly "complex" projects I've tackled, I am wholly lacking in experience with several common sewing fundamentals. I rank myself as "intermediate," because I do draft my own patterns and feel like there's no project I can't attempt... but I've never even tried many of the techniques listed as "beginner" or "advanced beginner" skills!

Is there anything else that you'd like to tell us about yourself?
I'm so honored to be asked to participate in the Member in Focus feature! If anyone is interested, they can read more about me at my website and my dress diary.

Thank you, stirswaterblue!

Read stirwatersblue's member page.

Follow the conversations stirwatersblue is currently participating in.

Read all stirwatersblue's posts.