Once again, we're reviewing a sewing book. This month it's Rebecca Yaker and Patricia Hoskins' Fabric-by-Fabric One-Yard Wonders.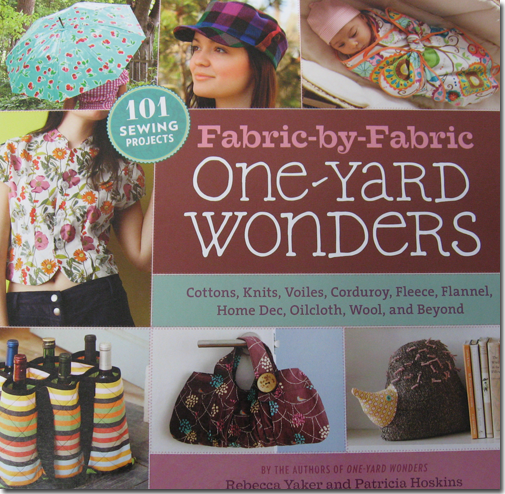 Editorial Review of Fabric-by-Fabric One-Yard Wonders
By Deepika

How many times have you found yourself wondering, "Should I splurge on just one yard of this beautiful fabric? But then what would I do with just one yard?"

Enter - Fabric-by-Fabric One-Yard Wonders. This is the second book in the series of One Yard Wonders which contains patterns and ideas on making projects from just one yard of fabric. PERFECT! And what distinguishes this book from others is the fact that not only are the projects lovely, but they are organized by fabric type...cottons, knits, voiles, corduroy, fleece and flannel, to name a few.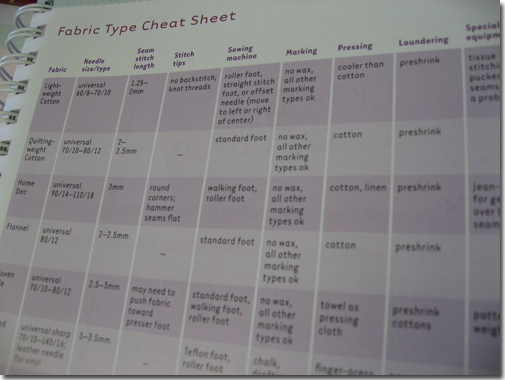 Now, my tendency is usually just to skip to the projects, but from the minute I flipped the cover, I was drawn to the layout and I read it cover to cover! The authors Rebecca Yaker and Patricia Hoskins start off by explaining how fabrics differ from each other and which techniques work best for which type of fabric. I thought the Fabric Cheat Sheet was a great idea. This will make a wonderful addition to any sewing studio. Too bad that it's not detachable, but it would be just as easy to make a copy and laminate. I like that they refer to the sewing supplies as the "Sewing Pantry", which is really what it is!

The Layout
This is a spiral bound book which we always love. The patterns are printed on 9 sheets of tissue paper so you will need to trace them off when you decide to use them. The more complicated projects have step by step illustrated instructions. Every project has a large color photo which is really nice. The quality of the pages, the print and the binding is superb and the colors are beautiful.

Projects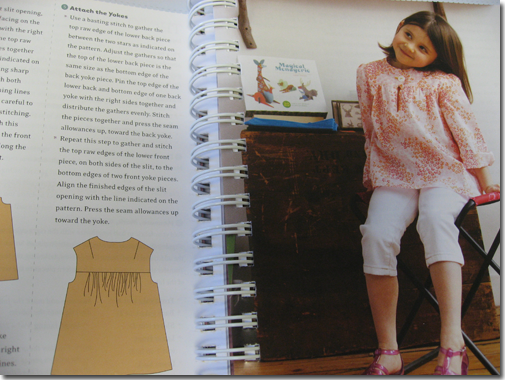 It's impossible to talk about all 101 projects in this book but I'll try to list a few of my favorites. There are only 6 adult garment patterns in this book but they are all very wearable. I like the bolero style shirt, which would be cute in a cotton print for summer. The patternless flirty skirt is a timeless classic and is so easy to make. I also see myself in the saddle skirt in corduroy. The rest are mostly for kids which are super cute (I love the "O" Tunic and Playday Frock). The Fleece chapter is mostly stuffed animals and accessories but they are all adorable.

I've been seeing the new laminated fabrics in stores lately and there are tons of ideas (umbrella redo anyone?) in this book for those.

Think Outside the Box
Home dec fabric is not just for that. I recognized the Echino fabric used to make some of the bags in this book. What a great idea. The Wristlet is my favorite bag pattern. Even though I don't enjoy sewing for my home, I will most definitely be making the shirred pillow. It is so cute and so easy with the elastic thread in the bobbin.

KNITS!
Being the knit fanatic that I am, I couldn't wait to see what the designers had in store for me. I am so making the speedy ruffle scarf. I am seeing this scarf everywhere in stores, and it only needs a yard! The Basic Tunic is a great first project to try with knits.

I recommend this book to beginners and intermediate sewers. The more advanced sewers would probably not find this book challenging enough. If you need ideas and inspiration to sew with smaller lengths of fabric or if you sew for kids, this book is for you! After writing this review, I placed an order for a copy for myself!


Editorial Review of Fabric-by-Fabric One-Yard Wonders
by Diane Severin

My immediate reaction upon seeing Fabric-by-Fabric One-Yard Wonders was: "We need this information!" Authors Rebecca Yaker and Patricia Hoskins have creatively organized the book around different types of fabric and the theme of one yard of cloth (as they did in their previous book, One Yard Wonders).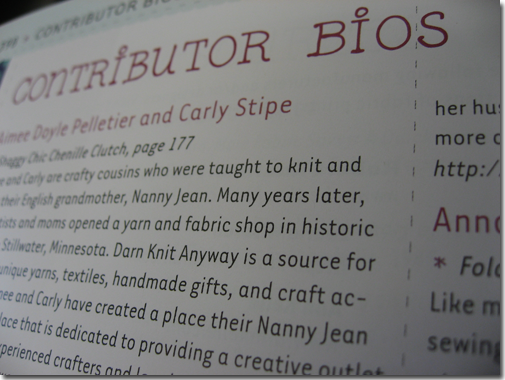 The book starts with some brief sewing basics (tension adjustments, presser foot types, pattern drafting, sewing practices) and lists must-haves for your sewing pantry (I hadn't seen this term before, but I love it!). And very, very handy is a fabric type cheat sheet that outlines the fabric, the needle you should use to sew it, the stitch length, stitch tips, the type of presser foot to use, the marking, the pressing, the laundering and special equipment. I say laminate this page and keep it next to your sewing machine!

Each chapter focuses on a particular fabric, describes how to sew it and outlines one-yard projects suited for this fabric. Makes sense, doesn't it? Why don't we have more books that advance our fabric knowledge like this one does?

The fabrics covered are lightweight cottons, quilting-weight cottons, home dec fabrics, flannel, woven pile fabrics, coated fabrics, fleece, knits and wool. Each chapter is prefaced by a section that describes how to mark, cut, sew, press and launder the fabric. And there are 10 or more projects for each fabric type for a total of 100 projects. The authors have included patterns for many of the projects, although some of the projects (like the scarves) are of the type "Cut 2 6-inch x 32 1/2-inch pieces on the fold."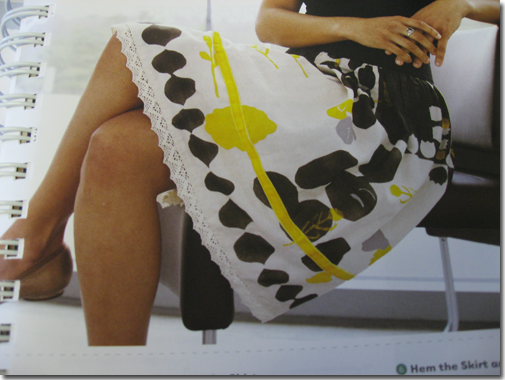 And the projects are many and diverse: pillows, halter top, tunic, skirt, lamp shade, garment bag, diaper clutch, organizer wallet, dining chair slipcover...the list goes on. One of my favorites is umbrella redo (with coated fabrics)...I've wanted to know how to do this since high school. And it was a little discouraging to see the straightforward two-page description for the Flirty Skirt (lightweight cottons) and realize that it took us a full school year in the fifth grade to sew this project (oh, well...there was only one sewing machine and lots of handsewing).

There is something for everyone in this collection, size aside, but those who sew for children will make out in a big way. There are lots of clothes, toy and accessory projects for kids (it's the one-yard factor at work).

You may find that there are projects you wouldn't consider sewing. For me, it was the flat screen TV cover. But we know you'll find something! (May I recommend the apron with the built-in potholders?)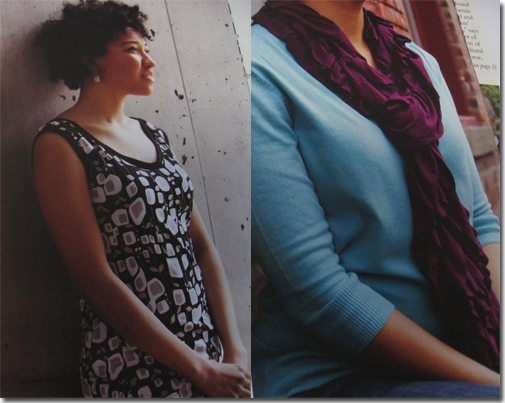 This book was pleasant to look at. The fabrics featured are bright and fun (there's a list of suppliers at the back). The book is wire-o bound (my favorite!) with a looseleaf-type offset cover. The diagrams are useful and clear and are positioned next to the corresponding instructions.

There's one last thing that you may not realize until you get to the end of the book. These projects were (all?) submitted by contributors. Their names appear under the project title, a fact I overlooked the first time through. It's nice to put a designer history to a favorite project.

One omission we noticed is that PatternReview.com is not listed under Resources. Maybe it will be in Yaker and Hoskins next book! Otherwise, this book is wonderful, a great addition to the library of any crafty sewer of garments.


Editorial Review of Fabric-by-Fabric One-Yard Wonders
By Noelle MacMahon

This new book by Rebecca Yaker and Patricia Hoskins is a follow-up to their previous book One Yard Wonders, which, as the title suggests, provides ideas and patterns for things using one yard of fabric.

This book continues the idea of using one yard of fabric per project but takes it a step further by organizing the projects by fabric type. There are nine chapters covering everything from flannel to coated fabrics to wool. Within each chapter there are several projects using that particular fabric.

What I really like about this book is that the layout is almost like a cookbook; the "ingredients" (materials) list is directly above the "method" (instructions), which are given in bullet form- very easy to follow. There are illustrations for cutting layouts, and great photos to accompany the projects. The book is spiral-bound and hard cover with a huge envelope of pattern pieces on the front cover.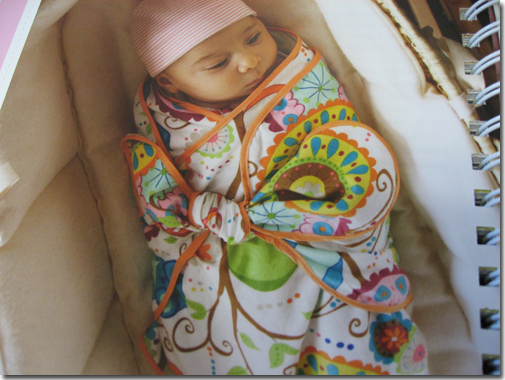 These authors don't spend a lot of time talking about sewing, a fact that I also liked. They include a concise page or two at the beginning of each chapter outlining the specific properties of the featured fabric, including what size needle to use and other handling tips.

The projects themselves are really quite ingenious, considering they use so little fabric. My favorite is the Swaddle Blanket on page 190. It is a clever baby blanket made with flannel that has ties sewn in so baby will be nice and snug.

This is the perfect book to help you with ideas to use that extra fabric in your stash and would make a particularly great gift!

Order this book from Amazon!

Tell us here what you've made from one yard of fabric, and your name will be entered in a drawing to win this book! We'll announce the winner on April 3rd.

Update: We've chosen a winner! Read the announcement.