Skirts and dresses are making their mark again this summer and even moving into Fall 2012. The good news is that there is a style to compliment every body shape.

The Trend: Lower Hems
The trend is showing hems from the knee down, but there is always room for the shorter skirts as well. When mix-matching styles, make sure you take your own proportion into consideration. Try adding a longer trench jacket to a shorter skirt or tuck-in blouse with a knee-length skirt and add a belt to the waist. Classic styles are definitely making a comeback with accented waistlines taking the major role.

Full Skirts
Gorgeous knee length and flowing chiffon skirts are paired with shorter jackets or layered with simple knit tops. The chiffon skirts can be made up of yards of fabric, but the fabric skims the body and is flattering on most shapes. Vogue 8749 is the perfect pattern for this style! All three lengths are fashionable, so pick whichever you feel the most comfortable in.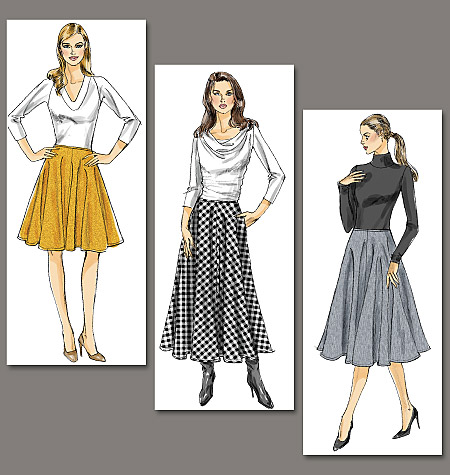 Make Vogue 8749 Misses' Skirt in chiffon and pair it with a shorter jacket.

Sewing Tip from Angela: When sewing a circle skirt or a skirt on the bias, hang your skirt for 24 hours before hemming. This prevents the skirt from growing on you later down the line.

Pencil Skirts
Speaking of classic styles... If you prefer a tailored look, the pencil skirt is a must for fall. Again, the length falls just below the knee and the skirt is very fitted from the hip down. This style of a skirt requires a slit in order for you to be able to walk. Instead of the traditional slit, why not add a zipper? Exposed zippers are a fun fashion statement and a fast, easy way to sew up a skirt.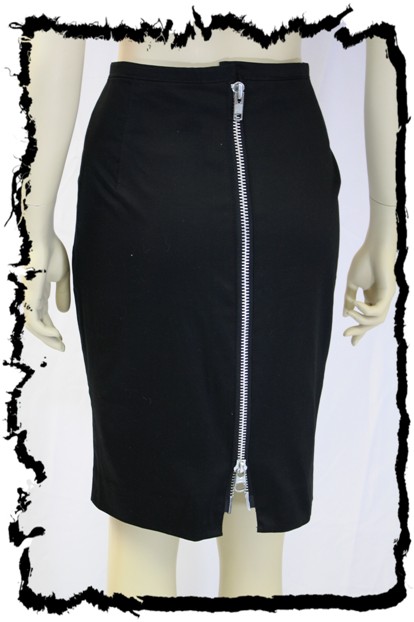 Exposed zipper slit on a pencil skirt

Coats & Clark sent me their new metallic decorative zippers, and I will be posting a tutorial on adding these zippers at the end of the month on my blog. If you'd like to know how to install them, come and visit there.

Here are a couple of patterns to consider for a slim-fitting skirt...

Burda 8133 offers a pattern with the pencil skirt and a stylish jacket.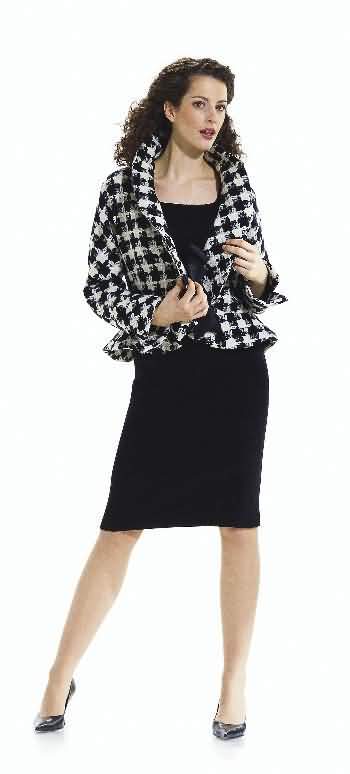 Burda 8133 Coordinates View A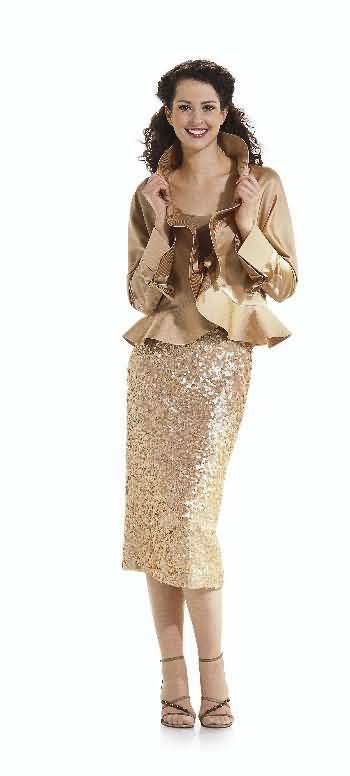 Burda 8133 Coordinates View B

For another style, take a peek at Christine Jonson #330.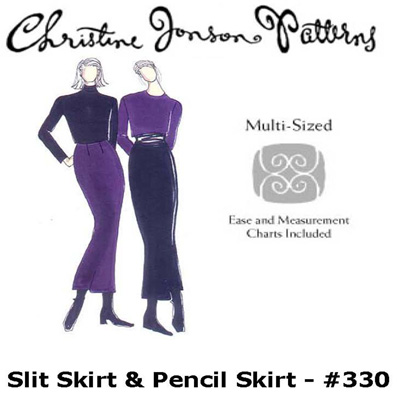 Christine Jonson #330
Sewing Tip from Angela:
Do you ever have a problem with the bottom of your slits flipping up on your skirts? Try adding drapery weights inside the hem along the corner of each slit. If you are working with a real lightweight fabric you might even want to add weight to each side seam as well. You simply hand tack a small weight inside the hems, making sure they do not show from the right side of the garment. Just be sure not to press that area of the skirt once you have added the weights, or you could end up with a permanent square or circle mark on your fabric.
Drapery weights are available in most fabric stores and come in the shape of a circle or square.

Have fun and happy sewing!

Angela

Join me on Facebook, Twitter, or follow my blog for more sewing tips.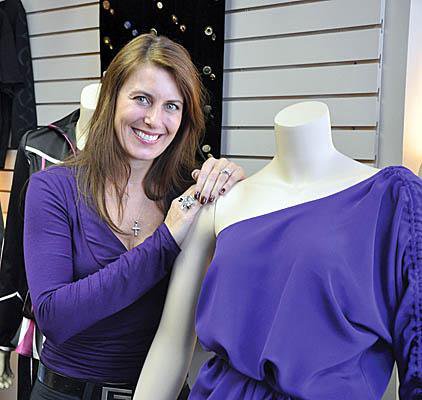 Angela Wolf is the designer and founder behind ABO Apparel, Angela Wolf Ready-to-Wear and ABO Sport. An A-list clientele has given Angela more than fifteen years of experience dressing and fitting many diverse women and has enabled her to understand the different styles that compliment each individual woman. Join Angela on Facebook, Twitter and her blog.
Sign up for a class with Angela!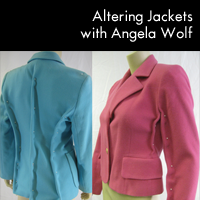 Altering RTW Jackets. Starts April 9"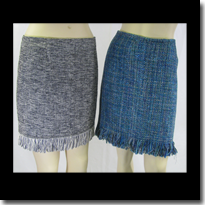 Fashion Club with Angela Wolf - Tweed Skirt Starts April 15"
Missed Angela's previous columns? You can still read them!
The Top Fashion Trends for Fall/Winter 2012
Pantone's Color of the Year... Tangerine Tango!
Accessorize With the Scarf For Any Season
Fabrics for the Holiday Season
Faux Fur
A Few Fall 2011 Fashion Trends
The 70's
White, it's Everywhere... How to Wear It
How Will the Royal Wedding Affect Fashion?
A Touch of Glamour
The Love/Hate Relationship With the Popular Trends...Wide Leg Pant and the Skinny Jean!
Fashion Tips & Trends with Angela Wolf