Name: Julia Bobbin
Full Name: Julia Diamente
Member Since: November 2010
Birthday: May 16th
Blog: http://www.juliabobbin.com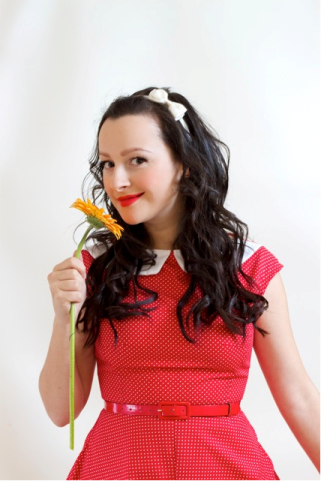 How did you learn to sew?
I started sewing back in August 2009. I had no previous experience and it would have been a challenge just finding where the on/off switch on the sewing machine was!

Like most people in the sewing community, I found that a lot of the clothes and styles that I loved were just not available commercially. I also found that most clothes I purchased didnít fit my shape, which significantly reduced my clothing options. I have always been a creative type and thought I would try learning to sew.

I joined a casual class on a Saturday morning with the fabulous Vikki Leigh Martin. The class went for two hours a week, and it was there that I learned the basics like inserting a zipper, stitching a hem, pleats and darts and how to follow a sewing pattern.

What I didnít anticipate was how all-consuming my passion for sewing would become. Two hours a week in a class was not enough to satiate my sewing appetite. I quickly looked to sewing blogs, reference books and sites like PatternReview to expedite my learning. I found the more I learned, the more feverishly my obsession for all things sewing grew.

What aspect of sewing do you find most challenging?
The most challenging part of sewing is accepting that it is impossible to devote 24 hours a day to sewing. I must remind myself that I am not a vampire and must take breaks for sleeping, food and bathroom.

The rate that I come up with new sewing ideas compared to my production rate is not on par. This is on account of the fact that I am not a robot. Yet.

Another aspect of sewing that I find a constant disciplinary struggle is to force myself to make a muslin/toile first before cutting into my fabric. I know itís an excellent practice and I always (mostly) follow it. But, by golly, when I get excited about an outfit, itís so hard to exercise patience and not just dive straight into the finished product. I am always so much happier with the end result though if I do make a muslin first, so I force myself to do it.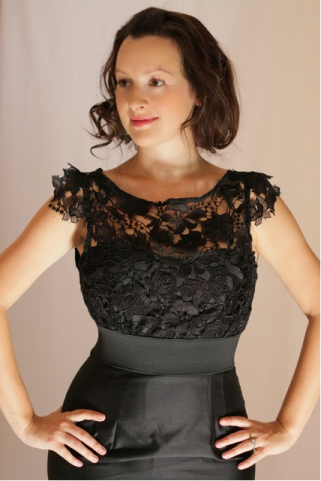 Which sewing book do you refer to most often?
I refer less to books and more to reference websites like Pattern Review and other sewing blogs, but one book that I have found useful for simple pattern alterations is How To Use, Adapt and Design Sewing Patterns by Lee Hollahan. Hollahan breaks down simple alterations like moving darts, understanding sewing patterns and fitting a toile.

What are your sewing goals for this year?
In the past six months I have been dabbling more and more in that crazy, exciting area of pattern drafting. I would like to expand my knowledge in that field and take a short course on pattern drafting/making. My ultimate goal is to be able to draft my own patterns to reproduce on a commercial level.

I would also love to create a big, beautiful ball gown. One that takes years off your life to make, but feels like a masterpiece when youíre done...a dress that incorporates so many different couture techniques that Iím convinced that when itís finished, Iíll be fluent in the French language.

What are you sewing right now?
What am I NOT sewing right now is probably more accurate! My most recent projects have all been early 60ís vintage-inspired. I recently created a MadMen Dress Challenge and so I have been obsessively copying many gorgeous MadMen dresses that Iíve seen on my TV screen. The dress Iím currently finishing with the aid of Butterick 5603 [Misses' Dress Retro '56] is a yellow wiggle dress with a sweet French lace Peter Pan collar.

Pick your favorite pattern (only one please).
My favorite pattern at the moment is Butterick 5603. It gets that title simply because Iíve made it four times already in the past three months! [Read review.] When there are so many fantastic new patterns out there to try, itís rare that we make things more than once, but Iíd say most sewers have one pattern that they keep falling back on and Butterick 5603 is that pattern for me. Itís classic and feminine and accentuates the female form.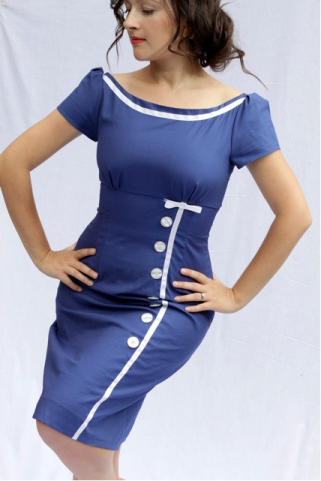 What you love most about PatternReview?
PatternReview was the very first website that I joined when my sewing fever took hold. I thought Iíd hit the jackpot when I first discovered the site. I was constantly tackling new sewing patterns that were above my expertise and to have a ready resource with detailed tips and advice from people who had already used the pattern was invaluable. I always check the reviews on Pattern Review before trying a new pattern.

I love the sewing community at PatternReview. No matter how flawed my earlier contributions were I never once received a negative comment, only positive and constructive comments full of encouragement. I still remember the first review I did for Vogue 1178. My heart practically jumped through my rib cage every time someone commented and I had so many welcome messages! Iím still hooked on the feedback that I get from Pattern Review.

One of the nicest things about PatternReview is how normal I feel! Here is a bunch of people who would not bat an eyelid if they saw a fellow fabric-lover hyperventilating in a fabric store. They would not be suspicious of someone who spends more time in the sewing room than in any other room of the house. They all nod in understanding when someone bursts into tears because they have finished a garment and they like how it looks. They see nothing strange about going up to strangers and friends and caressing their clothes to see what type of fabric they are wearing. And they all find it completely acceptable to have a fabric stash the size of a house (not to mention the secret stash we have hidden away so that our husbands/partners donít think our addiction has completely consumed us).

PatternReview people are my type of people.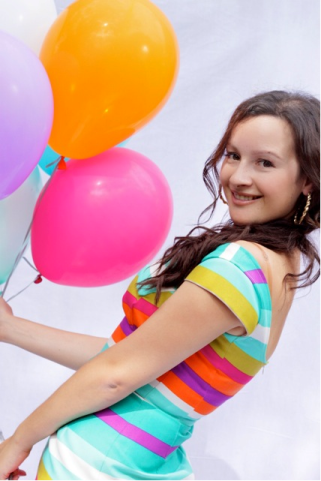 Any other hobbies?
When Iím not hovering over my sewing machine like Gollum with his Ďpreciousí I love to salsa dance, read until I give myself a headache and hang out with family and friends. If I could learn how to do all of these things at the same time I would be a very happy person.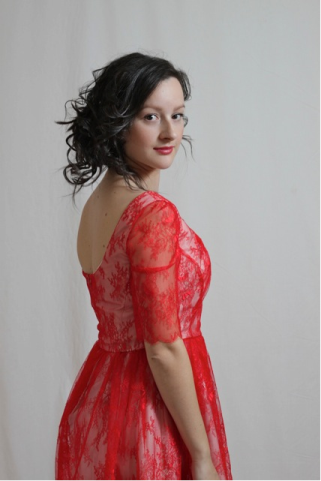 Your profession, where do you live, etc.
I live in the beautiful city of Melbourne, Australia. I am also very lucky to work full-time with a fantastic bunch of people at the American Consulate in Melbourne.

If you ever come down to Melbourne for a visit, you will fall in love with the all the wonderful boutique cafes, hidden lane ways, live music and luscious gardens. Every time I visit the city I discover something new that I didnít realize was there.

You've named your dress forms "Betty" and "Bobby". How did you choose the names and how do the two differ from each other?
Betty and Bobby are my buddies. They put up with my constant chatter while I obsess over my sewing machine like a crazy person. They are almost always sporting half-finished garments that I have popped over their shoulders for my viewing pleasure, and they never complain when I constantly poke them with my sewing pins.

Betty and Bobby are twins, as I got them at the same time. I always liked the names Betty and Bobby and it sounds so nice with ĎBobbiní! Julia, Betty and Bobby Bobbin!
Betty and Bobby are useful when I need to adjust a collar or a bodice on a dress form, or just want to display my latest garment to my neighbors (who Iím sure have purposely stopped walking past our house to avoid seeing me cuddling up to my fabric). I have a regular adjustable dress form also, but Betty and Bobby are the nicest dress forms to display my latest creations on and, gee-golly, they just look so pretty!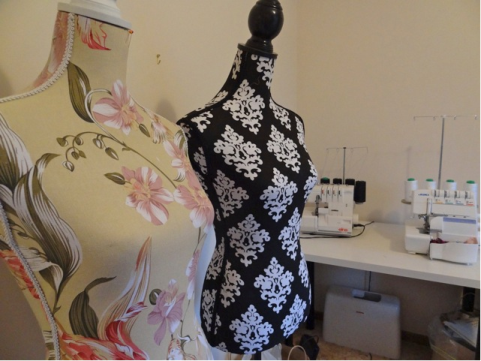 You have said that you are drawn to vintage clothes, such as the clothes on the TV show "Madmen". Tell us more about how that inspires your sewing and what you've sewn to feed that passion.
I have always been drawn to clothing that highlights the femininity and accentuates the female shape. As a result, I am naturally drawn to classic and vintage clothes, such as the clothes shown on Mad Men. That era so perfectly captures all the flattering and feminine qualities in garments that I love so much. Vintage clothing is subtle-sexy and traffic-stopping, without resorting to flashing too much flesh. The garments instead accentuate all the right points on the female figure to give the "wow" without being too obvious.

I find that clothes that accentuate the female curves rather than try to hide it actually end up flattering my shape. The more I embrace my curves in clothing, the better I look! All the clothes I now sew have a touch of vintage to them whether they be the style that I make, or just the classic vintage silhouette. I also love how I feel when Iím wearing a garment that is from a vintage era; it makes me feel more like a woman.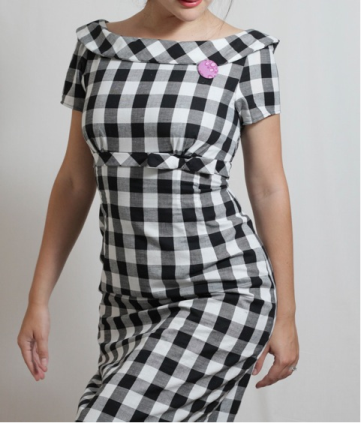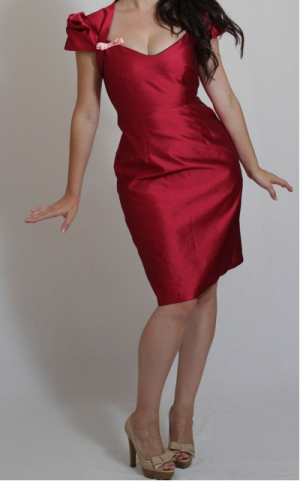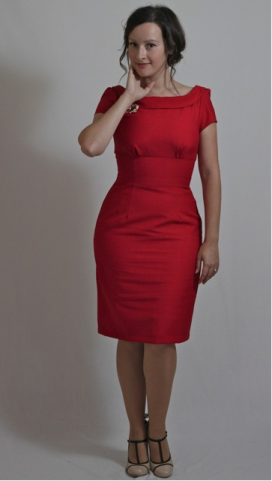 Do you use vintage patterns? If so, how have you had to change your approach to sewing when you use them?
Iíve used a few vintage patterns and I always make a muslin first. Vintage patterns seem to always fit smaller than regular modern day patterns with a smaller waist and bust. A full bust adjustment is usually needed, and I always end up making a bigger size for the whole pattern if it is a vintage pattern.

I love reading through the instructions of a vintage pattern, as itís always a fantastic lesson in correct sewing techniques and hand-sewing discipline. There are a lot of bound buttonholes, slip-stitching and lapped zippers. I try to stick to their methods as much as possible to give myself a more authentic sewing experience, but I must admit, I do cheat sometimes too.

You won the Tessuti Award in 2011. For members who aren't familiar with that award, tell us more about it. Also, tell us about the garment you created.
I still get goose bumps every time I think about the Tessuti Awards! The Tessuti Awards is a fantastic competition that is held each year in Australia by a wonderful Australian business, Tessuti Fabrics. Each year there is a new theme and the competition is open to all sewers and designers to create a garment that adheres to the theme.

Last year's competition was "Linen and Lace", where everything old is new again. The brief was simple, fresh and pretty and follows one of the trend forecasts for next Spring/Summer: "Design a dress in any length using a combination of Linen and Lace in Neutrals, Whites or a combination of both tones together."

I had decided to enter the Tessuti Awards to push and challenge myself to create something to the best of my ability using correct couture techniques. It was also the first time that I really gave my hand at designing a garment that deviated from a regular sewing pattern.

I decided to create a dress that I would want to wear myself; something simple, feminine and sweet with a nice silhouette.

I knew one of the spring fashion trends was pleats, and I decided to take it to the extreme by creating a whole skirt with mini pleats. Each row of pleats was edged with bias binding and individually sewn down. Each row took over two-and-a-half hours to pleat and sew, pleat and sew Ė and there were five rows! Thatís over twelve-and-a-half hours just to sew the pleats! I featured the stunning lace edging and detailing of the guipure lace by creating a low V back.

I was very proud of my finished product and I took a lot of pleasure in knowing that when I turned the dress inside out it looked just as neat and finished on the inside as on the outside.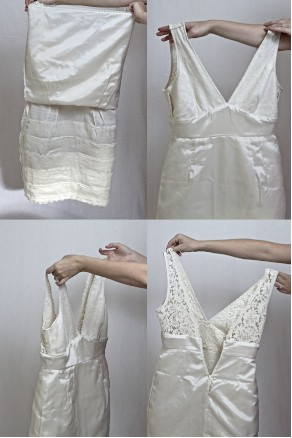 When I discovered I had won first place in the awards, I almost vomited. I was so elated and so ridiculously shocked that all I could do was cry and scream while my husband kept making nervous glances out the window, convinced that the neighbors would think I was being murdered with all the racket I was making.

The prize for first place was a trip for two to New York! My husband and I will be jetting off to NYC in early June, and he has already given me license to visit as many fabric stores as my credit card can handle.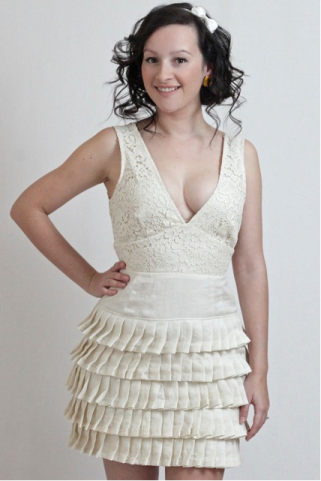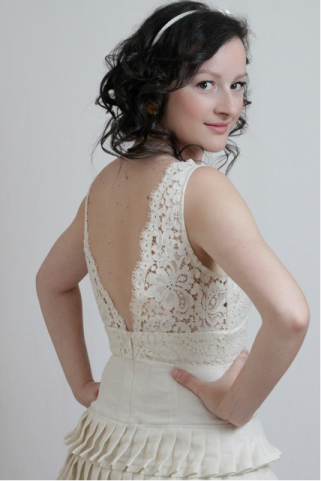 Tell us about the tutorials on your website.
One of the fantastic advantages about sewing today is that we have access to unlimited resources on the Internet. I learned (and still do) so much by watching and reading other people's blogs.

The tutorials on my blog are a combination of videos, photos and written instructions. When I stumble across a new technique, like adding extra room in the back of your skirt for curvier derrieres or tackling delicate lace, I like to share my discoveries through a short tutorial so that other people can learn too. I know how much I appreciate other peopleís tutorials!

My first and favorite tutorial was when I created rose sleeves on a dress. It was an idea I had been playing with through a process of trial-and-error. I was so happy with the result I decided to make a video tutorial so other people could learn how easy and effective it is to make.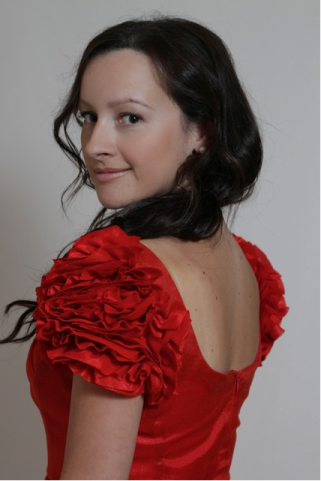 What would PR members be surprised to know about you?
I grew up in the country in Victoria, Australia and come from a very musical and loving family where you canít walk one step with out tripping over a musician. My parents are very generous and creative people and made sure that all of us kids (Iím the oldest of four!) learned an instrument and pursued our passions. When I was growing up I learned to play piano and as a teenager got involved with drama and dance. I moved to the city when I was 18 and had a go at swing dancing, which was lots of fun, and eventually got into salsa dancing, which I still do today.

I got married to my handsome husband in October 2011 and we performed a salsa routine as our bridal dance!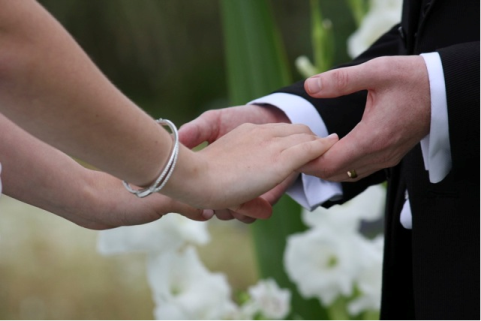 My wedding dress was not made by me, as when I purchased it, I had only been sewing for just over a year and was not yet ready to take on the vomit-every-morning pressure that comes with making your own dress. I instead made a special wedding-dress-of-sorts garment for our salsa bridal dance. This made our wedding day more authentic because it now incorporated my biggest passion: sewing.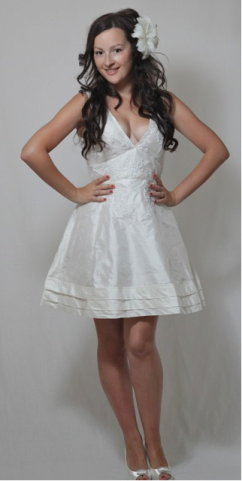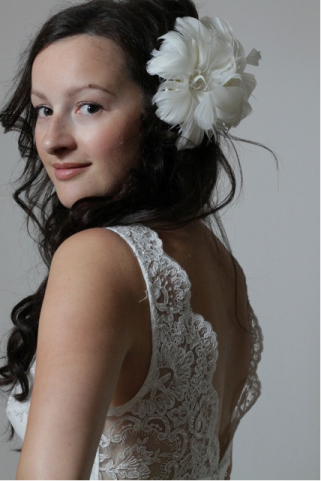 Is there anything else that you'd like to tell us about yourself?
Here are some random Julia facts:



I do not have and will never get wisdom teeth Ė which explains a lot...

I am a citizen of both Australia and Italy, though I have lived my whole life in Australia.

Iím the oldest of four children.

I have three overlockers (sergers)...seriously, I have a problem.

My first ever concert that I went to was to see "The Cure".

I met my husband in a salsa dance class.

If I could spend my days doing only one thing, it would be sewing.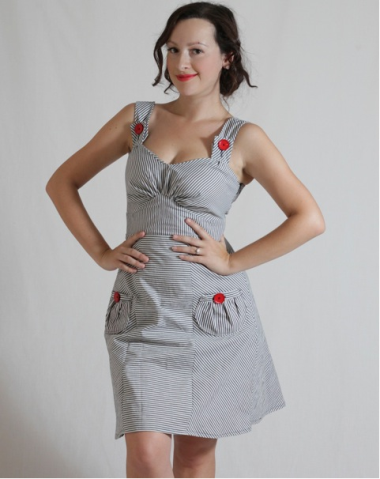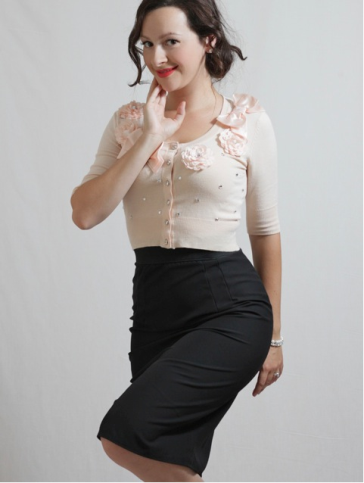 Thank you, Julia Bobbin!

Read her reviews.