Swimwear is less forgiving than say, a dress or a skirt. Swimwear shows it all! That's why some of us shy away from sewing swimwear, don't we?

But the brave sewists (33 of them, in fact) in this contest said, "The heck with it! We're going for it!"

See what they sewed.

Contestants could sew only swimwear for this competition. The entry could be a bathing suit, such as one-piece, two-piece or tankini; or swim shorts or UV-protected swimwear. You can see the complete list of rules.

Now let's meet the winners.



First Prize (By Member Vote):
Blooms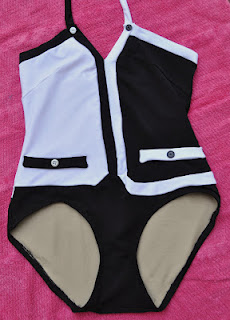 Pictured at left: Blooms' self-drafted Chanel-inspired swimwear



Blooms' swimsuit was self-drafted, inspired by the Chanel 2012 Resort Runway Show. When you read her review, you'll see that she very methodically laid out the drafting steps to create the perfect swimsuit for her. She started with her personal swimwear one-piece block, lowered the legline and took in a few cm around the bust to account for the fact that it is basically a strapless swimuit.

For fabric, she used black nylon lycra, white nylon lycra, and nude nylon lycra (for lining), as well as various notions.

She says that swimsuit seams need to be able to stretch, particularly in a horizontal direction. That's why she used an overlocking stitch to sew the swimsuit.

She mentions that as soon as she started this project, her family became very needy and suddenly required her attention. She dealt with it all and moved on, because, as she points out, "There is a Chanel swimsuit to be made."

Her inspiration suit is priced at $1400, so she has saved quite a bit of money in creating one herself.

She doesn't normally wear black and white, so she's limited on the matching accessories, but she does have the bright red lipstick!

Congratulations, Blooms!





Second Prize (By Member Vote):
ryan's mom for Kwik Sew 2962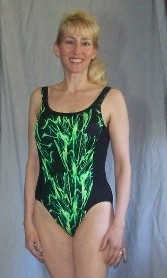 Pictured at left: ryan's mom wearing Kwik Sew 2962



Congratulations, ryan's mom!

And congratulations to all our contestants for their wonderful swimwear!

We thank Schmetz Needles for sponsoring this contest.




We thank PR member arianamaniacs for managing this contest.

Chat with other members about this contest.

Look at all the contest entries

Never entered a contest before? It's easy! Our contest tutorial will show you how to enter.

Check out the current contests.

Going on now: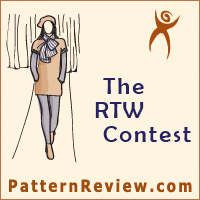 Why not enter?



Plan ahead! Check out the 2012 contests.