It's fun to see where everyone is sewing! This is the first article in our new Featured Studio series. We'd love for members to share where they are sewing: a studio, the dining room table, the spare bedroom or someplace else. See the end of the article for info on how to let us know more for future articles.

Here are some photos of my studio. It is a 12 x 24' free-standing building about 300 feet from our house (we have about 20 acres). Not shown (yet) is the loft where I keep my fabric stash.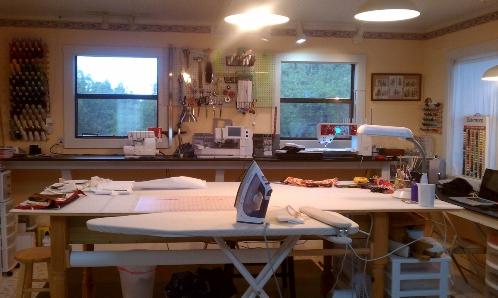 Back wall--machine work table
I use bar-height stools and often stand up when I'm doing something quick. The cutting table is 4' x 8' and is closer to counter height.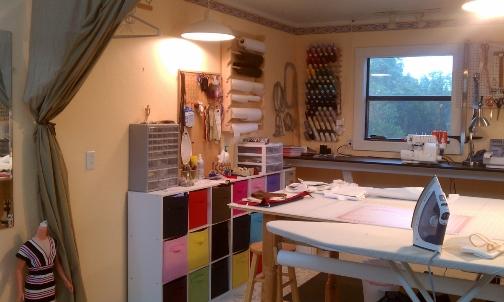 Bins hold color-organized remnants, patterns and interfacing. DH made the rack to hold stabilizer--much easier to find what I need quickly. [To the left] is the changing area--we installed a copper rod with a curtain to create a changing area that doesn't take away any floor space when not in use. The large mirror is from a fabric store my mom worked in when I was in high school and college. I can remember shopping there before I started school.
Update: I have added a steam press!
Submitted by JKimes
Read the discussion on JKimes' studio.
We'd love to feature YOUR studio! Send your pictures and a description to [email protected]