Vintage patterns don't just look different. They are different! Different in size, different in fit, different in instructions. The people of the past were aiming for a different look than we are today. Perhaps they didn't expect to raise their arms so high or they didn't expect to bend over like we do (corsets, anyone?). Their posture was different as well.




For this contest, a pattern had to be produced before 1978. The rules give more information about the allowed patterns. Contestants were not required to sew their garments on the sewing machines of their patterns' vintage. :)




These special considerations made for an interesting challenge for our 71 contestants. You can read their reviews in the Contest Gallery for more detail.




Dresses were the most popular garments entered in this contest. There were some entries from contestants who were using patterns from the 1912 Titanic Sewing Project (more on this in a future blog, we hope).




And Studio Cherie donated a pattern to every person who entered this contest!


Now let's meet the winner.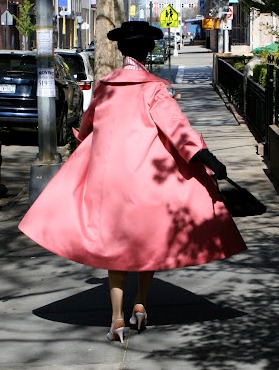 Pictured at left: Peter in NYC's Simplicity 3216 Vintage Opera Coat
Peter in NYC transformed Simplicity 3216, a vintage women's robe from 1959, into a fully-lined fifties-style opera coat, a popular garment for the period.
He chose this pattern because it is nearly identical to every 1950's opera coat pattern he has seen and because it is cheaper and easy to find in the right size on shopping sites like Etsy.
He made a vintage size 18, which in 1959 translated to a 38" bust. He found the instructions excellent and long, characteristics that seem to be a feature of older patterns. He thinks that the pattern was wonderfully drafted.
He made the coat out of nearly 5 yards of rose-colored cotton sateen (with a bit of lycra) that he found for 99 cents a yard in the NYC Garment District (what a deal!). For the lining, he used a very lightweight, glossy, flowered cotton that he bought for very little money at the Chelsea flea market.
He changed the Peter Pan collar to another from the Vogue Americana pattern V2261. He used horsehair canvas as an interface on the outer collar and cotton shirting on the undercollar. He also changed the cuffs and decided not to use the pockets and buttons.
He loves this pattern and will definitely sew it again.
Congratulations, Peter in NYC!
We thank Studio Cherie for sponsoring this contest.

We thank PR member velosewer for managing this contest.
Chat with other members about this contest.
Look at all the contest entries
Never entered a contest before? It's easy! Our contest tutorial will show you how to enter.
Check out the current contests.
Plan ahead! Check out the 2012 contests.

Going on now: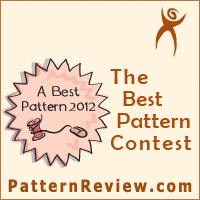 Why not enter?