Have you been inspired by some of the current or not so current style trends? Is your Pinterest board- or your real live inspiration board- filled with pictures of garments you would love to own but either can't afford or can't find? If so, you should do what the contestants in this contest did...create your own version!
For this contest, contestants had to create a garment inspired by one that they had seen. The inspiration item could have been from a Ready-To-Wear line, from the runway, or any other garment they had seen worn or pictured. . The rules give more information about what was allowed. The rules highly recommended that contestants model their finished garments and strike the same poses as themodel in the inspiration garment photo.
57 contestants accepted the challenge for this contest. You can see their entries in the Contest Gallery.
Now let's meet the winners.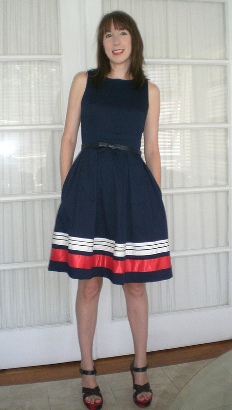 Pictured at left: purple dot's BurdaStyle Magazine 10-2009-119 Jason Wu Dress
purple dot was inspired by a Jason Wu Dress. It is sleeveless with a pleated bodice and nine inverted pleats (four in the front, five in the back) that give volume to the skirt.
She really likes having pleats that are sewn on the inside and not having to iron them when the dress comes out of the wash. She also prefers a bodice with darts for shaping instead of the princess seams used in the original dress.
She made the dress out of navy cotton sateen with a bemberg rayon lining.
She made some changes to the dress. She changed the width of the pleats on the bodice as well as the neckline. And she drafted a completely different skirt with four inverted pleats in front and back.
She also drafted a full lining because the pattern only provided facings. Her lining fabric was about 45" wide and pulled up into soft, non-bulky gathers while still allowing the skirt to flare out for ease of movement. She couldn't find fabric with stripes that matched the original dress, so she sewed on satin blanket binding and bias tape to make my own stripes at the bottom.
She's really happy with how the dress looks and fits. She was drawn to this dress from the first preview of the Jason Wu for Target collection, and, since it never appeared in her local Target, she decided to make her own version. She had been planning to make this dress since February so she's really glad that the RTW contest finally gave her the initiative to sew it!
Congratulations, purple dot!
Second Prize (By Member Vote): sunnysewer for Butterick 6524 Misses' Dress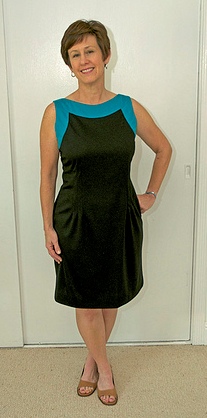 Pictured at left: sunnysewer's Butterick 6524 Misses' Dress
Congratulations, sunnysewer!
We thank Style ARC for sponsoring this contest.

We thank PR member CTBarb for managing this contest.
Chat with other members about this contest.
Look at all the contest entries
Never entered a contest before? It's easy! Our contest tutorial will show you how to enter.
Check out the current contests.
Going on now: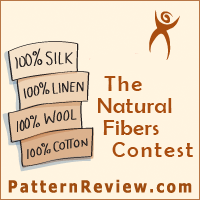 Why not enter?
Plan ahead! Check out the 2012 contests.