Today we are featuring someone who not only has amazing style, she also has an extraordinary reserve of energy and enthusiasm which somehow never depletes
Connie Bontje (ConnieBJ) is also a contest committee member and was instrumental in planning our most recent PR Weekend in New York. Yes, she is a talented sewist, but did you know that she is a full time farmer?
Member Since: 12/31/03
PR Name: ConnieBJ
Full Name: Connie Bontje

Birthday: May 21
Blog: Couturesmith.com
How did you learn to sew: My mother went to boarding school in Holland as a girl and she is likely the most precise and beautiful sewist I know. Between her and 4H I learned most of the basics. I grew up thinking that fondling fabrics in Polka Dot every Saturday was something every child did! I still remember the first real garment I made. It was a blue nightgown. I still have the pattern in fact!

What aspect of sewing do you find most challenging: Actual sewing is not difficult for me. I like the challenge of looking at a design feature and deconstructing it to figure out how to sew it. The thing that I find most difficult to decide what style and colours will look good on me. For instance- I really like art type garments - Issey Miyake comes to mind- but am slowly coming to the realization that the style that most suits me is more tailored. (having said that, I realized that the photo that accompanies this profile is of me NOT in a tailored outfit, so perhaps I have no idea what I am talking about!) Deepika, do we need a class on "discovering your style?" I hate, hate, hate, trying things on in stores even though I know that that is really going to be the only way to really define my style!
Which sewing book do you refer to most often: I've been doing a lot of wedding type sewing in the past while, so I keep Susan Khalje's book Bridal Couture close at hand. For drafting ideas, or those moments when I think "how could I change that (neckline, armhole, or whatever), I refer to Patternmaking for Fashion Design by Helen Joseph-Armstrong. I'm not a real sewing book collector.
What are your sewing goals for this year: I try not to make sewing goals because for me that is a sure sign that I will not accomplish anything! I still have a list on my fridge of household updates that I wanted to do in 2010! I am in the midst of redoing my sewing studio (who's kidding whom here- my sewing room is just a bedroom that we don't need anymore!) Getting that done is a priority. I would also like to fine tune my jeans pattern, as well as make a Chanel type jacket. Then there is a cycling jacket for my husband, some golf attire for me and the grandchildren to sew for. We all know though, that sewing for little ones is so fun!
What are you sewing right now: I just completed a wardrobe of sorts for myself- 3 pairs of pants, 2 jackets, 3 shells and 2 dresses. That was a marathon! I am not allowing myself to do anything else now until I finish a wedding dress for a client. At least that one has a deadline!! Seriously- what's with the strapless obsession in wedding dresses? Cinch, pinch, bone, waist stay and hand over the flash tape! Oh but do you know what I am going to make next? My very own step and repeat banner! You know the backgrounds with logos that actors pose in front of? I figured out a way ( I think) to make my own using my own logos. I promise you will all be the first to see it!
Pick your favorite pattern: My Bento pattern database has over 600 patterns in it! How to pick a favourite??! When I look back on everything I have made, a vintage McCall's pattern stands out. http://vintagepatterns.wikia.com/wiki/McCall%27s_4746 4746. It is so cleverly drafted- I just know that Joan from Mad Men would love it! Talking about patterns- am I the only person here who reads interesting pattern instruction sheets in the bath? Surely I can't be!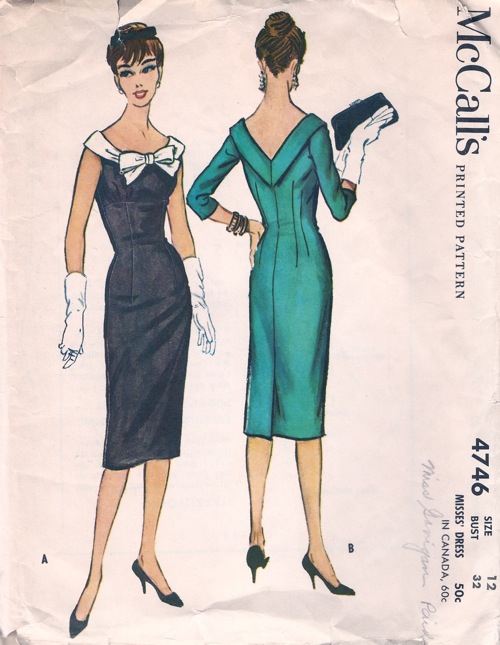 What you love most about PatternReview?: Meeting members in person is so fun! We all come from different backgrounds, differing skill levels, and are of varying ages but when we get together you would think we have been best friends forever! I love helping out members, so the opportunity to be on the contest committee fills that need! Pattern Review is a great community to be involved with.
Any other hobbies? Aside from sewing I am active in our community. I am a Director on the local Agricultural Society and I am a founding member of our Dinner Theater Committee. I love to act, sing, stage manage, and costume design! I also act with a Murder Mystery troupe. I enjoy skiing, golf, reading, and playing guitar. My latest obsession though is Textile Art. I could seriously lock myself up for days making art with my sewing machine!
Your profession, where do you live etc. I live in Southwestern Ontario, Canada. London-ish, halfway between Detroit and Toronto. I am a full time farmer. We have pigs (from breeding to bacon) and cash crops ( corn, kidney beans and wheat). Our family also owns a golf course, which really just means that I pay more to play golf than anyone I know! We live in a century farmhouse that we have totally renovated over time. In fact, my husband still sleeps in the same bedroom he did as a child- I tell him that he just has a better roommate now! We have five amazing daughters, three - almost four- wonderful son in laws, and four gorgeous grandchildren- all of whom live close enough that we see them every week.