If you have ever purchased just one yard of fabric just because it called your name, bought just one yard of fabric because it was too costly to buy more, or hung onto that last yard of fabric left over from your project, you should have entered this contest!
If you didn't enter it and you need one yard inspiration, look no further than the entries of the 56 contestants members who did enter! You can check out their work in the Contest Gallery.
For this contest, contestants had to create wearable items made from no more than one yard and no less than 1/2 yard of fabric. See the rules for more information about what was allowed.
Tops ruled the day, but contestants also made a bra, a body suit, dresses, a teddy bear, bags, a vest, aprons and more.
Now let's meet the winners!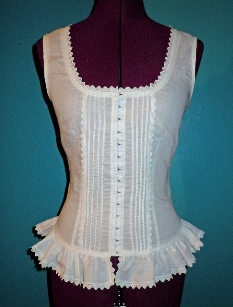 Pictured at left: KozyKitty's New Look 6599 Misses' Blouse
KozyKitty was inspired by Victorian camisoles in sewing View A of New Look 6599. She had picked up a yard of 50% linen/50% cotton at JoAnn Fabrics and was searching for the perfect pattern when she found this one.
She made a few changes in the pattern. First she left off the sleeves. She then eliminated the button bands and used hook and eye tape as the front closure. She substitued metal eyes for cloth loops to lace the ribbon through in the back. And she used heirloom sewing techniques to attach the lace trim and a wing needle to stitch the pintucks that created little holes.
She finds the pattern very versatile and will sew another view. She says that, with the design options available, she could easily make several very different tops.
Congratulations, KozyKitty!
Second Prize (By Member Vote): Ducky D for Self Drafted Pattern: 204407-1000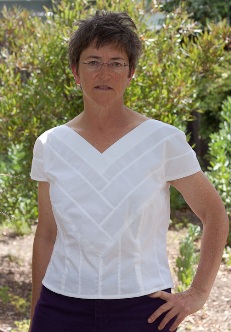 Pictured at left: Ducky D's Self Drafted Pattern: 204407-1000
Congratulations, Ducky D!
And congratulations to everyone who entered for their inspirational use of one yard of fabric!
We thank Threads for sponsoring this contest.

We thank PR member Sarsez for managing this contest.
Chat with other members about this contest.
Look at all the contest entries
Never entered a contest before? It's easy! Our contest tutorial will show you how to enter.
Check out the current contests.
Going on now: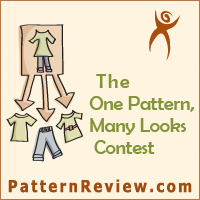 Why not enter?
Plan ahead! Check out the 2012 contests.