Every New Year brings more than the usual excitement to PatternReview... That's when members vote on the Best Patterns of the year from the top-reviewed patterns on PatternReview.
But things don't stop there. Members use the Best Patterns as a guide of what to add to their wardrobes. So...why not make a contest of it, right?
The 57 contestants participants in this contest could enter only garments sewn from the top 30 patterns identified as Best Patterns for 2009, 2010 and 2011. Contestants could submit multiple entries but only one entry per pattern.
The garments had to match the pattern...no freestyling here...but alterations for fit, hem or sleeve length and other minor details were allowed. Contestants could also "chop down" or "lengthen" a pattern. For example, they could alter a pants pattern to shorts and a dress to a top, but they couldn't use a jacket pattern to make a cape or use a sleeve from another pattern. See more rules.
Tops, cardis, dresses, pants...all were represented! See the Contest Gallery for an overview.
Congratulations to all on their great garments!
Now let's meet the winners.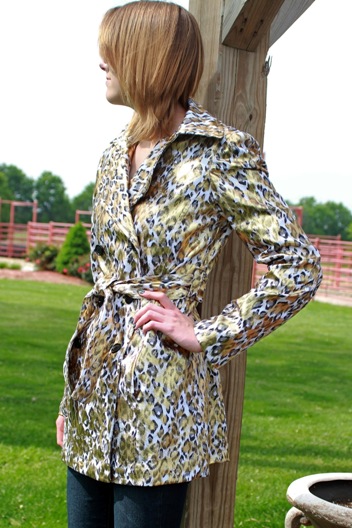 Pictured at left: Lori V's McCall's: 5525 Trench Coat
Lori V sewed McCall's: 5525 Trench Coat for her oldest daughter. For fabric, she used a leopard print cotton twill with splashes of metallic from Fabric Mart and a gold China silk lining from fabric.com.
She found the instructions quite good and the steps in a nice order. Many of the basic sewing steps were included and the instructions for the side front pockets were easy-to-follow with nice diagrams.
Her daughter is tall and has long arms, so she made her a size 10 and added 3 inches for the sleeves. She used the medium-length view to keep the sleeves in proportion, and she lowered the belt holders.
She loves this pattern classics and stylish lines and says that there are many design options you can use to make this coat your own.
She has sewn this coat twice before and will sew it again to make a coat for herself. Her conclusion: "One of the best garments I have made..."
Congratulations, Lori V!
Second Prize (By Member Vote): jenleeC for Vogue Patterns: 1247 Rachel Comey Top, a Best Pattern of 2011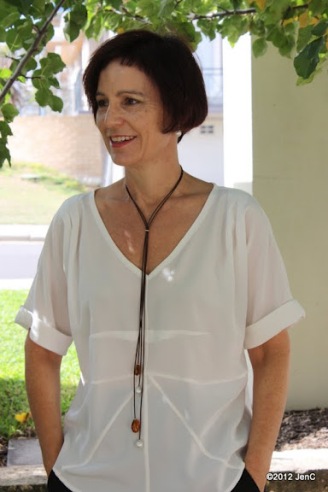 Pictured at left: jenleeC's Vogue Patterns: 1247 Rachel Comey Top
Congratulations, jenleeC!
We thank PR member Sew Ducky for managing this contest.
Chat with other members about this contest.
Look at all the contest entries.
Never entered a contest before? It's easy! Our contest tutorial will show you how to enter.
Check out the current contests.
Going on now: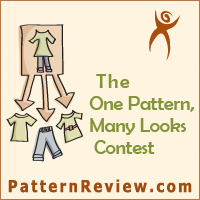 Why not enter?
Plan ahead! Check out the 2012 contests.