There's something really wholesome about working with and wearing natural fabrics, don't you think? Just like it's nice knowing where your food comes from, it's nice knowing where your fabric comes from, be it critter or plant. And wearing a wonderful natural fabric can be a whole new experience in pleasure! The quality can be fabulous, because people have been working with these materials for gazillions of years and have the process down pat.
In this all-natural contest, the entrants could only use 100% natural materials. What a palette! No blends allowed... And any wearable items were acceptable. See the rules for more information.
Take a look at what members entered! Wouldn't you love to have all of them in your closet?
Congratulations to all on their great garments!
Now let's meet the winners!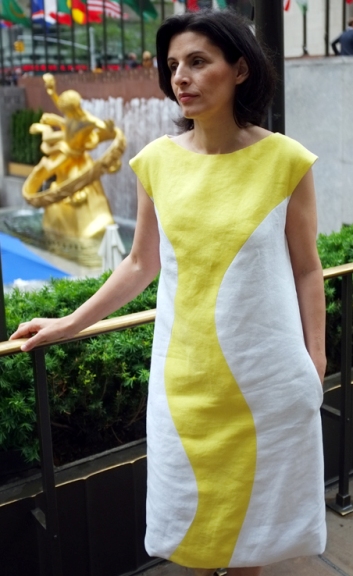 Pictured at left: MarinaVK's BurdaStyle Downloadable: 05-2012-107C Panel Dress 05/2012 #107C
MarinaVK made a couture version of a BurdaStyle Panel Dress, a pattern for a straight linen dress with a contrast curved panel.
Because she was making a couture version of the dress, she didn't follow the instructions. When she glanced at them, though, she thought that they should be a little more detailed for beginners.
She used 100% linen for the dress, silk organza for the underlining and silk crepe-de-chine for the lining.The pattern as designed did not include a lining, so she added a lining for two reasons: first, because linen can be transparent in white and second, because a lining reduces the effect of the heat and moisture that encourage the natural wrinkling tendency of linen.
She chose silk organza for underlining because she likes its crispness and its tendency to spring back into shape. The underlining also concealed the inner construction features.
One of several interesting techniques that she used in creating this dress is round-clipping her seam allowances to achieve flatter and neater seams on the curved contrasting panel on the front of the dress. She also catch-stitched all the seam allowances to the underlining to keep them flat and to reduce raveling. And she added bra carriers and substituted a lapped zipper for the original invisible zipper.
She will not sew the pattern again, not because she doesn't love it, but because her wardrobe needs only one dress in this style. She highly recommends it to everyone, including beginning sewers.
Congratulations, MarinaVK!
Tied for Second Prize (By Member Vote): marthamyers for Cutting Line Designs: 11226 The Blouse Perfected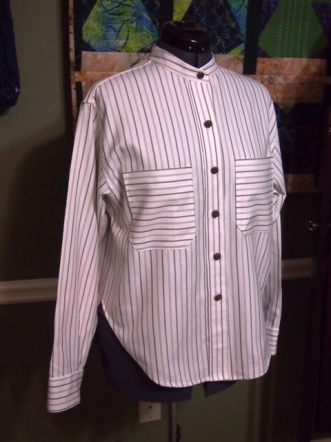 Pictured at left: marthamyers' Cutting Line Designs: 11226 The Blouse Perfected
Congratulations, marthamyers!
Tied for Second Prize (By Member Vote): hpsauce for McCall's 6171 Misses' Lined Jackets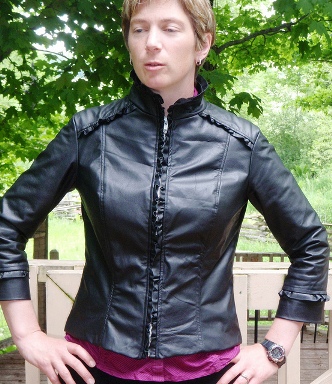 Pictured at left: hpsauce's McCall's 6171 Misses' Lined Jackets
Congratulations, hpsauce!
We thank PR member velosewer for managing this contest.
Chat with other members about this contest.
Look at all the contest entries.
Never entered a contest before? It's easy! Our contest tutorial will show you how to enter.
Check out the current contests.
Going on now: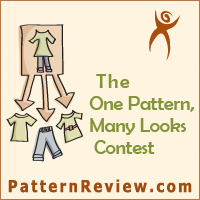 Why not enter?
Plan ahead! Check out the 2012 contests.