Well, we are all sweltering in a heat wave here on the East coast, so it is hard to imagine, but it is time to look forward to our fall wardrobes! We just received the Fall 2012 McCall's patterns and I have selected a few patterns to preview for you.

The first one which stood out for me is 6607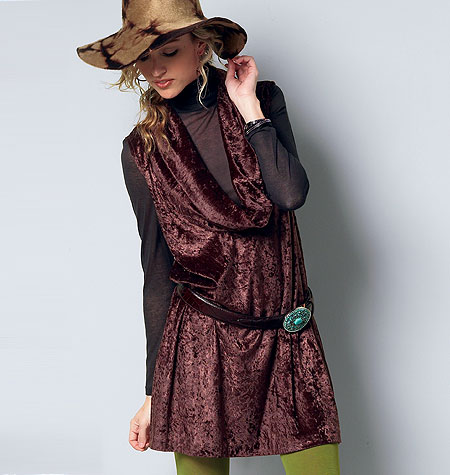 This is a very loose cowl neck sleeveless tunic designed for layering over a fitted garment. It has options for shaped or straight hems with side slit, and can be worn belted if desired. This tunic could be made in any moderate stretch knit fabric and I think would be a fun way to add a layer to an outfit without too much bulk.
I can picture it for fall with a fitted long sleeve tee shirt, jeans, boots and some funky beaded necklace. I would make the shaped hem version in this really cool metallic berry knit from The Cloth Merchants

The second pattern I liked was the 6608.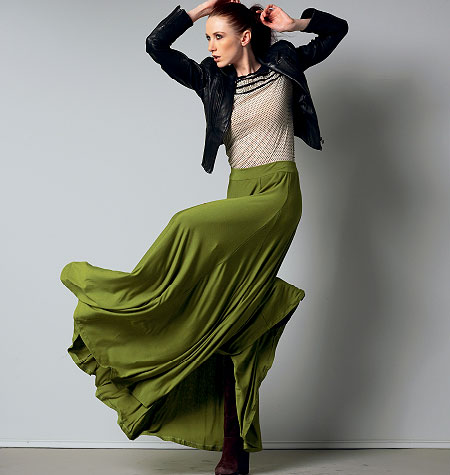 This skirt pattern is designed for medium weight wovens and moderate stretch knits and has enough variations to give you lots of options in one. The mini skirt version has optional welt pockets; the maxi skirt can be made with godets and an elastic waist, or straight with a zipper closure in back. I would love to make the straight maxi in this tribal fabric from Elliot Berman


6612 is the third in our featured series- a dress with many variations for knits.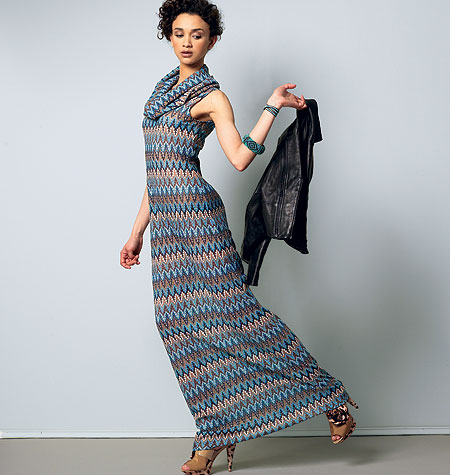 There are short, long and no sleeve versions, as well as options for a cowl, scoop, or draped neckline. Version A features a short length with a modern-feeling gathered side hem.
I would make version B with long sleeves and just above knee length in this elegant brown scroll design knit from Fashion Fabrics Club
Speaking of Maxi Dresses, we recently did a feature on Maxi Dresses in our fun Tracings newsletter. You can read it here. To subscribe to free newsletter - Tracings about about patterns, tips and techniques, go here.