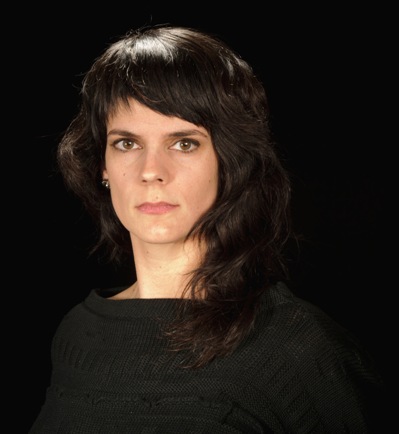 Welcome to author, sewist, and blogger, Elizabeth Cline! We are pleased to feature this interview she gave us last week while she was on tour promoting her new book,"Overdressed: The Shockingly High Cost of Cheap Fashion".
Given what you've learned in your research, what do you envision as the ideal wardrobe?
The ideal wardrobe is a well thought-out one. Most of us buy clothing on impulse now, and end up with closets full of clothes that aren't quite right for us and that we don't get a lot of use out of as a result. Instead, consumers should start the year out with a clothing budget, and save up for clothes that you will love and wear for seasons to come.
How has this book changed your wardrobe?
Completely. I never looked at fabrication labels before and now fabric is an incredible passion of mine. I love silk and linen and the newer viscose fibers like Modal and Tencel, and that makes cheap clothes a lot less attractive to me because they're mostly made of polyester and acrylic. I browse more, and buy less. I have a lot of my clothing tailored. I also love D.I.Y. fashion projects, like dyeing and refashioning garments.
How do you think an environmentally conscious home sewer should change the way she shops for fabric and sews?
Only if s/he wants to. Home sewers are already doing their part, because they're producing clothes on such a small scale and making custom pieces, which makes for a longer-lasting attachment. I'm no expert on eco-fabric resources for home sewers, but I always try to buy only as much fabric as I need and to recycle scraps, even if it just means reusing them in new projects.
Do you think that purchasing and sewing natural, slow-grown fabrics of wool, cotton and linen rather than artificial fibers like polyester would reverse the trend of throw-away clothes?
I certainly think it's one of many antidotes. Right now, people are buying clothes based on trend and price, and their closets are stuffed with synthetic-based clothes they barely wear and don't truly love. Knowing about fabrics is all part of the process of slowing down, thinking before you buy, and understanding clothes. Polyester is made from oil; it's hard to form an attachment to such a fabric when you picture how it's made. Wool, cotton, linen and silk come from our natural environment, and I think it's a wonderful truth that we have not been able to outdo nature in terms of hand feel and comfort. Environmentally friendly viscose, like Modal and Tencel, is sourced from natural byproducts, and those feel amazing as well.
Should home sewers try to purchase U.S.-made fabrics rather fabrics made overseas?
If we do, do we have many options? My opinion on home sewing is that it's already so much more sustainable that the buying off-the-rack clothes from a huge chain store. Home sewers are part of the solution, not the problem. I know that resources for home sewers have dwindled over the years. Parts of the country don't even have fabric shops. I think the more immediate goal should be to grow the number of home sewers before we tackle issue of where their fabric is being sourced.
What was the biggest surprise for you in researching this book?
Walking into a Salvation Army and seeing 18 tons of clothes wrapped up and stacked into a towering wall. That wall represented just three days of cast-off clothing from one single charity thrift shop in one city in the United States.
Do you sew and if so, what kind of garments do you tend to make?
I do. I'm a beginner, so I tend to make simple garments like tank tops and boat-neck tops with cap sleeves. I'm really more of a refashioner at this point, taking jeans and turning them into jean skirts, taking sleeves and shoulder pads off '80s blouses, and taking in the side seams on baggy t-shirts.
Do you use patterns?
I'm getting there. I've got the pattern and bought the fabric, but I'm intimidated by it all. I'm probably going to take a patternmaking class instead of jumping in.
What is your personal style in terms of fashion?
My style is influenced by rock and punk music subcultures, so I love dark colors and unfussy, edgy, and androgynous pieces. I'm also a huge fan of '80s power dressing—I love pronounced shoulders, boxy cuts, and hot pink.
In your research, did you make any discoveries about home sewing?
That it makes you a better consumer and makes you more attuned to your personal style. I tell people to buy a sewing machine and to learn how to sew if for no other reason than it'll keep you from getting ripped off in stores and it'll help you to know what you're looking at and looking for.
Your profession, where do you live, etc.
I'm a journalist and editor based in Brooklyn, New York.
What would PR members be surprised to know about you?
I won't say how much, but I think it's acceptable to drop a lot of money on a really beautiful, well-crafted item of clothing. I don't advocate buying designer just to brag about the label, but there should be no shame in investing in a gorgeous garment.
Thank you so much, Elizabeth for taking the time to share your views with the PatternReview community!
To read more about Ms. Cline, you may visit her blog.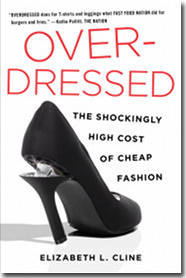 Deepika adds...
Any book which talks about sewing and/or fashion is of interest to me so I was really excited when we got this book in for a review. Of course this book is not about fashion. In a nutshell, it is about us as consumers of fashion and what its impact is on the society and the environment. Sounds boring? Far from it. It was a very interesting read especially since Cline talks about the history of the clothing industry and what it used to be back in the day when clothes weren't as cheap or cheaply made. It opens with a flashback into the time when clothes were lovingly owned and were mended (an activity we don't indulge in anymore, raising hands here!). Did you know that clothing is one of the few industries where prices have actually come down in the last 15 years? Inflation has not touched it - why? Because the quality of clothes has gone down- way down!
As a sewer, I felt just a little proud as I was reading this book because 90% of my wardrobe is made by me. I feel we are already doing our part by creating our own fashion in ways that we can express ourselves. Not only that, because we are the creators, we can take the time to do it right. And that's what my takeaway from this book is. To invest time into quality fabrics, and quality garments. Stopping to focus on construction and not just "whip" up easy things which I am so used to doing. A great read! I highly recommend it.