As the trends are moving back into feminine styles, you can't miss the sheer fabrics…beautiful prints and colors that can be worn all year. The blouse styles are casual and loose fitting, a perfect match with the skinny or crop pant. Unlike the traditional blouse styles, chiffon is being combined with unusual fabrics and textures creating new and exciting fashion statements. Layers of contrasting designs, touches of leather, hand beading, ruching, hand-dyed fabrics with original designs, sheer panels… you can really have fun with this trend.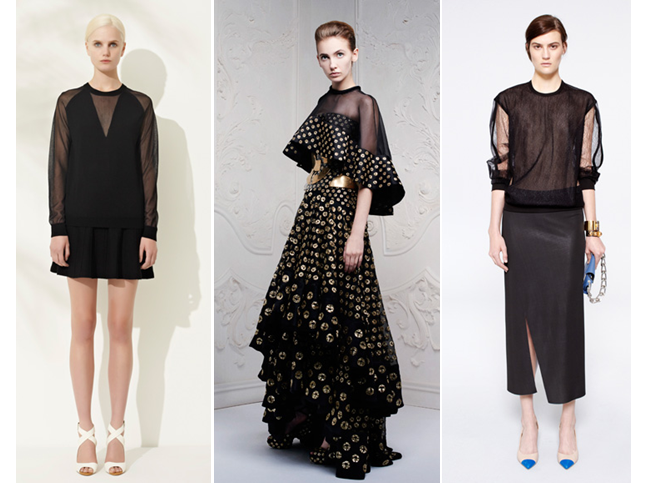 Photos from Style.com ... from left to right: 3.1 Phillip Lim, Alexander McQueen, Reed Krakoff
Printed Chiffon
If you have browsed the retail stores lately, you might have noticed there are not too many neutral colors to choose from. In fact, there are very few plain colors. Prints are everywhere. Which kind of makes me laugh because one of the main suggestions to fashion designers is to take it easy with prints. If the print is not well received by a customer, a designer can lose a lot of money. This must be the year for designers to go big or bust! I personally enjoy some of the prints and unusual color schemes, but I do not foresee filling up my sewing stash or closet with too many of these crazy prints. But as I'm looking ahead to fall, I see that dark burgundy or wine is going to be a very popular color. A print with touches of burgundy would be a perfect complement to dark grey wool pants or a black pencil skirt.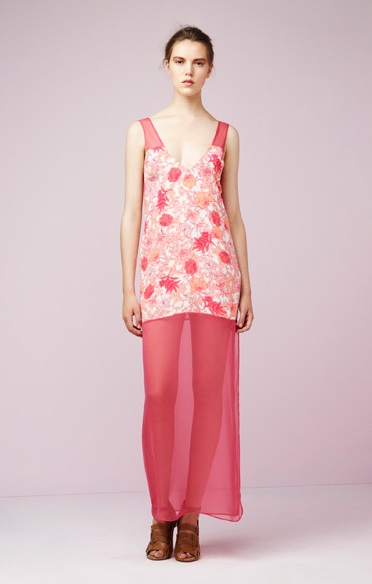 Photos from Style.com, compliments of Thakoon
Sheer Fabrics
There are many sheer fabrics to choose from, it really will depend on your overall design. Some of my person favorites are silk chiffon, silk organza, stretch netting (similar to the lining in a bathing suit), tulle, and, not to leave out a piece that has been in my stash for years, velvet burnout. I have been waiting for the perfect design, and now that this trend is so hot, I might have to work on a top for New Year's Eve.
Sewing Tips for Sheer Fabrics
Machine Needle: Start with a new machine needle in order to prevent fabric runs while you're sewing. I usually use a Schmetz size 10 for most of these sheer fabrics, unless the fabric has stretch. Then I use a "stretch" or "ballpoint" needle.
Cutting: Rotary cut with new blades
Pins: Glass head pins
Marking: Clay chalk or silk thread basting (wax chalk can leave a permanent mark on silk)
Seam Finishes: Narrow serged seam or 1/4" wide French seam
Hems: Rolled hem, narrow rolled hem with the serger, bias bound
Embellishing Sheer Fabrics
When it comes to sewing, there are so many ideas on embellishing sheer fabrics. Adding embroidery, ribbon accent, cutout designs, tulling ... take a look at the 2012 Collection for Marchesa for some inspiration.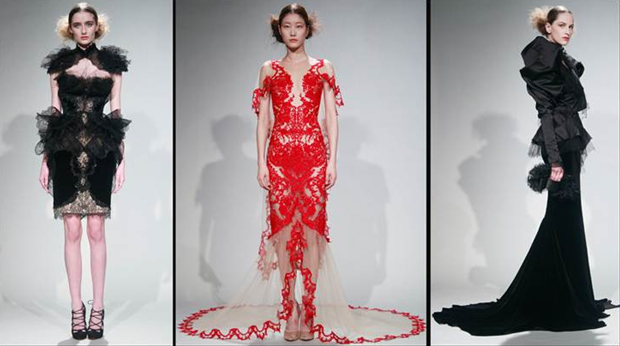 Photo from Marchesa 2012 Collection
On Trend Patterns
Here are a few patterns right on trend that you might want to consider sewing up.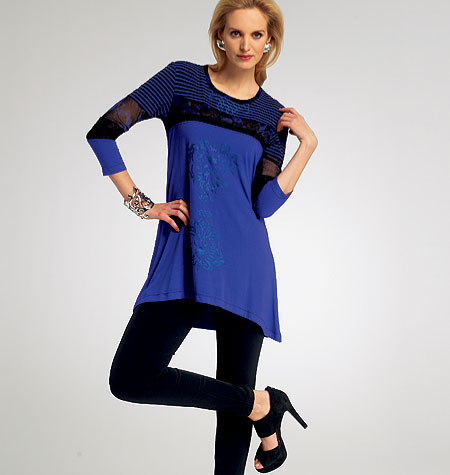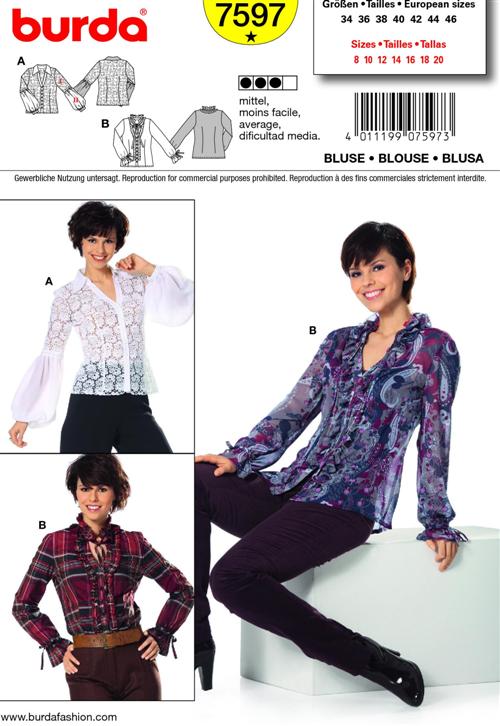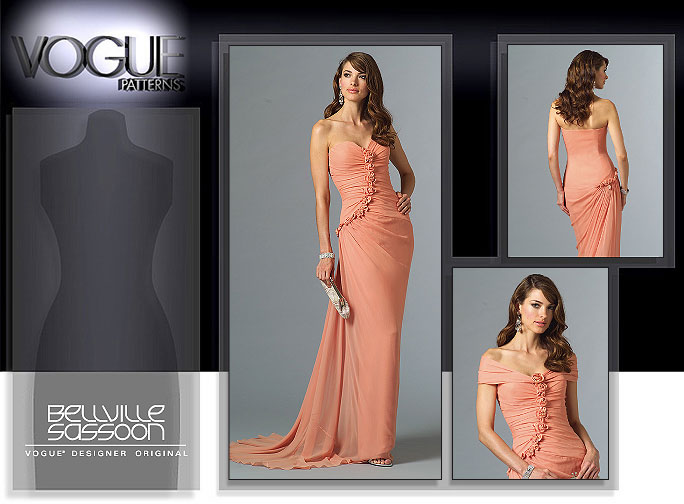 Have fun!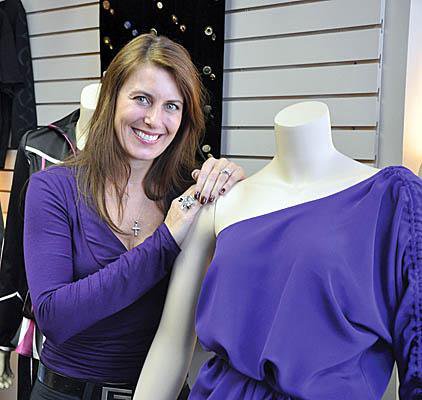 xoxo Angela
Join me on Facebook, Twitter, or follow my blog for more sewing tips. :)
Angela Wolf is the designer and founder behind ABO Apparel, Angela Wolf Ready-to-Wear and ABO Sport. An A-list clientele has given Angela more than fifteen years of experience dressing and fitting many diverse women and has enabled her to understand the different styles that compliment each individual woman.
Join Angela on Facebook, Twitter and her blog.
Missed Angela's previous columns? You can still read them!
Mixed Media
The Classic Skirts
The Top Fashion Trends for Fall/Winter 2012
Pantone's Color of the Year... Tangerine Tango!
Accessorize With the Scarf For Any Season
Fabrics for the Holiday Season
Faux Fur
A Few Fall 2011 Fashion Trends
The 70's
White, it's Everywhere... How to Wear It
How Will the Royal Wedding Affect Fashion?
A Touch of Glamour
The Love/Hate Relationship With the Popular Trends...Wide Leg Pant and the Skinny Jean!
Fashion Tips & Trends with Angela Wolf