Have you ever loved sewing and wearing a pattern so much that you've made it in every different color under the sun? And isn't it great when no one realizes that it's the SAME pattern, but with different fabric.
Enter the "One Pattern, Many Looks" Contest. This contest was an opportunity to flex your creative sewing muscles (one, two, one, two) and make the same pattern (and the same view!) look completely different!
The 67 contestants in this contest had to enter at least two garments made from the same view from the same pattern. Contestants could submit multiple entries but only one view per pattern.
The changes for each garment could only be cosmetic, that is, changing the fabric, neckline, length, or adding piping and trim. See the rules for more clarification. This is the third year this contest has been held, so there was plenty of guidance for this year's contestants!
I wouldn't want to be the one to judge this contest. There were so many great entries! How did the voters pick just five?
Congratulations to all the contestants for all their great entries and on multiplying their wardrobes by at least a factor of 2!
Now let's meet the winners.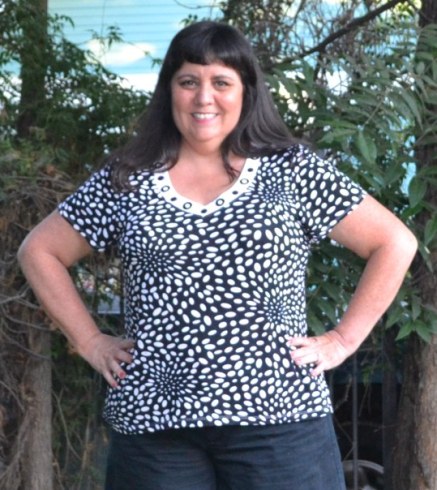 Pictured at left: Sherril Miller's Ottobre Woman Magazine: 02-2007-05 Rose Top, one of five tops she entered
Sherril Miller sewed the Ottobre Woman Magazine: 02-2007-05 Rose Top five times for this contest. (See her review for pictures of the other four tops.)
She made some minor changes to each garment. She added a flounce for the pink top, along with a binding at the sleeve. For the argyle top, she added a fabric strip to the front and a contrast neckline along with added buttons for a cardigan look. And she recycled a thrift store t-shirt to create the brown contrast and cut the sleeves at the hem for a sleeve finish. On the floral top. she put elastic on the sleeve hem and didn't use any contrast for the neck band. For the dotted top (pictured above), she omitted the sleeve bands and used a narrow hem. She didn't make any changes to the pink and green print top.
She says that this pattern has a great range of sizes and that the larger sizes have full-bust length already factored in. She loves the shape of the open neckline, which she find very flattering.
She calls this "a great wardrobe building pattern." She adds, "The sleeves are cute, and the neck band lends itself to decoration or an interesting contrasting fabric. I added two different sized buttons on my dotted top neckband. I'm definitely sewing it again and recommend that you find the pattern and sew a few up for yourself."
Congratulations, Sherril Miller!
Second Prize (By Member Vote): pdiddly for Kwik Sew: 3883 Men's Shirts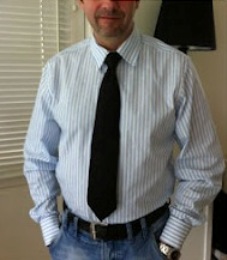 Pictured at left: pdiddly's Kwik Sew: 3883 Men's Shirts
Congratulations, pdiddly!
We thank Vogue Fabrics for sponsoring this contest.

We thank PR member shajarataddurr for managing this contest.
Chat with other members about this contest.
Look at all the contest entries.
Never entered a contest before? It's easy! Our contest tutorial will show you how to enter.
Check out the current contests.
Going on now: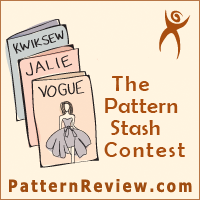 Why not enter?
Plan ahead! Check out the 2012 contests.