Member in Focus: lakaribane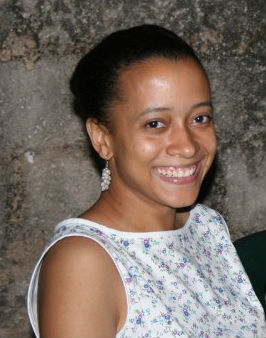 Member Since: 2007
Your PR Name: lakaribane
Your Full Name: Arielle Célestin
Your Birthday: December 12th
Your Blog: http://fashionmate.blogspot.com
How did you learn to sew?
I'm mostly self-taught. Though several generations of women sew in my family, my mother was (and still is) a sewing dilettante. As a teen, I sewed doll clothing for my Barbie and those of my BFF's kid sister. I also refashioned/recut several of my mother's UFOs (another hereditary trait, I'm afraid). Then, I stopped sewing through college and my early work years because I could shop RTW with my paycheck and foolishly thought that was fantastic. I got back to sewing when my brother got married in 2006 and I had to make my mother's MOH/MOG outfit. And it was like breathing again.
What aspect of sewing do you find most challenging?
I would say fit and finishes. I think I've pretty much identified my fitting problems (Narrow Shoulders, Petite, Low/full Butt, Forward Shoulder) and more or less developed an alteration sequence for my patterns.But I resent making them, so I alter with a grudge. At the other end of the sewing journey, finishes. I need to practice my hand sewing for delicate hems and I still sometimes wear garment with the seam allowances left unfinished (the armscyes in particular). And I need to reconcile myself with basting.
Which sewing book do you refer to most often?
I own both the Burda sewing book in French and the Threads sewing book. However, I find myself going online more and more. I read the reviews here on PR before starting a project (though I really should learn to read them BEFORE buying the pattern!) and participate actively on the boards. I also read a thousand blogs that I bookmark and blog roll. It's insanely addictive but [I love] the wide variety of tutorials, the wonderful inspiration to be found in the sewing blogosphere. I always say that the internet changed my life and that is especially true where my sewing is concerned.
What are your sewing goals for this year?
I want to upgrade my skill levels from Beginner, which I've had up since I joined, to Intermediate so I printed out the contest rules (can't recall which one) and I try to keep them in mind when I choose projects. But the biggest goal, and my greatest failure, is sewing regularly. In times of high stress, I tend to abandon the fun stuff, but I'm trying to remember that sewing makes me very happy. So sewing, sewing often, sewing for sanity.
What are you sewing right now?
I did a quick muslin of the bodice on Vogue 8280 and I'm hoping to find the time to make the dress for this big work event. As usual, it's the shoulders that are giving me trouble.
Pick your favorite pattern (only one please).
Amazingly, I'm a big fan of circle skirts, either full or 3/4 or half. I just keep making them. It must be because they are THE garment that reconciled me with geometry. At one time, this would have seemed IMPOSSIBLE.
Do you have a dress form?  What's her name?
I don't have a dress form. I made an attempt at a duct tape dress form, pretty accurate except in the bust. I called her Adélaïde I. Sadly, she didn't survive January 2010. The next iteration will continue the dynasty and become Adélaïde II, of course!
What you love most about PatternReview?
I love the community. I have PR as a tab on my laptop at home, as well as my computer at work. I check in every day and I love participating on the boards. I have no one around me IRL who sews, much less someone my age. So it makes me feel good to have found hundreds of thousands of virtual kindred spirits here.
Any other hobbies?
I'm a criminally irregular blogger, I love going to the cinema (though, sadly, I have to wait until I travel abroad, all movie theaters have closed here in the several years), I love reading and politics and, obviously, I surf the net A LOT, lol!
Your profession, where do you live, etc.
I'm a museum technician by training, but I'm also in the throes of a Promethean Delusion, i.e., I teach English as a Foreign Language and French Litterature at my old high school. Teenaged girls are an acquired taste some days. I live in the Metropolitan area of Port-au-Prince, in the suburban town where I grew up. I work downtown, a couple of blocks from the port. It can smell wonderful...or not. But the view from the roof of my building is really beautiful (just don't look down). I own two dogs, a Dobberman/Rottweiler mix named Ben and an embarrassingly fat black Labrador named Malika. She helps me sew by snoring under the sewing table. Does wonders for my motivation.
What would PR members be surprised to know about you?
I love beets. And leeks. And broccoli. Can't stand papaya. Think it's really unfair that ice cream, chocolate, popcorn, caramel and Jolly Rancher hard candy are bad for you (and your teeth). Just got a machete as a gift and called it Ti George (long story but if you want to hear it, I can tell you. Haitians love to tell stories. Appropriately, we call it "bay lodyans", i.e., giving audiences. Like royalty. *wink*)
Is there anything else that you'd like to tell us about yourself?
I blame my sewing stash completely on my ancestors. Haitians love familial explanations to behavior ,so here's mine. My grandfather was head of the Philatelic Agency at one time and was a life-long stamp collector. My maternal great-grandmother, grandmother, aunt, and cousin are all great seamstresses, as well an aunt and a (fourth?) cousin on my father's side. Do you see why I need all this fabric and patterns and notions and scissors? Blood will tell.
Actually, I aspire to having my own mythology like Cousin Mama (Emma Defly). She was a lingerie seamstress, and it's said that she could just cup your breast in her hand and cut out the right size bra cup. Everyone speaks of her with awe in their voice though she's been dead over 30 years now. I have no way of knowing if this story is real, but it's one of two tales they always tell about her. That and the time flood waters almost carried her out to sea during a particularly bad hurricane season. And they whisper behind their hand about how incredible that is, considering her girth.