ShapeShape by Natsuno Hiraiwa is a new book available from Interweave and the focus of these Editorial Reviews.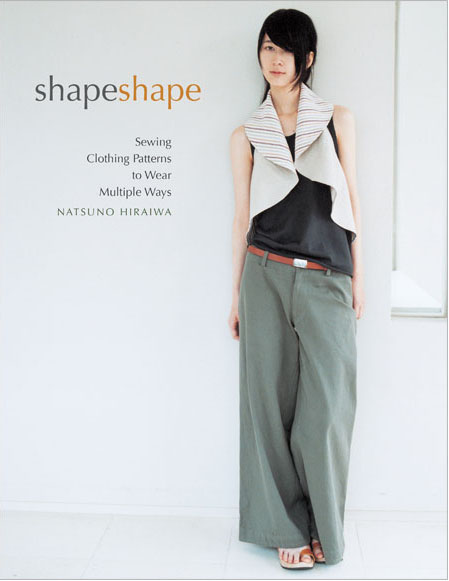 Editorial Review of ShapeShape
By Noelle MacMahon
The author, Natsuno Hiraiwa, has a distinctly Origami-esque perspective to the garments outlined in this book. Her brief introduction describes her design process as emerging from repeated sketching of shapes which she transfers to fabric. She then drapes the resulting forms until she discovers what the garment is to be. There is something really freeing about this philosophy; it comes from a place of creativity and discovery rather than pure fashion. She is also very focused on the resulting designs being versatile, so that every one is either reversible or has multiple wearing options.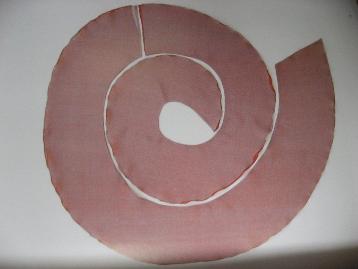 Spiral Scarf
There are nineteen projects included in the book with an emphasis on vest/stole/ shrug type pieces.
One pattern I'd love to make is the Free Style Curved Stole. This appears to be an incredibly simple, but elegant pattern which would be a perfect cover up for summer nights which get a little chilly. It also happens to be fairly on trend as it has the asymmetrical hem and drapey-ness we see a lot now.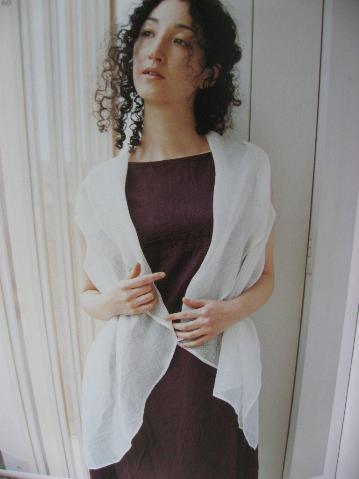 Free Style Curved Stole
The author provides pattern pieces, instructions, and diagrams. Her requirement that the designs are versatile and/or reversible, combined with the nature of the pieces as "origami", cause the instructions to feel a bit like putting together a puzzle. I am an intuitive sewist, so I felt bogged down by the detailed and confusing diagrams and instructions for some of the projects. But her designs are really interesting so I would still recommend this book as a resource for unstructured, playful garments.
Editorial Review of ShapeShape
By Diane Severin
ShapeShape is a little different from the books we've reviewed so far, and its patterns are a different from the typical Big Four patterns. It's a little like Vogue but with a dash of avant garde mixed with art student. These designs push the envelope of style beyond what many of us typically wear every day.
The title ShapeShape refers to the garments. And when you look at the pieces, the word "tailoring" does not come to mind. What does come to mind is the word "geometry."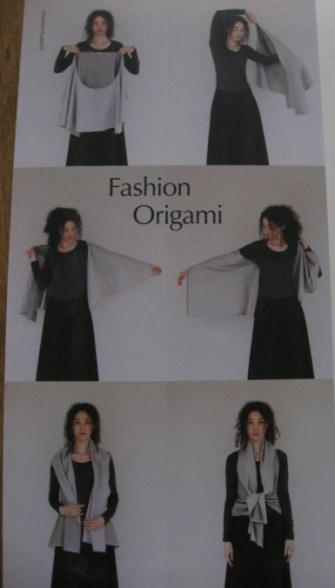 Two Way Stole
That being said, there are some interesting concepts here, like the detachable pocket in the Detachable Pocket Button Down Shirt. And actually, the detachable pocket goes back to the roots of the pocket, which were worn on a woven tape around the waist not sewn into women's clothing. However, this form of the detachable pocket is not entirely practical unless you put the lightest things in it. Otherwise, the full pocket will pull the shirt down. And there goes the style!
But on the plus side, someone has to think of these ideas so that design can evolve and progress. And the designer has created some garments that, with a twist here or there, can be worn in different ways, a choice which is a boon to creating a diverse wardrobe.
Some designs, although striking, are a little mind-boggling, like the Folded Shrug. I'm not sure that I could figure out how to wear it (never mind sew it) before I've had my coffee.
But all that aside, there are designs here that I can see myself wearing, like the Free-Style Curved Stole, the Two Way Stole and the Reversible Circle Vest.
The Twist and Drape Blouse would be ideal in a gauzy or sheer material, but you wouldn't be able to sit back in it for fear of crushing the twist!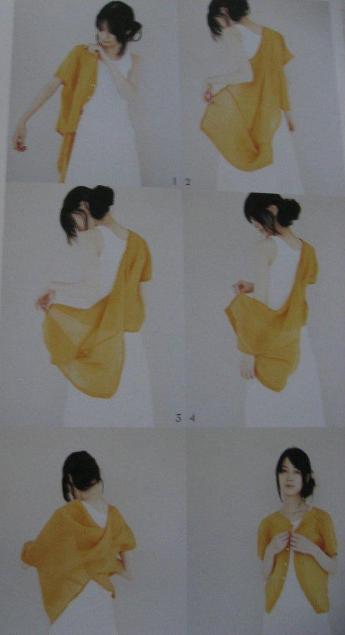 Twist And Drape Blouse
And finally, the Envelope Messenger Bag is another piece I can see myself making, but the style looks best when the bag is empty and hugging the body in a gentle curve, not full and bulging as it would probably end up (unless I carried something flat, like paper!).
The diagrams for the sewing process seem complete, which is a good thing, because the instructions are along the lines of "Attach front pocket to right side of Fabric A", attach zippered pockets to Fabric B"… brief and to the point.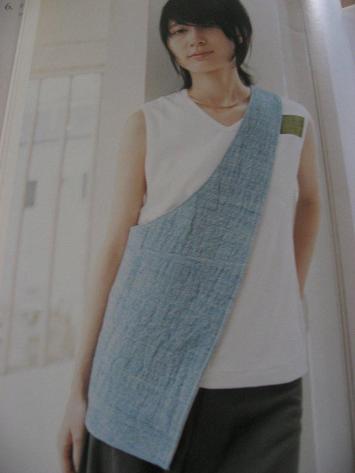 Messenger Bag
The technique glossary is limited to techniques you'd actually use in making these garments: how to attach bias tape, how to make a flat-felled seam, how to make a buttonhole, etc., but is not really a primer for beginners.
The book includes patterns in a small envelope attached to the back cover.
You'll enjoy making these patterns more if you are someone who has sewing experience. If you are a novice, you may struggle with sewing these designs.
Order ShapeShape: Sewing Clothing Patterns to Wear Multiple Ways by Natsuno Hiraiwa from Amazon!
Do you want to win a copy of ShapeShape? Post a comment here on our blog! We'll pick a winner on Friday, August 3rd.