Do you love collecting patterns, but don't seem to get around to using them? Is your pile of "Must Make Now" patterns threatening to cause an avalanche? Or are you pretty current on sewing projects but just LOVE a contest?
You should have entered Pattern Stash 2012!
And you would have had plenty of company, because 103 members participated in this contest!
It's a good thing that this contest was decided by points, because you would have had a really hard time picking a winner!
In this contest, participants had to use patterns they hadn't used before . Patterns had to be acquired by February 2012. For the ins and outs of the rules, click here.
So many projects (208, to be exact) and so many yards (310.89). That's more than 3 football fields long! Check out the Contest Report to see who sewed what.
And don't forget to check out the Contest Gallery!
A shout out to everyone who entered…great job!
Now let's meet the winners!
First Prize Winner (by Points): dawn so cal
33 Points, 33 Items Made, 36.27 Yards Used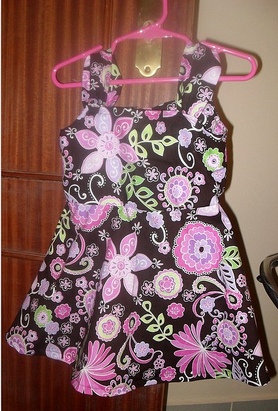 Shown: Butterick 4718 Dress (Fast and Easy)
dawn so cal's projects were varied. She made the Butterick 4718 dress shown above, as well as a wall hanging, pillows, pants, skirts, kids' hats, leggings, a bag, jackets, headbands, dresses, a robe, nightgown…well, you get the idea. She was very busy during this contest! She also pushed the envelope by making several projects from Japanese pattern books.
She made the cute Butterick 4718 dress in 1 full yard of Michael Miller Boho Blossom fabric as a size 2, but gives a warning…the final garment was HUGE! (It's sweet, though, isn't it?) She doesn't think her daughter will grow into it because once the width fits, the dress will be too short.
Congratulations, dawn so cal!
Second Prize Winner (By Points): TanyaMT
15 Points, 15 Items Made, 18.37 Yards Used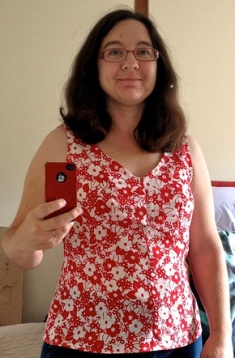 Shown: Vogue 8567 Top
Congratulations, TanyaMT!
We thank Saf-T-Pockets for sponsoring this contest.

We thank PR member CTBarb for managing this contest.
Chat with other members about this contest.
Look at all the contest entries.
Never entered a contest before? It's easy! Our contest tutorial will show you how to enter.
Check out the current contests.
Going on now: