We all love our handbags. You can never have too many! If you can sew a handbag, you're in luck…you'll have a steady supply of new looks for every season.
And our Handbag Contest participants are ready for any season with all their entries in the Handbag Contest. Wouldn't you love to shop in this store?
The rules were not many. The handbags had to have linings. They could have commercially-made handles. Here are a few more rules.
There were so many colors and styles of handbags entered, so many that it was hard to pick the winners, wasn't it?
But you did, and here they are!
First Prize (by Member Vote): arianamaniacs for Amy Butler: AB025FB Frenchy Bags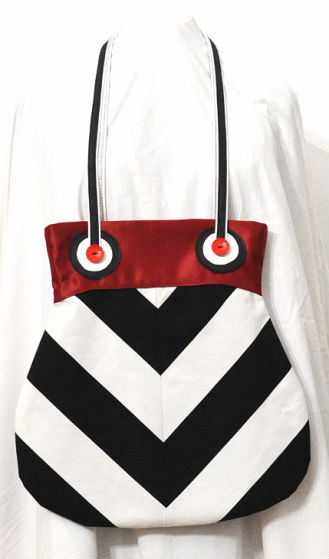 arianamaniacs picked this Best Pattern of 2007 to create her two-toned handbag, but she was inspired to change many of the details to make what she calls her "Frankenfrenchy" bag.
She started with cotton duck left over from another project, a Harry Potter Champion tent curtain valance for her sewing room. She also used red buttons that she found at a flea market and heavy red satin left over from a cocktail dress.
To make this bag her own, she added topstitching details with bits of leather and devised the handles using lengths of trim. She also lengthened the straps, removed the middle divider, hand-stitched a large snap inside, and added red piping. To keep the black and white pattern intact, she removed the front pleat.
She recommends trying this Amy Butler handbag pattern if you've never made a handbag before because the instructions are, in her words, "very explicit and descriptive."
She says, "I've sewn a few, and it's a nice practical handbag. I often give these as gifts to friends. Everyone has been kind enough to pretend like they like them too, lol."
Congratulations, arianamaniacs!
Second Prize (by Member Vote): Lynn WA for Self Drafted Pattern: 173224-1000 Designer Handbags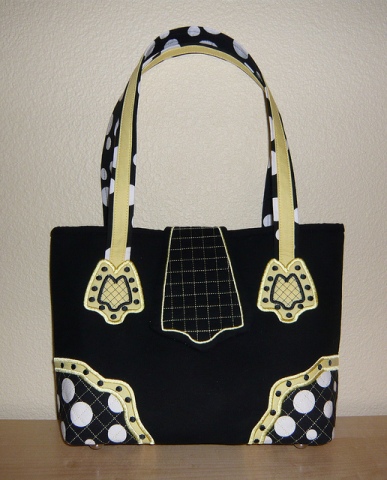 Congratulations to all our contestants for inspiring us all with their great handbags!
We thank Threads for sponsoring this contest.

We thank PR member SheBear0320 for managing this contest.
Chat with other members about this contest.
Look at all the contest entries.
Never entered a contest before? It's easy! Our contest tutorial will show you how to enter.
Check out the current contests.
Going on now: