Despite the past few seasons of skinny jeans, slim-fitting jackets, and form-fitting dresses, you might be a little surprised to see one of the new trends taking main stage on the fall runways. The key word is "oversized" - not to be mistaken with "super-sized" - although these new silhouettes are a little more forgiving than a few of the recent trends.
This trend is not just focusing on one garment type, because we are also seeing blocky sweaters, wide leg, pleated pants, and boxy jackets. Feel like you are having a flashback to the 80's? Well, you kind of are. If you are only going to add one of these trendy items to your sewing list, a jacket or coat will have to be top on the list. The simple, boxy styles mean you won't need to deal with many fitting issues, a plus which makes these jackets very easy to sew.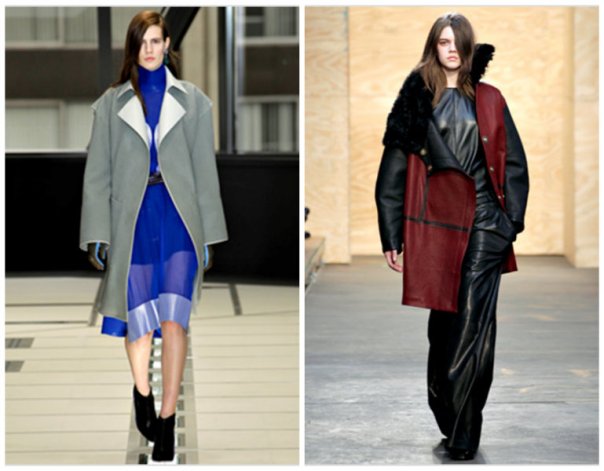 Designers: Balenciaga (top left), Proenza Schouler (top right), Celine (bottom left), Jil Sander (bottom right). Photos from the runway.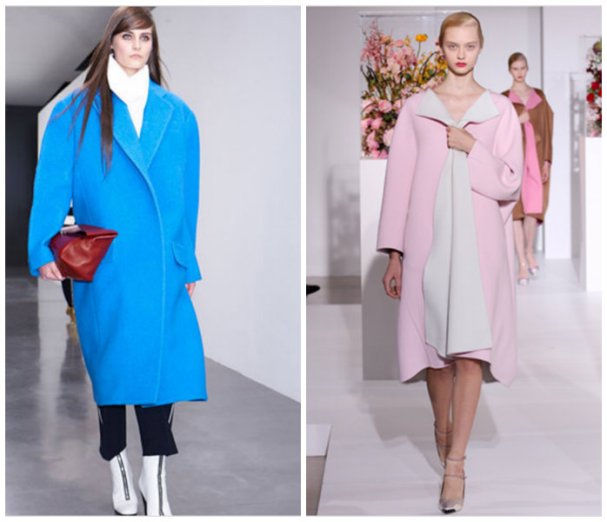 You can't miss the Louis Vuitton ad in the front of all the fashion magazines this season (see photos below. Here is the link to their fall fashion show). Oversized jackets and pants, wild printed fabric, wide collars, but even more interesting, check out the buttons and bound buttonholes! I think I will pass on the "Cat in the Hat", but I do plan on sewing up a jacket similar to this style. I am going to tone it down a little with black cashmere for the outer jacket fabric, needle felt a design as trim, and add wild print for the lining. So my new mission is to find (or make) some of these awesome oversized buttons, and I will share any resources I find in next month's column. If you have any ideas creative ideas, let me know.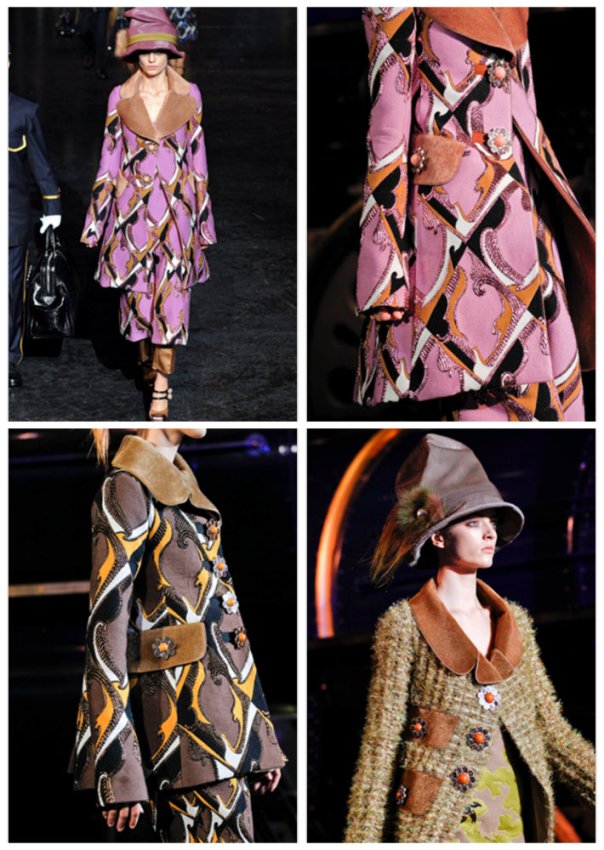 Designer: Louis Vuitton. Photos from the Louis Vuitton Runway Show.
Here are some ideas for adding some unique design to your oversized jacket:
Fabric Ideas:
Cashmere
Felted Wool
Double Faced Wool
Silk Brocade
Add spice to a basic color with a printed lining
Styling Ideas:
Change the sleeve length to 3/4" and add long leather gloves
Alter the pattern pieces and color block
Embellish with oversized beads, rhinestones, and buttons
Add unique trim
Needle felt designs into the fabric
Pattern Ideas: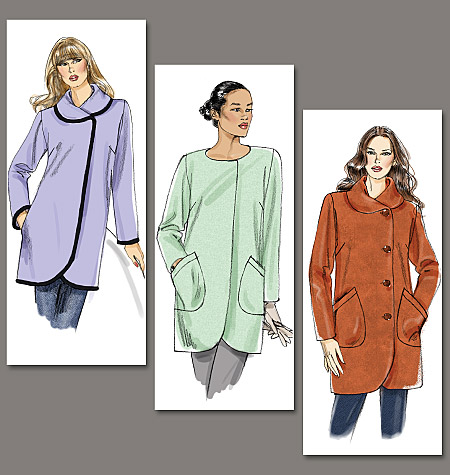 Vogue 8754 would be a perfect pattern to start with. Add embellishing and you will be right on trend. Embellishing ideas: beading or trim on the pockets, large buttons and bound button holes, cut up the large pattern pieces and color block.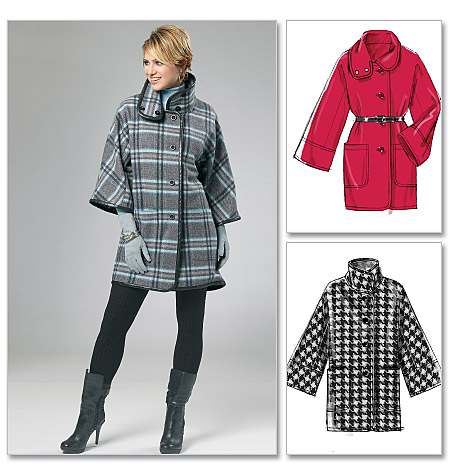 McCall's 6445 This would be a great style to wear with long leather gloves.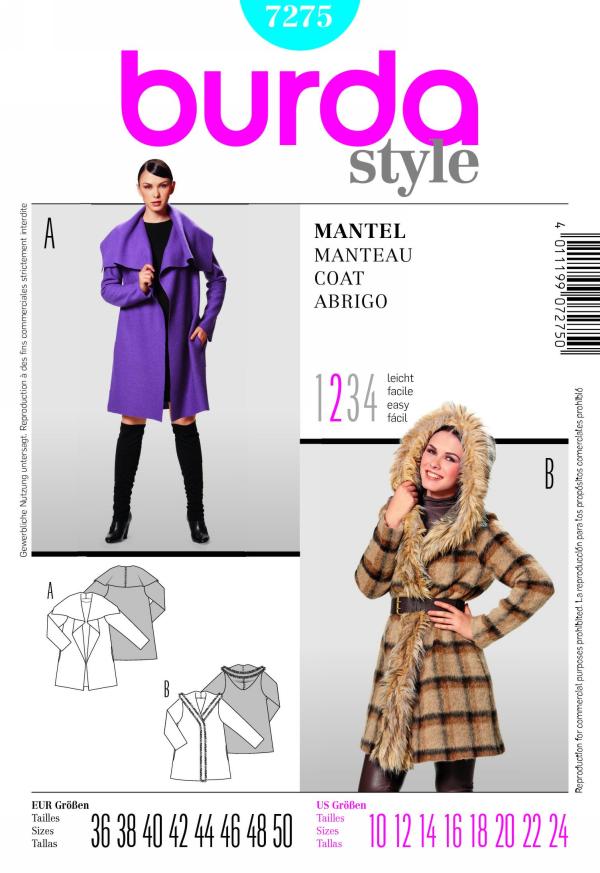 Burda 7275 - View A would be a great choice out of a felted wool.
Check back next month for tips on wearing the new oversized pants, along with other pants trends for fall. I will also be adding fall trends to my pinterest board if you want a closer look.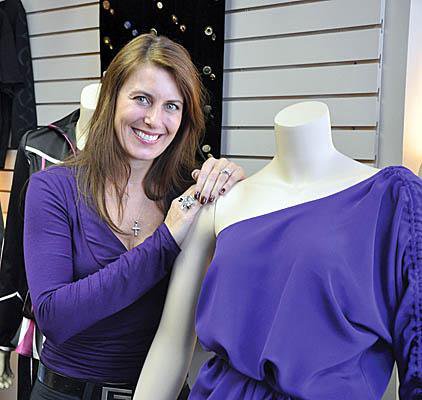 xoxo Angela
Join me on Facebook, Twitter, or follow my blog for more sewing tips. :)
Angela Wolf is the designer and founder behind ABO Apparel, Angela Wolf Ready-to-Wear and ABO Sport. An A-list clientele has given Angela more than fifteen years of experience dressing and fitting many diverse women and has enabled her to understand the different styles that compliment each individual woman.
Join Angela on Facebook, Twitter and her blog.
Missed Angela's previous columns? You can still read them!
Sheer Madness
Mixed Media
The Classic Skirts
The Top Fashion Trends for Fall/Winter 2012
Pantone's Color of the Year... Tangerine Tango!
Accessorize With the Scarf For Any Season
Fabrics for the Holiday Season
Faux Fur
A Few Fall 2011 Fashion Trends
The 70's
White, it's Everywhere... How to Wear It
How Will the Royal Wedding Affect Fashion?
A Touch of Glamour
The Love/Hate Relationship With the Popular Trends...Wide Leg Pant and the Skinny Jean!
Fashion Tips & Trends with Angela Wolf