With jacket classes and new Fall patterns, jackets have really been on our minds lately!
And along comes the jacket contest! Well, good things come in threes!
The competition was pretty stiff in this contest. 58 members participated! It must have been a real labor, because some parts of the PR world were enjoying the last hot days of summer, and who wants to work on a lined jacket when it's 90 degrees F outside? Oh, well, PR sewers are very hardy!
And yes, there were rules… But the most important one was…the jacket must be lined!
In spite of the hot weather and the necessary rules, contestants did their best to sew their finest lined jackets.
Whew! It must have been hard to decide this one with so many great entries. Congratulations to everyone who entered!
First Prize (by Member Vote): MaryDB for Jean Hardy: 630 Misses' Riding Jacket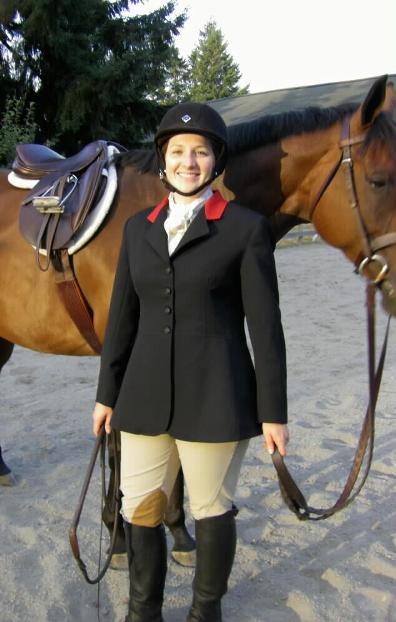 MaryDB sewed this riding jacket for DD, who rides horses and participates in mock foxhunts (they don't actually hunt foxes in this version). The jackets are made in England and very expensive, so MaryDB thought she give it a shot. She had made one before from wool, but it was too hot to wear and she wasn't very happy with the fit. She says, "My goal for this jacket was to make a good-looking tailored jacket with great fit, as close as possible to a Saville Row bespoke hunt coat."
She used an OOP pattern from 1974 to make this jacket, which has a waistline seam, center back vent, and pleats. The pattern was poorly drafted, and she had to rely on some hard copy resources to complete the project the way she wanted to. There were not enough notches, some notches were incomplete, and the sizing was lacking.
Nonetheless, she was able complete the coat using a very fine lightweight Pendleton wool twill she purchased for $3.59 a yard from the Pendleton Mill outlet. She fully interfaced it with Palmer/Pletsch PerfectFuse Light polyester weft, lined it with Bemberg Ambiance rayon, and added other fabric touches. She purchased the buttons (with a fox face) from the UK.
She estimates that this jacket cost her $65 to make, about 1/10 of the cost of purchasing a ready made.
She says, "This is one area where sewing your own really pays off…"
Read more details about her contest entry in MaryDB's review.
Congratulations, MaryDB!
Second Prize (by Member Vote): Nancy2001 for Self Drafted Pattern: 45793-1015 Homage to Yves Saint Laurent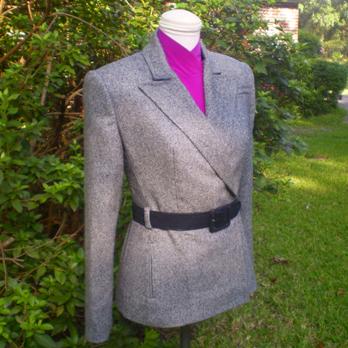 Congratulations to all our contestants for raising the bar with these great garments!
We thank Coats & Clark for sponsoring this contest.

We thank PR member Aroura for managing this contest.
Chat with other members about this contest.
Look at all the contest entries.

Never entered a contest before? It's easy! Our contest tutorial will show you how to enter.
Check out the current contests.
Going on now: