Your PR Name: LizJaneB
Member Since: 2012
Your Full Name: Elizabeth Brennan
Your Blog: http://sewbusylizzy.wordpress.com/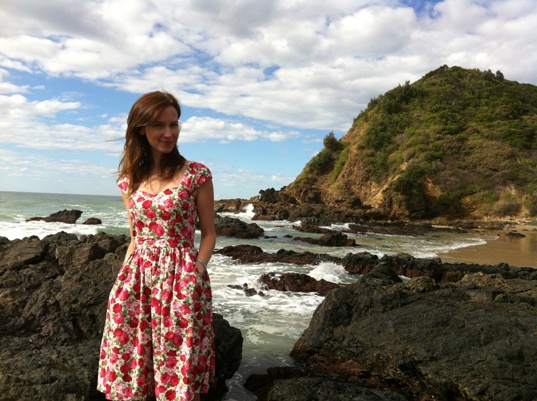 I was taught to sew by my mother. First came hand-stitching, cross-stitch, knitting, embroidery and, then as a teenager, I learnt patchwork and the basics of dressmaking.
When I was young, I was never terribly interested in making my own clothes - perhaps because my mother was so competent at it, there was no need! I was a prolific cross-stitcher for many years and dabbled in embroidery and knitting.
Just before I graduated university, I landed a job as an assistant editor (I had worked since I left high school while attending university, in human resources, administration and corporate publishing) at an Australian craft magazine called "Australian Country Craft & Decorating." Before long, I was editor, and my job involved sourcing craftspeople to profile, attending photo shoots, editing patchwork, folk art, embroidery, cross-stitch, teddy bear and all many of other craft patterns. I took it upon myself to learn as many crafts as possible in this time. Patchwork became my passion - our publishing house was home to many, many craft magazines and I was surrounded by talented women. We spent our lunch breaks stitching, and most of my weekends and free time were dedicated to visiting craft fairs and doing craft!
After I married, I moved out of the city and closer to my family and in-laws who live on the east coast of Australia. I now work in the local cultural centre which is home to an art gallery, theatre, heritage displays and tourism information centre. I manage a website, marketing and public relations for the centre. It's busy and very demanding - but I'm surrounded by creative people and beautiful art in an architecturally beautiful building!
In 2012 I was looking for a creative outlet. I stumbled across the Colette Patterns sewing book on Amazon and then found PatternReview - and have not stopping sewing since. I love making my clothes! As none of my friends sew, I decided to needed to find some like-minded stitchers and my blog SewBusyLizzy was born. I now can't imagine my life without the sewing blogisphere - it is one of the most inspiring and connected experience of my life - it truly has changed my life! Meeting people like Maria of MariaDenmark and connecting with people across Australia and the world has been amazing. I really can't imagine my daily life without my blog, other sewing blogs and Twitter!
I have a long list of 'sewing ambitions' and think that this creative journey is going to be a lifelong and fulfilling one.
Thank you, LizJaneB!