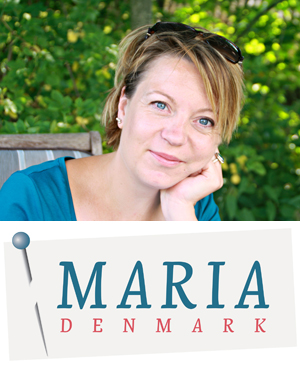 HELLO MARIA…
Now, I'm guessing you are from Denmark…correct?
Completely. Born and raised, and I've never lived anywhere else. I want to, though, at some point.
I was born in Copenhagen and have lived there most of my life, but 8 years ago we moved to the countryside a good 45 minutes away from central Copenhagen. The kids were small then, and it was great getting a house where they could play in the garden. Now that they are big (both are teenagers) we'd love to go back to the city!
How long have you been sewing and who taught you?
I remember borrowing sewing magazines and books from the library when I was 10 and reading them while dreaming of all the wonderful creations I could make, but unfortunately we didn't own a sewing machine, and I had to wait until I was 15, when I finally got my hands on a very old and used Husqvarna machine.
I did have sewing in school (we have an obligatory subject called textile crafts in grade 4 and 5) but the teacher was very old-fashioned and wanted us to take ages to make a pillowcase (doing hand-basting etc). She killed any creativity and joy there might have been in class.
So in conclusion. Nobody really taught me (and it showed!).
I began real garment sewing in my early twenties but didn't really get into it until I began finding sewing sites on the Internet (late '90s).
What are the things you remember most clearly about your early days of sewing?
I know this is a strange answer, but when I read this question this is what comes to mind: An image of me cursing and fiddling, trying to get set-in-sleeves to behave. This was a t-shirt and yet the sleeve cap had way too much ease, and the instructions told me to set them in in the round. It was a nightmare. (This was, of course, before I knew about setting sleeves in flat). Also I didn't know what to do because I thought you had to follow the instructions completely.
Like many of us, you have been sewing for many years – in that time how has the sewing world changed?
Obviously – the online sewing community (which didn't exists at all when I started out). I remember finding PatternReview and being so happy that I could chat with other people interested in sewing. No one around here (that I knew, anyway) was sewing. Finding friends (actually, one of my closest friends – Tini – I met through PatternReview) and having somewhere to learn about sewing and somewhere to ask questions was brilliant!
Since then, with all the sewing blogs being there, it has become more of an inspirational tour to go online. And also – if my sewing mojo is low, just looking through the blog reader will get it right back.
Sewing patterns have changed a lot, too, I think. First of all, it seems like we have many more independent designers – maybe they were always there, but we didn't know about them. And in the last couple of years, we have seen more and more PDF patterns coming out. Which I like for the same reason I love getting e-books – it's instant gratification! (I'm not a very patient person!)
What do you think are the good things about those changes?
Well, all of it, but obviously, the market for .pdf patterns opening up is a big deal for me.
Five years ago, if I'd wanted to start out as a sewing pattern designer, I would have had to get a bank loan of at least 50.000 Euro – just to start out. Today you just need to buy a program in which to draw the patterns – and that's more like 2000 Euro, which is so much more reachable.
What are your favourite fabrics to work with?
I love my stretch knit fabrics. I really do. I like the relatively easy fitting, the fun styles, the easy wear. But whenever I get a chance to work with a woven cotton or a nice wool, I'm always so thrilled about how easy they are to handle, sew and press.
Over the years what have been the things you are most proud of (or loved the most)?
My first trousers, definitely. Or should I say, the first trousers that fit me well. I went through Pants for Real People (by Palmer/Pletch) and fitted my pattern all alone – only with the help of a camera, the book and all the lovely ladies at PatternReview.
I'm also very proud of the bridesmaids' dresses I made for my wedding (well, Tini actually made one of them!). We made one for my stepdaughter (who was 10 at the time and plus sized) and for my sister (who was a skinny 15-year-old) using the same pattern. And they turned out very nice, I think.
The one thing that has been loved the most was a pair of camouflage elastic waist trousers I made for my son when he was little. He wore them for years and grabbed them as soon as they came down from the clothes line. First he wore them with the cuffs turned up, then he wore them like normal trousers. He grew, and the trousers became knee shorts and shorts, until he finally couldn't fit them anymore.
Are there any fabrics, techniques or styles that you are still trying to master?
Oh, yes. Many. I've still to sew a boned corset, and I would love to sew a real old fashioned tailored menswear suit jacket some day. Actually, I'm planning to take a tailoring-a-suit class next spring…
When did you make the move from being a stitcher to being a designer?
I began drafting for myself a couple of years ago, and then realised that I didn't really know what I was doing. So I took a couple of classes at a community college and then suddenly I realised that I've always wanted to design sewing patterns that teach sewing. That was a year ago.
You are one of the designers behind shopOnion – can you tell us a little bit more about that?
Actually. I'm the founder and owner of ShopONION.com, which is a webshop, that sells Danish sewing patterns with instructions in English. It began a bit by accident, when I was sewing and reviewing ONION patterns on PatternReview (See? PatternReview and the online community has meant a lot to me!) Soon other members asked me to help them get the Danish patterns I used. And shortly after I made an exclusive translation agreement with the designer of the ONION sewing patterns and Dennis (my husband) began programming a shop. And ShopONION was born. Two years ago I was approached by the designer of the MiniKrea patterns (which makes lovely kids patterns) and I started translating and selling for them as well.
What inspired you start MariaDenmark?
The realisation that is was possible for me to publish sewing patterns (with out the gigantic loan) and the idea to make them with detailed illustrated (with photos) instructions (which is possible with pdf patterns, but tough with printed patterns, as there is always the cost of printing more pages and pictures are so expensive to print) made me want to follow my dream. The name MariaDenmark was my online user name from the beginning, so I thought I would start a transition from Shoponion (which implies that I only sell Onion patterns) to MariaDenmark.com.
What's your design philosophy and what inspires your designs?
I want to design patterns for everyday wear with simple lines (much in the Danish design tradition) and a great fit. I want the patterns to have detailed illustrated instructions, to make them easy to sew and fit for everybody – even complete beginners. Basically I want to create patterns that I've always needed.
Right now, I'm inspired by what I wear and what I need to add to my wardrobe. I also get very inspired by current fashion – especially the Danish designers (I love Gestuz, Karen by Simonsen and Malene Birger) and blogs.
So what's up next for MariaDenmark?
I have a skirt pattern coming out next week. So right now I'm working to get everything pulled together and ready. I have one more pattern planned for this year, but since I still have my full-time elementary school teaching job, I'll need be careful not to over work myself.[SewBusyLizzy: and my blog/twitter followers think I'm busy!]
What are your long-term plans for MariaDenmark (or will we have to wait to find out)?
Well. I have actually quit my full time teaching job (but still have a couple of months left) and then I'll begin my full time sewing career! The details will be revealed at a later time – but there will be a lot of new patterns and also I'll still be teaching!
I'm sure you can do more than sew and design sewing patterns – what other things do you create?
I crochet and knit and also love to make old-fashioned soap. But right now it is mostly about the sewing.
So when you are not creating, sewing, designing – what do you do?
Teach. And plan lessons. I podcast with Tini (The Twin Needle Podcast) and I also enjoy running (I know, I never thought I would say that I actually enjoy it!) and being with friends and family.
I have an ecological kitchen garden (which has suffered a lot this year) and 5 chickens as well. I don't watch much TV, but I read a lot of fiction. I also need to sleep 8 hours per day and I cook and eat occasionally… I don't clean very often, though.
Any final tips, hints or thoughts you would like to share with the online stitching community?
I'm so thrilled with everything that's happening right now in my life. Thank you online stitching community for making it possible!
Thank you so much, Maria, and I certainly look forward to more of your designs!
Thank you, Lizzy! This was so much fun!
We thank LizJaneB for letting us reprint this interview with Maria Denmark, a piece which originally appeared on her blog.
See Maria Denmark's patterns on PatternReview, including the free 101 Kirsten Kimono Tee download.
We profiled LizJaneB here.
Visit LizJaneB's blog, Sew Busy Lizzy.