There are some of us out there who are really organized when it comes to our wardrobes. By that, I mean that we actually plan and coordinate what we'll wear this season, clothes that actually all match!
And there are some who are even more organized and SEW a matching wardrobe. Kudos to them! And kudos to those members who entered the Mini Wardrobe Contest to do just that!
The rules were simple: pick a key item and sew 4 matching pieces. Oh, and sew them all in one month. J The rules suggested that contestants create storyboards to show the outfit combinations.
The results were wonderful! We wish we had wardrobes like these!
Congratulations to everyone in this contest, or, as contest manager Pinkytoo wrote in the discussion board, "Congrats to the 2 lucky winners and the 25 who tied for 3rd place!"
Now let's meet the winners.
First Prize (by Member Vote): Lynnelle for her Mini-Wardrobe. Pictured: Simplicity: 2860 (Misses & Miss Petite Pants Amazing Fit Collection) and New Look: 6648 (Misses Knit Tops)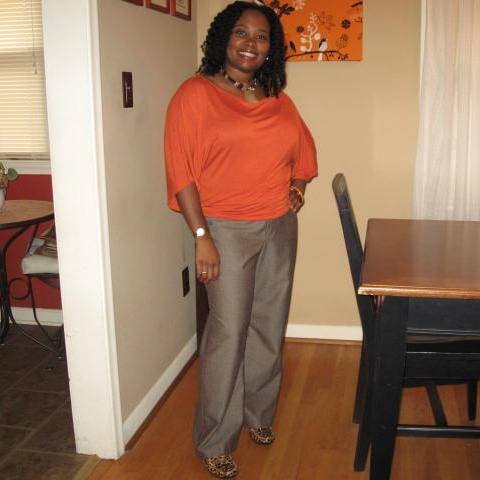 Lynnelle describes her mini-wardrobe entries this way: "Comfort meets urban chic? Nah. More like urban chick needs comfort...comfortable clothes, that is." The fabrics she used were made of natural fibers, and three of the four patterns were TNTs.
Her colors for this mini-wardrobe are brown, cream and orange. For those who have never seen one before, here is her storyboard: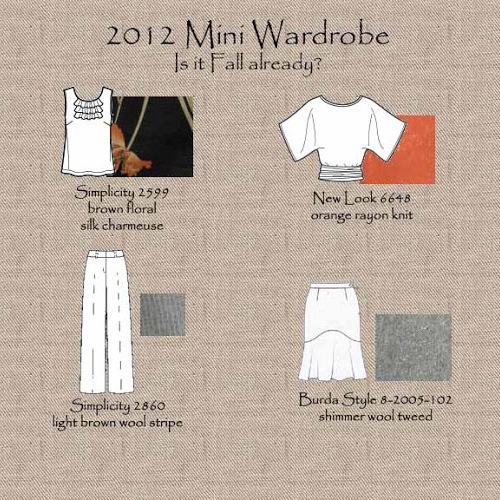 Her key item, as outlined by the rules, is a pre-owned brown cotton corduroy blazer. Here are her individual pattern reviews:
Top 1: Simplicity 2599 (brown floral silk charmeuse). A Best Pattern of 2010.
Top 2: New Look 6648 (orange shimmer rayon knit). A Best Pattern of 2011.
Skirt: BWOF 8-2005-102 (light brown & shimmer wool tweed)
Pants: Simplicity 2860 (light brown striped herringbone wool suiting)
These choices gave her eight outfit combinations, outlined in her main review.
She says, "I am quite happy with my mini wardrobe. Everything is comfortable to wear and suits my taste. I've entered this contest a couple of times in the past and am pleased to have finally finished!"
Congratulations, Lynnelle!
Second Prize (by Member Vote): Nancy2001 for her 'Casual Luxury' Mini Wardrobe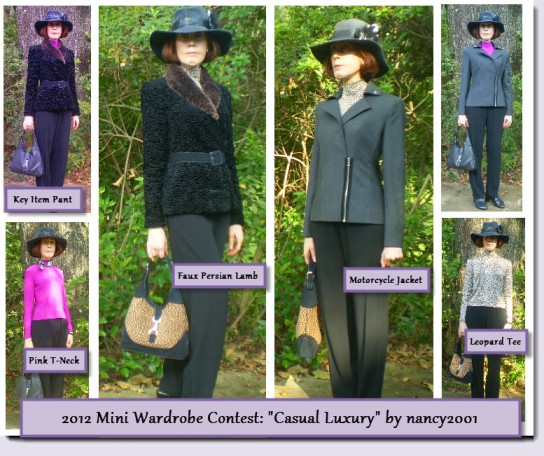 Congratulations, Nancy2001!
And congratulations to all our contestants!
We thank Vogue Fabrics for sponsoring this contest.

We thank PR member Pinkytoo for managing this contest.
Congratulate the winners and chat with other members about this contest.
Look at all the contest entries.
Never entered a contest before? It's easy! Our contest tutorial will show you how to enter.
Check out the current contests.
Going on now: