Of all the sewing projects we tackle, jeans are the most intimidating, aren't they? We want professional results when we sew jeans...we don't want the homemade look! The double-stitching and rivets look like something we can't handle, and that puts off us right away.
And jeans are ubiquitous, aren't they? We choose them as a staple of our wardrobe, so we tell ourselves that if we can just perfect a pair, we can sew them over and over again and get a lot of use out of them.
All these issues led to an 85-page Jeans Sew-along on PatternReview, where members shared their experiences (and their frustrations) about how to sew a pair of jeans that fit well and look like they were sewn by a professional.
Choose a Jeans Pattern
If you're thinking of starting this project, you'll need to choose a pattern, a decision that means that you'll have to choose a style. As always on PatternReview, we read the reviews, and the top-rated pattern (second is not even close) is Jalie 2908 with 134 reviews. PR members chose it as the Number 1 Best Pattern of 2009.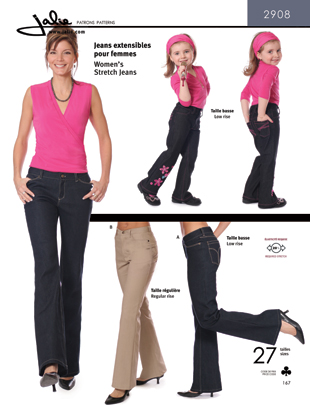 Jalie 2908 - a Best Pattern of 2009 and still going strong!
Jalie 2908 produces a jean with a flared leg and a choice of waists: low rise and regular rise. And by all members' accounts, the directions and the fit are fantastic.
But there are other choices too, like Vogue 1034 (by Sandra Betzina), in either boot-leg or straight-leg versions. Several reviewers rated this pattern "A Great Wardrobe Builder."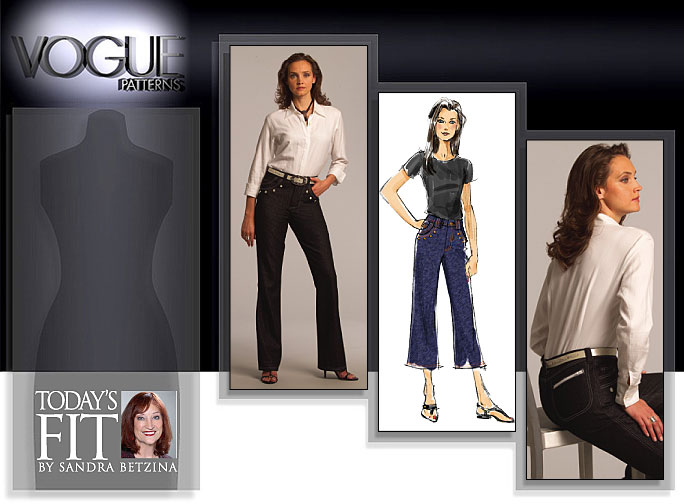 Vogue 1034: a great wardrobe builder
Members also highly recommend J Stern Designs 0037 Misses' Jeans. (designer Jennifer Stern also teaches the PR class Blue Print to Blue Jeans).
annakeeton says of this pattern, "This is the first ever pair of jeans I have sewn and since this is the year of FEARLESS SEWING, this is my entry in the Jeans Contest...I am thrilled to have made my own jeans!" See what else annakeeton had to say in her review with detailed photos.
Other possibilities are J Stern Designs 0037W, Kwik Sew 3193 (another highly recommended pattern), Vogue 8774 (also highly recommended), and Kwik Sew 3315 (ditto).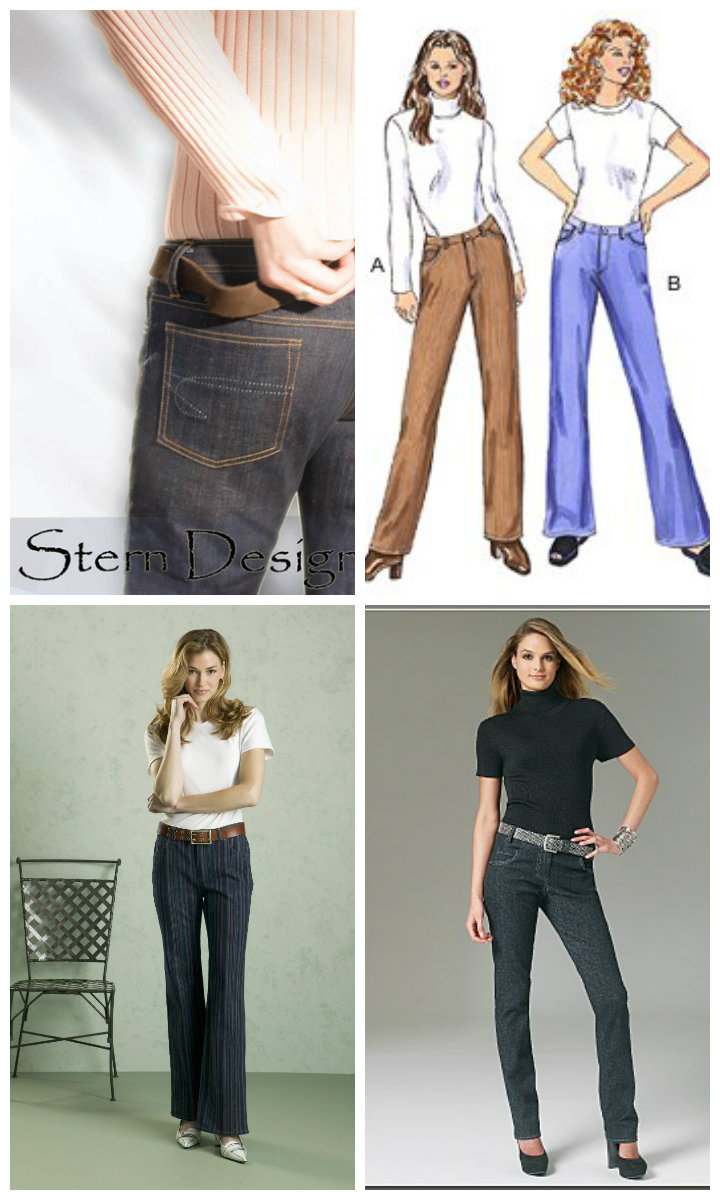 Highly recommended jeans patterns (clockwise, from top left): J Stern Designs 0037W, Kwik Sew 3193 (another highly recommended pattern), Vogue 8774 (also highly recommended), and Kwik Sew 3315
If you go for the skinny jean or jegging, you may want to read what Angela Wolf said about these looks in one of her columns.
Above all, don't forget to read the reviews for the pattern you're interested in, so that the experiences of PR reviewers can guide you.
Pick Your Jeans Fabric
Once you've selected your pattern, you need to pick your fabric. The pattern instructions will guide your choice. For example, Jalie 2908 recommends "Stretch denim or corduroy with 20% stretch across grain (approx. 4% spandex)."
If you decide to use something different than the recommended fabric, read the reviews for the pattern to see what other members' experiences were when they chose a different fabric.
If your pattern simply says "denim", according to PR members, you want to choose a heavier denim (10.5-12 oz.) for fitted jeans. Lighter denim will fit differently around trouble spots you may want to "encase." Also keep in mind that stiffer denim can be easier to sew than washed "spongy denim". If you have your heart set on a lighter denim, you can always starch it to make it easier to sew.
Once you buy your denim, you should process it with 1 to 3 wash and dry cycles (and once or twice more after you hem them). Indigo denim can bleed for several washings and rub off on hands and other articles of clothing (Who hasn't ruined a white shirt this way? Tie-dye, anyone?) Some members recommend washing with white vinegar to stop the bleeding. Others say that a dryer sheet will absorb some of the dye in the dryer.
And don't pack the fabric in too tightly. As with a new pair of jeans, a tightly packed fabric can rub against the washing machine drum and wear away the dye in one spot. If you've got a lot of fabric, it's better to wash it in batches or in the bathtub.
Of course, denim comes in all colors these days. Perhaps you'd like to sew a pair in Tangerine Tango, this year's "in" color that designer Angela Wolf mentioned in a past column.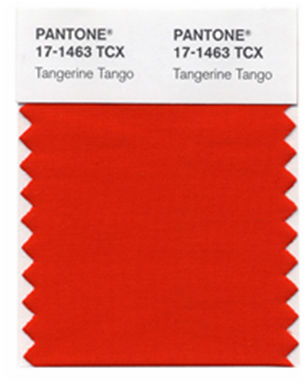 Buy Thread, Rivets, Buttons and Zippers for the Jeans
Supplies are your next concern.
Number one is thread. Members say that there are lots of threads available to you, but the one thread you'll probably want (and this thread gives jeans their unique look) is topstitching thread. The most commonly used threads for topstitching are Coats and Clark Dual Duty XP Heavy Duty, Gutterman upolstery thread, regular weight Gutterman thread, and Gutterman topstitching thread. You can get topstitching thread on Ebay at a cheaper price. Find out more here.
For that authentic jeans look, you'll also need rivets and jean-style buttons. You'll need between 4 and 10 rivets for placement on the front pocket edges, coin pocket, and back pocket. Members gave sources for rivets; you can find them here.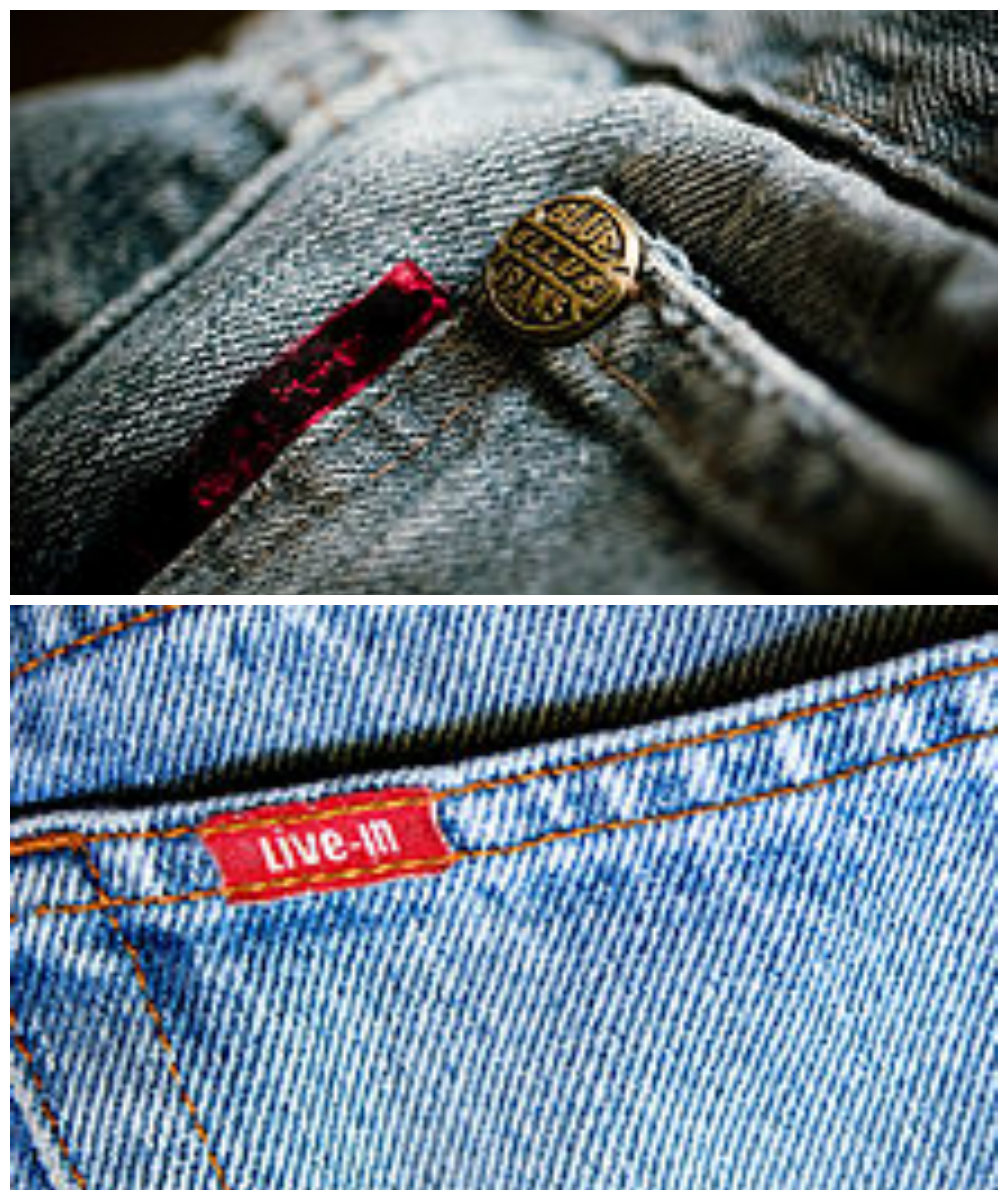 Rivets and contrast topstitching are a hallmark of the authentic jeans look.
And you'll need a zipper. Members point out that plastic and metal zippers are both used for jeans. Most popular is the Coats & Clark All Purpose Zipper. If you find that you need to shorten the zipper, do it from the top, the point at which the zipper meets the waistband.
Now Construct the Jeans, With PR Help!
Once you cut out your jeans pieces, you'll tackle the construction. You'll find lots of help on PR for putting your jeans together.
Some highlights of these tips follow.
Members recommend using glue (that's right, glue) instead of pins to hold seams in place before you sew them.
Invest in topstitching and edgestitching feet to create that professional look.
Reinforce back pocket edge tops with a bar tack.
Wash (and shrink) your interfacing before you apply it.
Because each denim is different and will have a different fit and stretch, add really wide (about 1") seams to the side so you have room to make adjustments.
See more tips here.
There are lots of helpful tutorials and articles to guide you through the sticky parts of constructing your jeans, including:
Sandra Betzina's Fly-front Tutorial
Emilie from Jalie's Gaposis Tutorial
And the end result? Jeans like these: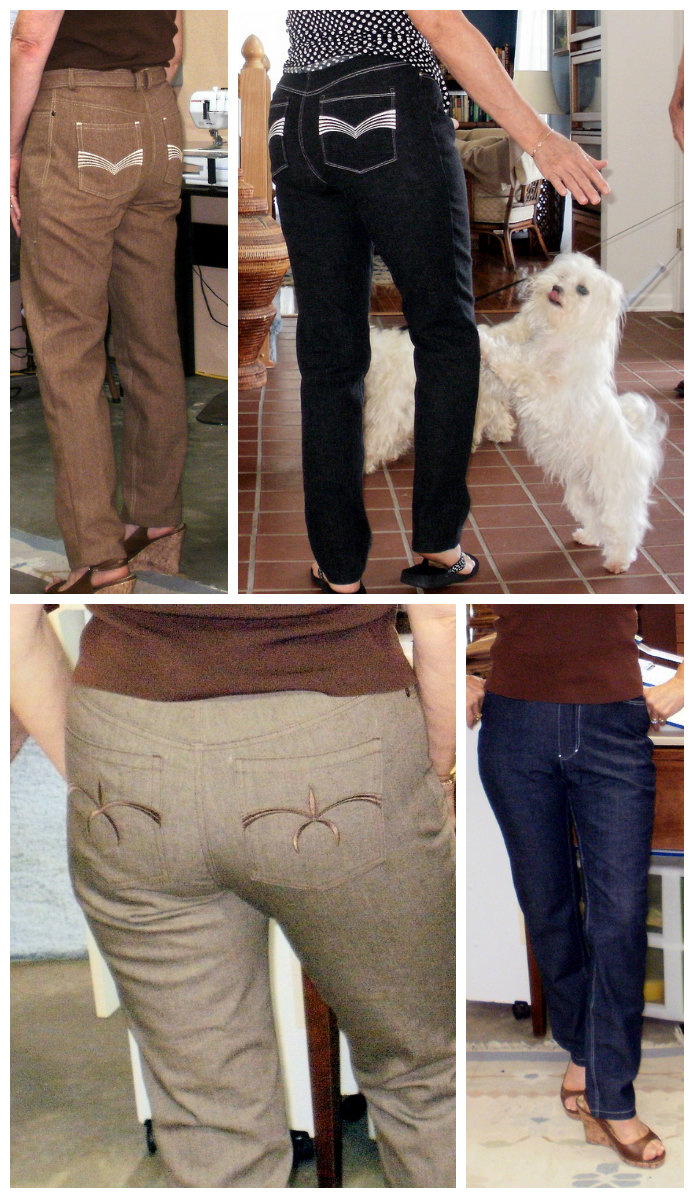 Nan Kay loves Jalie 2908 so much that she has made several versions of it already! Read her review.
Consult the Jeans Sew-Along Forum
You'll find all this information and more in the Jeans Sew-Along forum. It's 85 pages long, but there's a wealth of experience in those pages!
For a shorter introduction to the process of sewing jeans, you'll want to read cabinbaby's digest of the Jeans Sew-Along pages in the forum Jeans Tips and Tricks.
Try sewing your own jeans. Before long, you'll be writing your own jeans review!
cabinbaby did her summary of Jeans Sew-along when it was 74 pages long, but members have been adding comments and questions since then. Feel free to share your experiences too!
See Jeans Patterns and Reviews.
See more Jeans Patterns and Reviews.
Visit the Jeans Sew-Along forum.
Read about the class Blue Print to Blue Jeans. Get notified when it starts again!