This season's runways are filled with leather and fur, jeweled detailing, gold and silver glam, and vibrant prints, to mention a few. So the question arises, "Why such glamour?"
Marylou Luther states in her trend overview presentation for the Fashion Group International, "It's the economy in China, Brazil, Russia, Dubai and a few other places filled with abundance, where the women actually want to look rich. They've got it and they want to flaunt it."
All right then, let's see what's in store for the luxury end of dressing.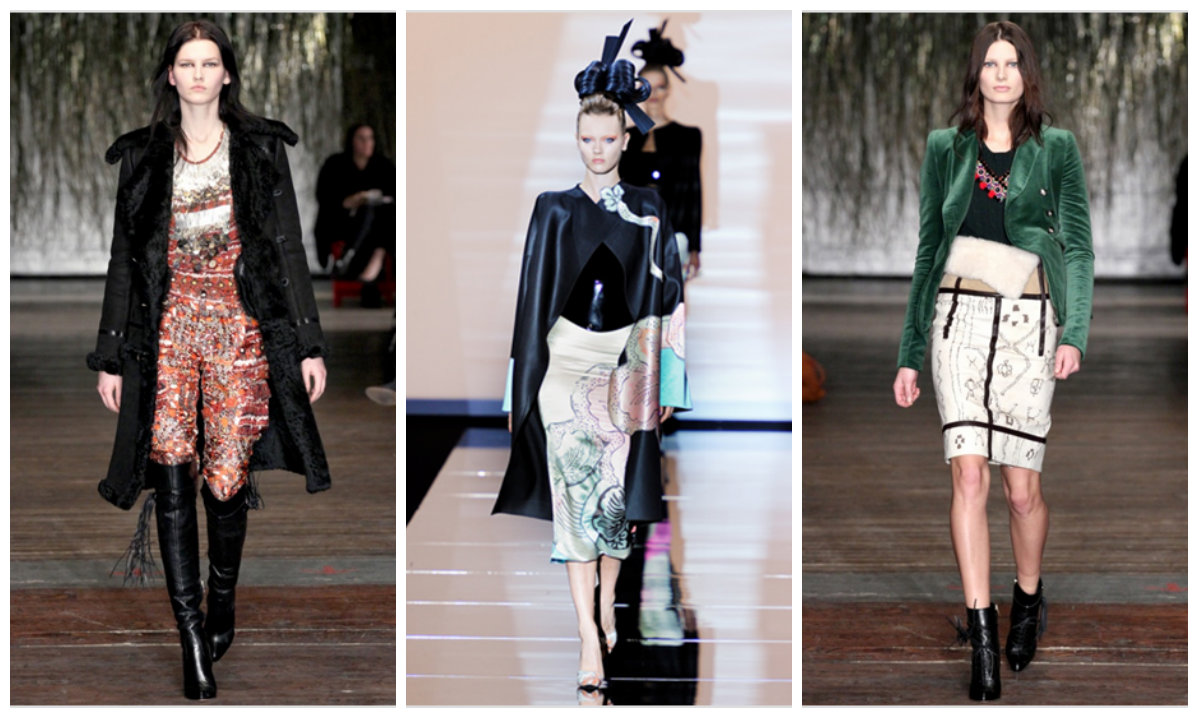 From left to right: photos from runways of Lanvin, Armani, Lanvin
Prints
Unique prints are shown in so many creative ways. Designers are rarely using the print as an all-over design. Instead, creativity and imagination is key here. Here are some ideas to dabble in this trend. Using the print fabric as a base of the design, lay out pattern pieces in the various directions of the print. This creates interest, yet is not too overwhelming. Consider combining pattern drafting and draping techniques with contrasting fabric textures. Refer back to the color blocking and mixed media tips from previous column. The same concept works perfectly here.
Here is a tag list of ideas to transform a print fabric into high-fashion:
Add pleats
Use color blocking
Combine various prints and fabrics
Tell a message with custom printed fabric
Use lace or a sheer fabric as an overlay on parts of the print
Add sequins or beading to parts of the design
Cut the pattern design using different grainlines on the same printed fabric
Add ribbon or trim as an accent to cut up the large print (similar to the Lanvin photo above)
If you are a little more of a conservative fashionista and want only a touch of print, try adding a color blocked tank or cami underneath a black jacket, or one my personal favorites, crazy silk linings. I have been doing this for years for my custom clients. In fact, I had one client who would insist on rolling up her jacket sleeves to show off the touch of color. Anything to make you smile...
Fabric and Other Colorful Ideas For the Season:
Fabric options are endless, but here are a few ideas to get you rolling:
Silk chiffon
Silk charmeuse
Stretch knits
Plaid fabrics
Brocades
Printed denim
Printed cotton
You can always print or silk-screen your own fabrics
Here are some patterns that would fit into this fall's fashion with prints…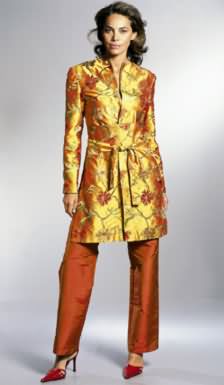 This Burda jacket, sewn out of a brocade, is perfect for this season. The pants in the photo are the perfect length for this fall and Spring 2013; just make sure to wear cute shoes.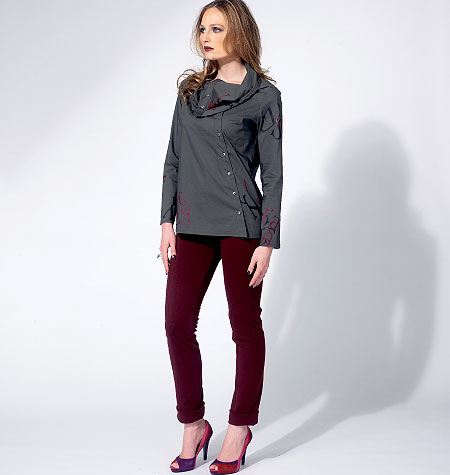 Vogue 8837 (above) is another great look for fall. The pants could be sewn from colored or printed denim, or the top can easily be embellished or color blocked with printed fabric.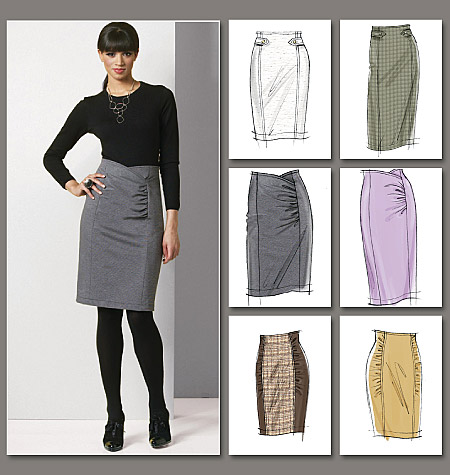 This is a great skirt to combine plaid or print with another fabric. The length is right on for the season, and don't forget your tights and shoe boots.
Just remember that no matter what the economy is in your neck of the woods, if you know how to sew, the creative possibilities are endless!
Next month, I will shed some light onto the leather and fur trends for the season.
Join me on Facebook, Twitter, and Pinterest, or sign up for sewing tips and class updates on my blog.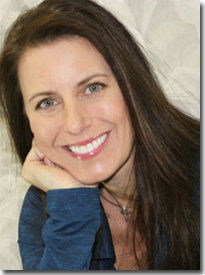 Cheers! Angela
Angela Wolf is the designer and founder behind ABO Apparel, Angela Wolf Ready-to-Wear and ABO Sport. An A-list clientele has given Angela more than fifteen years of experience dressing and fitting many diverse women and has enabled her to understand the different styles that compliment each individual woman.
Angela also has a new line of patterns. You can see them here.
See Angela's classes on PatternReview.

Join Angela on Facebook, Twitter, Pinterest, and her blog.
Missed Angela's previous columns? You can still read them!
Oversizing the Runways
Sheer Madness
Mixed Media
The Classic Skirts
The Top Fashion Trends for Fall/Winter 2012
Pantone's Color of the Year... Tangerine Tango!
Accessorize With the Scarf For Any Season
Fabrics for the Holiday Season
Faux Fur
A Few Fall 2011 Fashion Trends
The 70's
White, it's Everywhere... How to Wear It
How Will the Royal Wedding Affect Fashion?
A Touch of Glamour
The Love/Hate Relationship With the Popular Trends...Wide Leg Pant and the Skinny Jean!
Fashion Tips & Trends with Angela Wolf