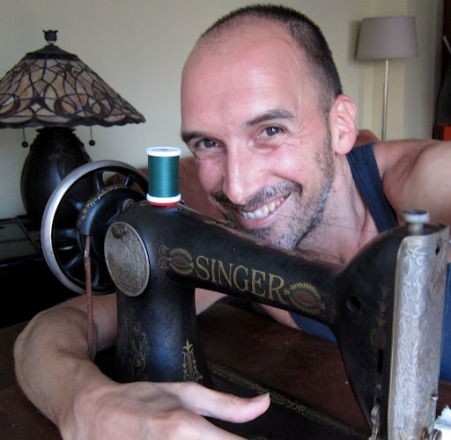 Your PR Name: Peter in NYC
Your Full Name: Peter Lappin
Member Since: 2009
Your Birthday: April 21
Your Blog: http://malepatternboldness.com/
How did you learn to sew?
I taught myself three and a half years ago, but I had a LOT of help from PR members. In 2009, I'd purchased a used Kenmore on eBay, with the sole intention of shortening pants and doing some minor alterations for myself. When I learned I could actually sew wearable clothes with it, I was hooked!
What aspect of sewing do you find most challenging?
I made a linen blazer for myself this last summer (which, I'm reminded, I still have to post on PR), and all the hand stitching was probably the most challenging aspect. I inserted the lining entirely by hand as the jacket had a back double vent and I couldn't figure out a good way to handle this with my machine -- not to mention that men's tailoring books generally have you perform this by hand.
Which sewing book do you refer to most often?
I use an old Singer Sewing Book from the Sixties quite a bit, along with my Reader's Digest Complete Guide to Sewing. But I own DOZENS of sewing books -- my latest is a PDF copy of Harriet Pepin's famous "Modern Pattern Design" from 1942, which I found for sale on Etsy. Fascinating! [Read Peter in NYC's book reviews.]
What are your sewing goals for this year?
I don't keep annual goals, but I was proud of myself for finishing that linen blazer. I'd started a blazer once before and abandoned the project because I felt overwhelmed. Generally, I just sew whatever I feel passionate about in the moment. No pressure.
What are you sewing right now?
Right now I'm busy sewing Halloween costumes for my partner, Michael, and myself. He's going to be Aladdin and I'm going to be a very glamorous Scheherazade (think Maria Montez in one of those campy 1940's Universal Technicolor adventure films). Great fun. [See Peter in NYC's review of Simplicity 4788 Men's Harem Pants.]
Pick your favorite pattern.
I sew almost entirely with vintage patterns. A favorite is Butterick 4712, a vintage men's shirt pattern from the early Seventies. It's my TNT pattern for shirts and I've used it at least two dozen times in the last three years.
How big is your fabric stash? What's in it?
My stash is not big because I live just a half mile from the Garment District in NYC, so I tend to buy fabric as I need it. I have about six large plastic storage boxes full of fabric, and that would include old sheets I use to makes muslins, unusual things I've found at my local flea market, fabric people have given me (readers of my blog, Male Pattern Boldness, have been very generous), and large pieces left over from completed projects. Of course, sometimes while shopping for a particular project, I'll find a fabric I can't resist (at a great price, usually, which is the reason I can't resist it), so I do have things waiting for the right project to come along.
What you love most about PatternReview?
Pattern Review was my one and only sewing resource when I started sewing, and I found members to be helpful, extremely knowledgeable, and supportive -- and I still do! I love the simplicity of the site -- it works well and I find it very easy to navigate. I especially enjoy the sewing machine reviews, as I am a big vintage sewing machine aficionado. I currently own about thirteen machines, but over the years I've bought and sold many, many more.
Any other hobbies?
I love to swim, I maintain a (near-daily) sewing blog, and am parent to two chihuahuas. I'm also an on-again/off-again actor.
Your profession, where do you live, etc.
I'm a former non-profit fundraiser, but currently I'm a very contented house husband. I live in Chelsea, in the heart of NYC.
What would PR members be surprised to know about you?
I'm actually something of an introvert.
Is there anything else that you'd like to tell us about yourself?
I'd like to encourage everyone to spread the joys of sewing to people they know -- especially the young (both girls and boys) who may not have been exposed to it in school. Sewing is such a creative, continually challenging, practical skill to know. It has enhanced my life in countless ways.