We're so excited about zippers! That's right…zippers!
Why? Have you seen the new fashion zippers from Coats & Clark? They're so trendy, and they've inspired us to sew embellishments like Deepika's rose in this video:
We're hoping these zippers and the video inspire you too (more about that later!).
We're offering a great new class, taught by designer Angela Wolf, on restyling with exposed zippers, perfect for using these new fashion zippers!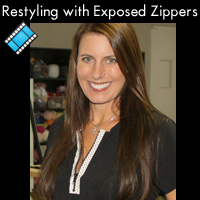 Called Restyling with Exposed Zippers, this video class will show you how to use the cute fashion zippers by Coats & Clark (did we mention it's their 200th Anniversary?). Learn 5 different cool techniques to breathe new life into your garments! And don't forget that you can view this video class as many times as you want, now and in the future!
Special Offer!
If you sign up for this video class now and use the coupon code COATS, you'll save a bunch off the regular price of $39! The sale price for this class is $29 for FoPRs, $32.24 for free members. This coupon code is only good through November 15, so sign up now!
GIVEAWAY!
Whew! So much excitement! And now for more fun…
Post a photo of your fashion zipper project on our Flickr account AND leave a comment on this post, and you'll be entered to win a bundle of Coats & Clark's new fashion zippers! AND FREE Video Class! And if we select your project, you'll be featured on our blog as well as Coats & Clark's website!
So, all you creative sewists, get those zipper projects going! Let's show everyone what PatternReview members can come up with!
***The deadline for this giveaway has been extended to November 30, so post and comment now!***
Sign up for Restyling with Exposed Zippers.
Post your fashion zipper photo on our Flickr account. Don't forget to leave a comment below!
Have questions? Post to this topic in the Contest forum on the Message Board.
Happy 200th Anniversary, Coats & Clark!