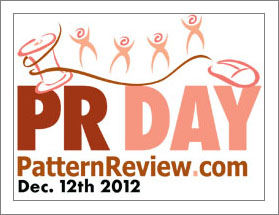 November is PatternReview's anniversary month – 11 years! Yay!
Come and help us celebrate at our combination Anniversary and Holiday Party!
(We'll have cake.
)
Date: December 12
Time: 6:30 – 8:30 PM
Place: The Silk Road, Auburndale, Massachusetts
Join us! RSVP here.
Can't make it to Massachusetts on December 12?
Have your own celebration with PatternReview members, wherever you are!
Let us know the details. We'll provide the cake!
Happy Anniversary to us!

Update: We're holding PatternReview Anniversary Parties all over on December 12!
These folks are holding celebrations at their locations:
Hope you can attend and join in the fun!
Twitter: #prday2012
Do you know of a sewing store in your area that would like to host a PatternReview Anniversary Party on December 12?
Contact us and let us know at [email protected]
Have a question about the 11th Anniversary Parties or want to talk more about them?