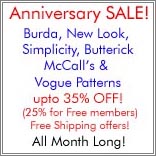 What will you sew and wear this season? How about these Vogue patterns?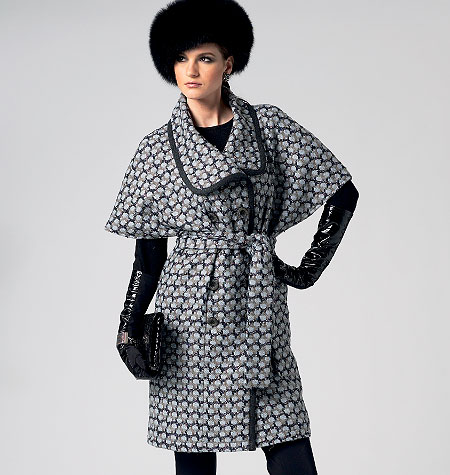 Vogue 8861 Misses' Jacket and Belt
Sizes: XSM-MED, LRG-XXL
It's a jacket. It's a dress. It's a jacket AND a dress. We're talking about Vogue 8861, a Very Easy Vogue Pattern that will give you that stylish look with 3 variations.
MISSES' JACKET AND BELT: Very loose-fitting, lined jacket has collar, side pockets, stitched hems, and button/snap closing. A,B: self belt. B,C: purchased trim.
FABRICS: Tweed, Flannel, Denim.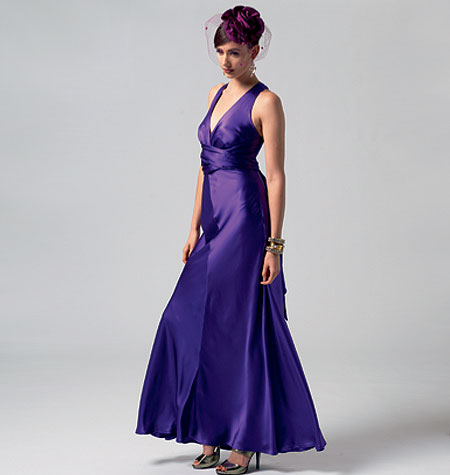 Sizes: 4-12, 12-20
It's party time! Or it soon will be… Prepare early with this sleek halter-style dress! Sew it in a shimmery charmeuse to catch everyone's eye. Or make a striking entrance with the attached shoulder sashes fluttering behind you. Don't forget to wear your fascinator. You are elegant!
MISSES' DRESS: Lined dress has shoulder straps, attached straps with sash, close-fitting bodice, raised waist, bias skirt, and invisible back zipper. C: front pleated bodice.
FABRICS: Charmeuse, Crepe de Chine, Chiffon. Lining: China Silk.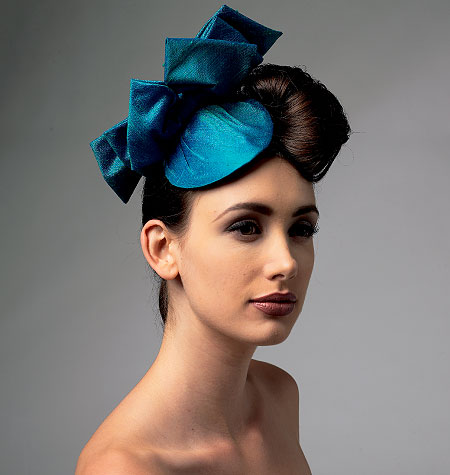 Sizes: All sizes in one envelope
Kate Middleton wears them. Why not try one yourself? We're talking about fascinators. This pattern gives you 5 different styles, but with a change of this or that, the combinations are endless. Wear one to your next holiday party!
Four Hats. A,B,C: Crinoline/Horse Hair Braid, Feathers and Trim. A,B: Metal Headband. C,D,E: Have Top and Hair Clips.
FABRICS: A,B: Felt. C,D,E: Silk and Satin. Sew-in Interfacing C,D,E: Craft Weight. Underlining: Stiff Net, Tulle Style Crinoline and Petticoat Net.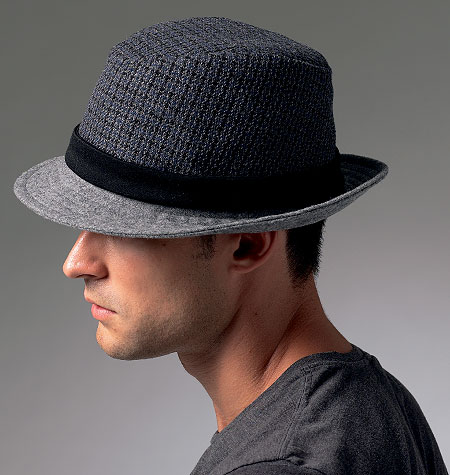 Sizes: All sizes in one envelope
Why should women have all the fun when it comes to hats? Vogue presents this pattern for 5 men's hats. Sew it for yourself, you men sewers out there. And lady sewers, these would make great holiday gifts for all the guys in the family!
MEN'S HATS: Five lined hats, each offered in size Small, Medium, Large and XLarge. Hat B has contrast side. Hat C,D has contrast band. Hat E has contrast brim and band.
FABRICS: Wool and Wool Blends, Tweed, Synthetic Leather, Ripstop, Synthetic Suede and Poplin. Lining: Lining Fabric and Cotton/Cotton Blends. Sew-In Interfacing 1 A,B, Sew-In Interfacing C,D,E: Hair Canvas. Interfacing 2 A,B: Buckram or Plastic Canvas.
Shop for more new Vogue Patterns now!
It's our 11th Anniversary!
All these great patterns and more are on sale for
35% off for FoPRs and
25% off for free members for the month of November.
Our shipping rates on patterns are the lowest around, and
we offer free shipping.
We also offer discounted shipping for international orders.
Happy Anniversary to us!