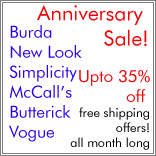 It's our 11th Anniversary this month!
To celebrate, we're having a sale for the month of November:
***Sale extended through December 31st!***
35% off for FoPRs and
25% off for free members
on all these great patterns:
Just a reminder that you'll save even more when you order from PatternReview…
Our shipping rates on patterns are the lowest around, and we offer free shipping.
We also offer discounted shipping for international orders.
Not a Friends of PatternReview member? Join now to get the best price in this sale!
Happy Anniversary to us all! Shop now and save!