Closet Smarts by Emily Neill is the focus of these Editorial Reviews.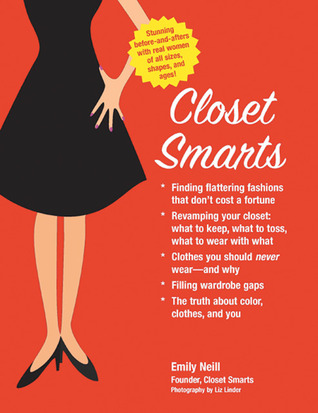 Editorial Review of Closet Smarts
By Noelle MacMahon
Closet Smarts, by Emily Neill, is our next book for Editorial Review.
This book focuses on strategies for choosing garments to flatter your figure no matter what that figure is. The author features several real-sized women as models and shows us a wide range of garments for each figure; garments that are not flattering, as well as those that are. In this way, we can see side-by-side how differences in things like cut, fabric, and seam lines can affect how the outfits look on each model.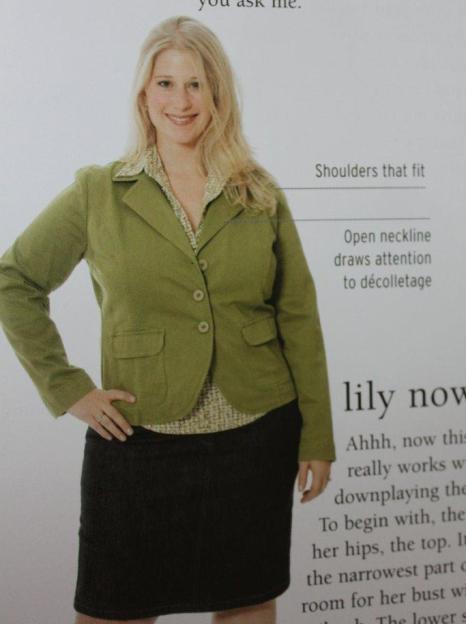 Emily organizes the book from the point of view of the clothing type, and part of the body, not by defining your body type. She is interested in examining the different properties of a variety of each clothing type in terms of how they work with different figures. Seeing how the same kind of garment looks on different body types illustrates how small changes make a big difference.
There are chapters for neckline, shoulders, arms, knits, and jackets as well as pants and skirts. The author focuses on the idea of creating a well-proportioned silhouette and gives us tips for achieving that goal. Applying these concepts to selecting patterns for sewing will be really helpful for those of us PR-ers who get distracted by a cool pattern…guilty as charged.
One of the points that Emily makes repeatedly throughout the book is to make sure the weight of the fabric is appropriate to either hiding or accentuating your figure. She mentions that stiffer fabrics tend to lie over lumpy bits, creating a smoother line, while fabrics with a bit of stretch are great for parts you would like to cling to or accentuate. Again, helpful for those of us who tend to fall in love with a certain fabric or design without regard to the actual property of the fabric…ditto previous guilty plea.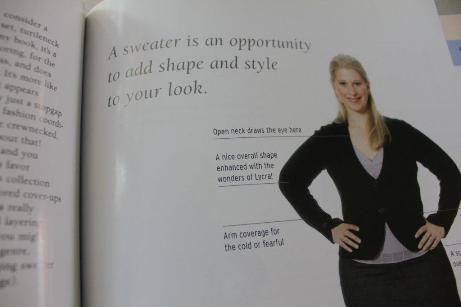 I enjoyed her very clear opinions about what looks well and what doesn't; sometimes I did not agree with her choices, but her writing style is engaging and enthusiastic so reading through the book is a fun endeavor.
She closes the book with a series of important tasks for the reader- which will hopefully result in a clearer picture of what is in the closet, what looks flattering on, and what items are missing. She certainly inspired me to make the effort to wear things which make me look and feel good every day.
Editorial Review of Closet Smarts
by Diane Severin

Every woman, except those that are super-confident about their clothing choices, should read Emily Neill's Closet Smarts...
...right after they invest in a full-length mirror.
According to the author's biography, "Emily Neill was working on her doctorate in theology at Harvard when she decided that helping people reshape their wardrobes (and improve their self-images) was a lot more fun." She now runs Clothing Smarts, a consulting company based in Boston. She's been featured in DailyCandy Boston and CBS News' The Women's View.
This book was an eye-opener for me. Seeing clothes and body types through someone else's eyes is an education. Instead of a vague "I don't like this on me" feeling when I look at a garment on me, I now have real rules to judge by.
This book showcases real women with real body types...not rail-thin fashion models. And I could identify with the clothing issues they had.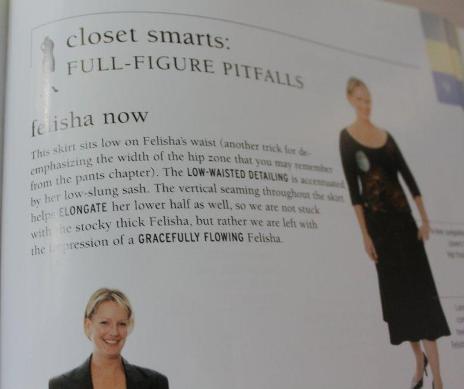 The first thing I did after reading this book was go through my closet and get rid of all the tops and sweaters whose shoulder seams dropped off the shoulder. I had no idea that they emphasized my round shoulders. One problem solved!
The very educational before and after pictures in this book identify a visual issue and solve it through a choice of different clothing. Heavy on top but narrower at the bottom...there's a solution! Large hips...there's a solution, and so on. Some solutions require balancing the silhouette. Others rely on distracting from one area to emphasize another, like the neckline.
The author does offer some blanket no-nos. Very few people look good in turtlenecks, so those are out. Tapered leg pants are out too, because "tapers do nothing for anyone but emphasize hips - disproportionately". Flared leg pants do a nice job of balancing a physique and slenderizing the leg, so those are perfect for many women. And pleats are a big no-no, because they emphasize "the undesirable pooch," says the author.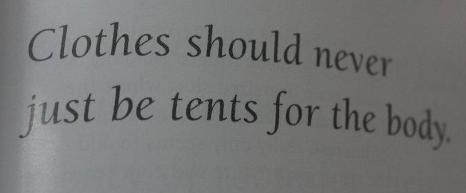 One great piece of advice that the author offers is "Clothes should never just be tents for the body," a choice many of us make when we try to hide the areas we view as problems. She recommends emphasizing our curves, no matter what our size and shape. It's a whole new world!
The before and after pictures of real people with realistic body types illustrate the points wonderfully and are very helpful. There are many of these pictures outlining the clothing dos and don'ts for 10 women of all body types (and brave women, may I add, because they also appear in their underwear, an act which I can't imagine duplicating).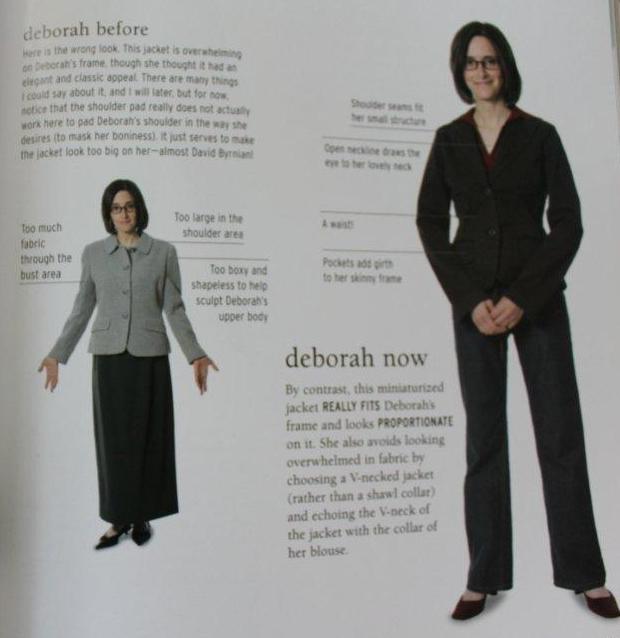 The book is 192 pages long, with glossy pages, clear photos, and lots of advice. The photos are annotated, outlining key points of the good and not-so-good clothing choices.
The book ends with a section called "Your Turn" and gives advice on how to get started on this process of going through your wardrobe. First, get out the full length mirror. Next, sort your clothes by type and color. Then try on what you have. Try out new combinations of clothes (a friend would help here). Neill's advice is "Stop mourning the loss of your twenty-something figure and start making the most of the one you have."
Finally, unleash your inner glamour puss. As Neill says, "You have absolutely nothing to lose. Believe it. Do it. Be her, the one everyone always says looks so put-together and intentional about her look. She's waiting for you in your closet!"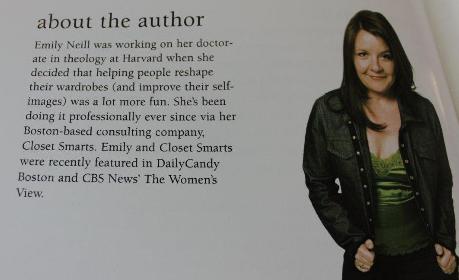 Order Closet Smarts: Flatter Your Figure with the Clothes You Already Have by Emily Neill.
Do you want to win a copy of Closet Smarts? Tell us below about a garment that you owned that you realized looked so awful on you that you tossed it! We'll enter your name in a random drawing. We'll announce the winner on November 19, so post your story before then.