The entries in the Costume Contest were really inspired!

There were superhero costumes, medieval, Renaissance and 18th C. costumes, Dorothy costumes from the Wizard of Oz, men's costumes, babies' costumes, pirates, Effie Trinket, Little Bo Peep and her very tall sheep, and lions and tigers and bears, oh, my! Oh, and we can't forget the doggy costumes (aarf, aarf!).

So many great garments! Everyone looks happy as can be to model their costume finery.

There were 87 participants in this contest. They made 140 items and used 320.89 yards in the process. That's a lot of sewing!
You voted for your favorites. As always, we're sure it was so hard to choose... We do have two winners, though. Let's meet them.
First Prize (by Member Vote): j Renee Design for Simplicity 2172 Misses Steampunk Costume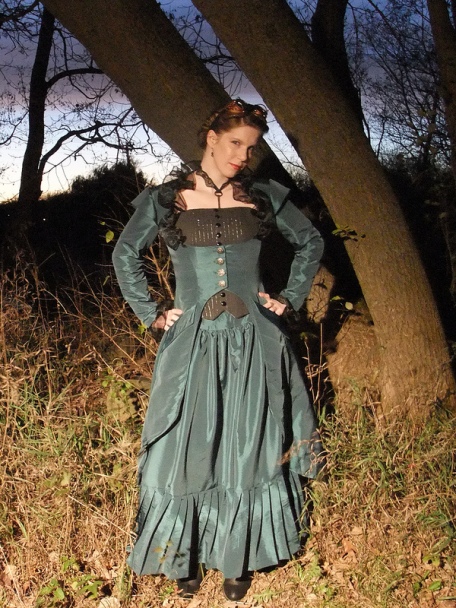 j Renee Design sewed up this Simplicity 2172 steampunk outfit for the Costume Contest. The costume included a Victorian era-inspired coat, skirt and bustier.
She read reviews of Simplicity 2172 by other PR members before she started cutting or sewing and realized that she needed to make some changes to the pattern. Taking their advice, she added to the neckline for more coverage, took 3 inches off the skirt and 3 inches off the jacket.
She found that she really had to study the pattern directions to make sure she was following them correctly. She says that she almost rated this pattern "Difficult, but great for advanced sewers", but realized that sewing it was "more a test of endurance than anything else."
One reason she found this pattern a challenge was the pleating: 200 plus pleats and 9 yards of fabric!
Speaking of fabric, for this project, she used a cotton/poly twill with a cotton duck canvas lining for the bustier, a poly taffeta for the skirt and coat, and cotton broadcloth lining for the jacket.
Would she make it again? No, she wouldn't, because it's too unique to have more than one of. But she would recommend it "if you've got the time, the gumption, and the spirit" and calls it an "awesome steampunk costume".
Congratulations, j Renee Design!
Second Prize ((by Member Vote): LM2HYD for No Pattern Used: 0000 Porcupine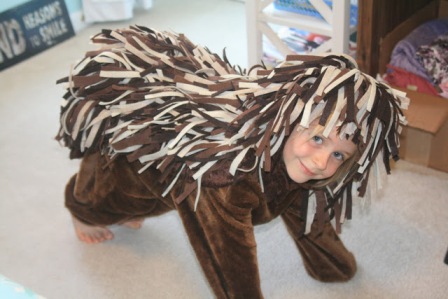 Congratulations, LM2HYD!
And congratulations to all our contestants!
We thank Schmetz Needles for sponsoring this contest.

We thank PR member Sharonspils for managing this contest.
Congratulate the winners and chat with other members about the Costume Contest.
Look at all the Costume Contest entries.
Never entered a PatternReview contest before? It's easy! Our contest tutorial will show you how to enter.
Check out the current contests.
Going on now: