We love recycling! We feel like good environmental citizens when we do it and thrifty too!
The contestants in this contest were all of the above. And they made so many wonderful things! And they re-used 69 yards of material doing it!
The "original" item or items had to be changed substantially to create a new garment. For example, a tablecloth could become a dress, and a dress could become a dress, but the new item had to be distinctly different from the original (you couldn't just embellish it). At least half of the new item had to be made from reconstructed or recycled items (notions and interfacing didn't count). See more rules.
As you can imagine, there were lots of self-drafted and no pattern used entries here, including that of our First Prize Winner.
As usual, we bet it was hard to choose winners, but you did, and here they are…
First Prize (by Member Vote): lbrundage for No Pattern Used: Mixed Media Jacket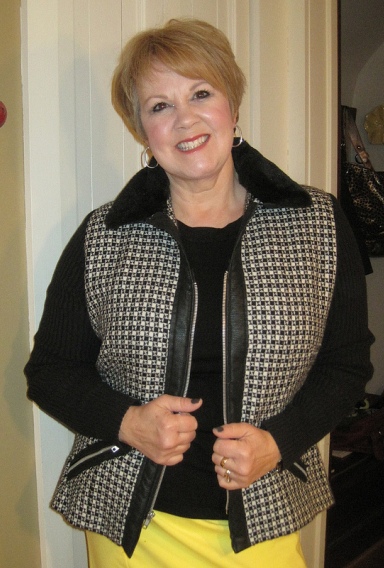 lbrundage sewed up this Mixed Media Jacket because she loves "upcycling, re-designing, making something wonderful from something cast-off." To make this beauty, she found a size 12 Ann Taylor jacket, a fur collar and a ribbed knit sweater at the thrift store and added about a half yard of purchased faux leather.
She put her seam ripper to good use and deconstructed the jacket. She serged inserts of faux leather in the sides, the center back and the front centers, added sleeves from the ribbed turtleneck and topped the piece off with the fur collar.
The result? A jacket she is crazy about that cost her about $20.
Congratulations, lbrundage!
Second Prize (by Member Vote): sunnysewer for Simplicity: 2152 Misses Skirt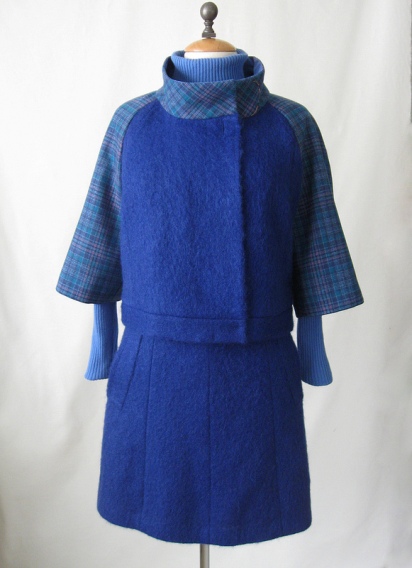 Congratulations, sunnysewer!
And congratulations to all our contestants!
We thank Threads for sponsoring this contest.

We thank PR member Courtney Ostaff for managing this contest.
Congratulate the winners and chat with other members about the Refashion Contest.
Look at all the Refashion Contest entries.
Never entered a PatternReview contest before? It's easy! Our contest tutorial will show you how to enter.
Check out the current contests.
Going on now: