Sewing educator, pattern designer, and entrepreneur, Janet Pray is the multi-talented owner of Islander Sewing Systems. We chatted with Janet to get a behind-the-scenes peek at what's in the works.
How did your sewing journey begin?
"At age 5 when I watched my grandmother make a doll dress to my specifications. I remember thinking it was like magic."
You've been in the sewing business for many years. In that time, how has the sewing world evolved?
"Wow, a lot. When I was in Jr High all girls took home economics and learned a little about sewing. I was in high school in the 60's and made all my clothes. I had a few friends who sewed but not many. There were several quality fabric stores to shop at in town. When I started my first sewing business in the 80's even less people were sewing fashion but quilting had become the sewing craft of choice. Quilt shops popped up all over the country selling only quilting fabrics and supplies. In the early 90's when I started my sewing expo, sewers were so hungry for products and education we were nearly shut down by the Fire Marshall for all the people who showed up. Right around the turn of the century 2000, fashion sewing started to make a resurgence. Young women who had never had any opportunity to learn to sew were now interested. With the internet options they began to learn and share their experiences as well as inspire each other to move forward. Long gone are the days of teaching sewing is a systematic fashion, i.e. first you make an apron, then an A-line skirt and progress from there as the teacher determined each project."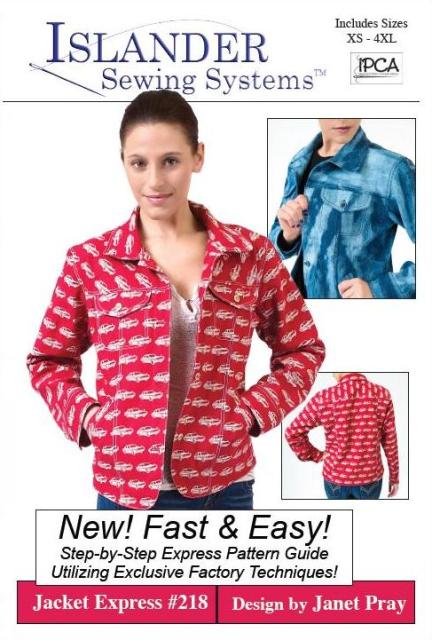 What's the most rewarding part of being a sewing educator?
"When a student's face lights up with excitement at what I have just shown them. When online students write me explaining how happy they are to now know how to sew efficiently, faster and with better results. I really feel I have added value to their life as it pertains to sewing! That's a fabulous feeling!!"
Pioneered by Margaret Islander, Islander Sewing Systems teaches industry methods for the home sewer. In a nutshell, could you describe this for us?
"Garment factory workers turn out excellent garments every day and they never use a pin. When Margaret, a home sewer at the time, saw the factory techniques she knew she would one day take the information to home sewers. I am proud to continue her work by teaching sewers techniques that take them to a whole new experience of sewing faster and better with superior results compared to basic home sewing taught by most professional sewing teachers still today."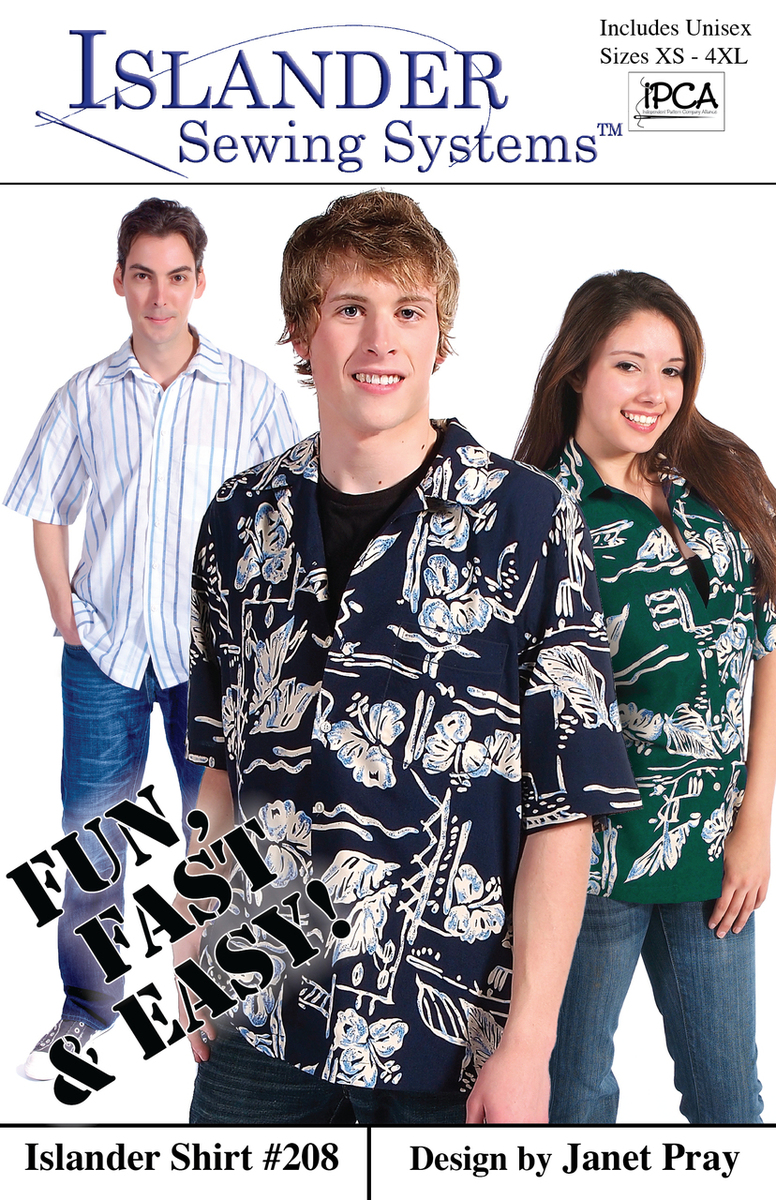 What are your favorite fabrics to work with?
"I am partial to natural fibers, often referred to as 'green' or 'sustainable'. Silk, wool and linen for most of my sewing and fine shirting cottons for shirts of course."
You are the founder of the American Sewing Expo, the largest independent sewing expo in the country. For those interested in attending, what can we expect for 2015?
"One full day of all day hands-on workshops and 3 days of sewing classes, vendors, contests, make & take, demonstration stages and fabulous fashion shows including McCall's, Vogue, Butterick and Simplicity. Often the pattern companies bring celebrity pattern designers to the expo. Celebrity teachers like Kenneth King are often on our schedule. We produce multiple contests and several are entered before the expo and then on exhibit. Contests are all listed on the ASE website."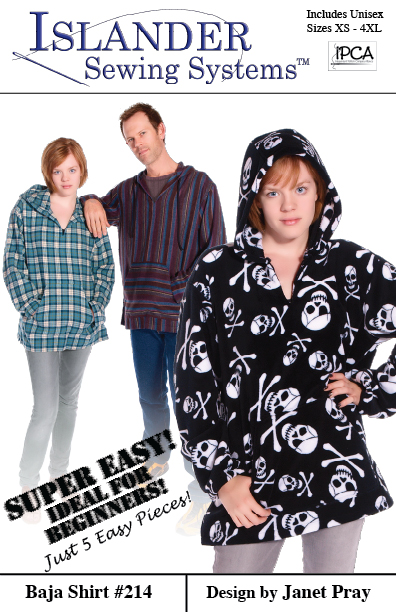 Over the years, what have been the accomplishments you are most proud of?
"Being one of the only successful independent sewing expo producers. The only company to teach industrial sewing techniques to home sewers that makes sewing even more fun. I always say, if you like to sew, after you learn Islander Sewing Systems, you will LOVE to sew!"
Do you have any upcoming patterns or projects in the works that you can share with us?
"My newest pattern is the MotorCity Express, inspired by the motor cycle jacket. It can be a blazer or a sports jacket or an evening jacket. The pattern guides I produce now are small booklets that are easy to read and manage. Every step is illustrated and any pattern designated 'express' is designed for the most efficient approach to sewing. The project goes faster and easier with directions that give you the most amount of sewing steps possible before going to the iron and then the most amount of pressing steps before returning to the sewing machine. Again this makes sewing faster and more fun! This pattern is available in tissue or as a download and will be launched as a Craftsy class late in January."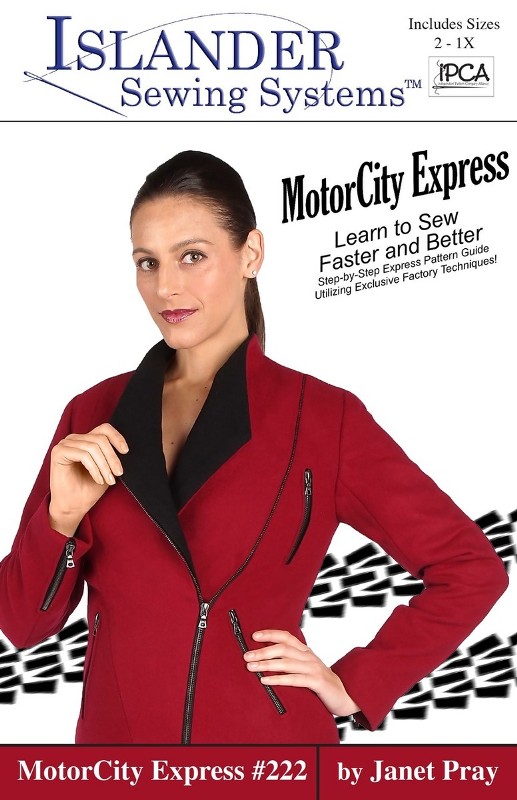 "I have a free pdf titled Sewing Myth Busters. As home sewers ask questions concerning the dos and don'ts of sewing that they were taught by other home sewers, I have felt compelled to debunk those that are myths. Currently I have 8 and there are more to come. The PDF is free and I will continue to add as more home sewing myths are uncovered."
When you have a spare moment from sewing, what other hobbies do you enjoy?
"Music and travel are my secondary hobbies, but sewing is my LOVE!"
Any final thoughts you'd like to share with the PatternReview community?

"As a teenager I was told that a sewing business would never pay off. I have now owned 3 successful sewing businesses. Pursue what you love and the rest will works itself out for the better!"
Thanks for chatting with us, Janet!
Browse the Islander Sewing Systems collection on PR.
Giveaway!
As a special surprise, we're giving away a copy of Islander Sewing Systems' new MotorCity Express pattern to one lucky PR member!
For a chance to win, simply leave a comment below and you will be entered into our random drawing.
Giveaway ends Midnight EST on Sunday, December 28th.
Happy holidays, everyone!