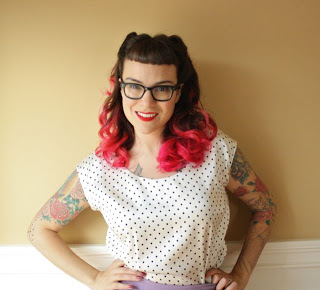 Gretchen Hirsch is a New York-based sewing enthusiast, sewing teacher and a PatternReview member (ghirsch) with a love of all things retro. She recently published her first book, Gertie's New Book for Better Sewing, and Butterick has released two of her patterns, Butterick 5814 and Butterick 5824, both of a style that is pure Gertie.
She writes a popular blog, Gertie's New Blog for Better Sewing, one that began when she documented her journey through stitching all 14 fashions from the iconic 1950s sewing book Vogue's New Book for Better Sewing.
NoelleMac interviewed Gertie for this article.

What influences do you think have led you down the "vintage" path?
Definitely my early pop culture influences! I was always really attracted to hyper-feminine fashion as a kid—I thought Ann Reinking in Annie was the very definition of glamour in her skirt suits, hats, and slips. Later on, I loved the faux-50s fashion in Dirty Dancing. Remember that scene where Baby is wearing a bra and crinoline and putting on her stockings? That was the best.
As an adult, I wanted to wear vintage but was put off by the process of scouring shops for the right size and style. Hence my love of sewing my own vintage was born!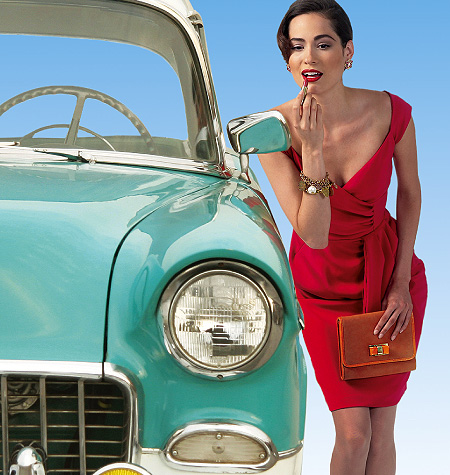 What is your favorite fiber to work with?
I just sorted through all my fabrics, and I have way more cotton than any other fiber, so that must be my favorite! I love how vintage styles used cotton floral prints in both casual and more formal designs. I especially love collecting cotton rose prints.
What is the one vintage sewing method you would recommend learning above all else?
There's nothing more satisfying that making a perfect bound buttonhole, so that would have to be it. It takes a while to find the right method for you, though. Every sewist is different in that respect, I've found. The bound buttonhole technique that one sewist thinks is the best and easiest can be a nightmare for someone else.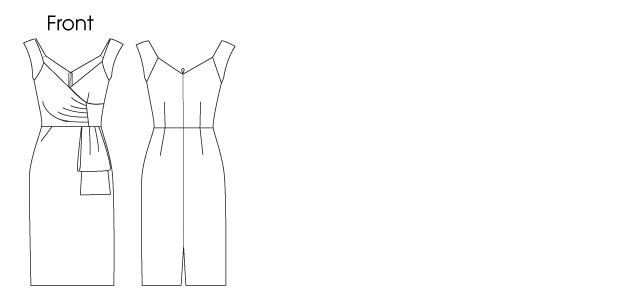 What current designers or trends are you enjoying?
I'm loving seeing peplums everywhere!
Any new patterns on the horizon?
Yes! I have an ongoing relationship with Butterick, and my next two patterns are coming out in the spring. One will be casual separates, and the other is a 50s style party dress that I'm super excited about because it includes a design detail that can be hard to find.
How did you select these 25 patterns to be included in your book?
The original inspiration was Vogue's New Book for Better Sewing because the garments in it form a complete wardrobe. From there, I thought about what the modern seamstress looks for in a pattern, and added some other designs like the sundress, the wiggle dress (very Mad Men), and the coat dress.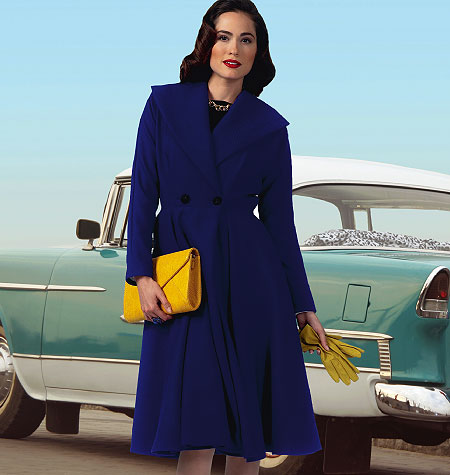 Do you have any idea how many vintage garments you have made at this point?
A lot! But I'd say my output is pretty much on par with any other passionate sewist. I try to really take my time with each garment so I can be proud of the results.
If you could travel in time to one of the vintage eras you love, where would you go and what would you do there? (and what would you be wearing???)
No question! I would go to 1947 to work inside Christian Dior's couture house as he was developing the New Look. I'd want to see inside all the dresses and suits and inspect the structure and foundation garments. I'd be a lowly stitcher and snoop on all the master tailors and seamstresses!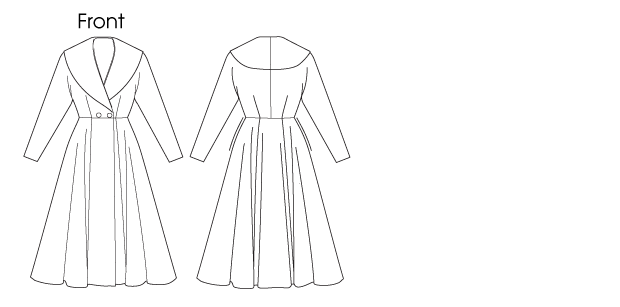 What advice would you give to someone who is hesitant to wear a vintage outfit?
Mix up vintage with some of your regular wardrobe items. Maybe start with a retro skirt and heels with a blouse you're already comfortable in. That's a good way to ease into the look without feeling like you're wearing a costume.
What would your first project be to teach someone who has never sewn before?
A pencil skirt is a great first garment project. They're relatively easy to fit and so flattering! Plus you can really make it your own by using a fabulous brightly-hued wool.
If there is one place you could travel to get inspired where would it be?
I'd love to visit the V&A in London. They do the coolest fashion exhibits!
Buy Gertie's Butterick 5814. On sale!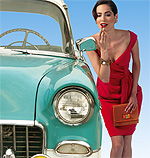 Buy Gertie's Butterick 5824. On sale!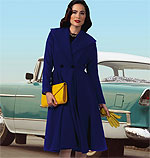 Read all the reviews on PatternReview by ghirsch.