You cannot help but see the touches of leather and fur popping up in the most unusual ways. What was once considered a specialty fabric reserved for specific garments can now be found in everyday fashion. From jeans to shorts, jackets to dresses, you can definitely think outside the box when coming up with a design.
And don't be afraid of sewing with leather or fur. Both are easier to work with than you might think. Here are some design element ideas:
Leather with gathering at the waist
Laser-cut leather
Leather combined with knit (can really add comfort to a garment).
Vibrantly colored leather and fur
Combining leather and lace
The best part of leather is that the ends do not fray. Talk about a fast outfit…no hemming and no finishing the edges! In fact, scalloped edges are a trendy way to finish the hems. You can create this look by using a rotary cutter and decorative blade (usually found in the scrapbooking section in a craft store). There are many thicknesses of leather and suede, a feature that is good to keep in mind when you choose a fabric with a particular design. Drape the fabric over your hand; this is how the fabric will drape on your body.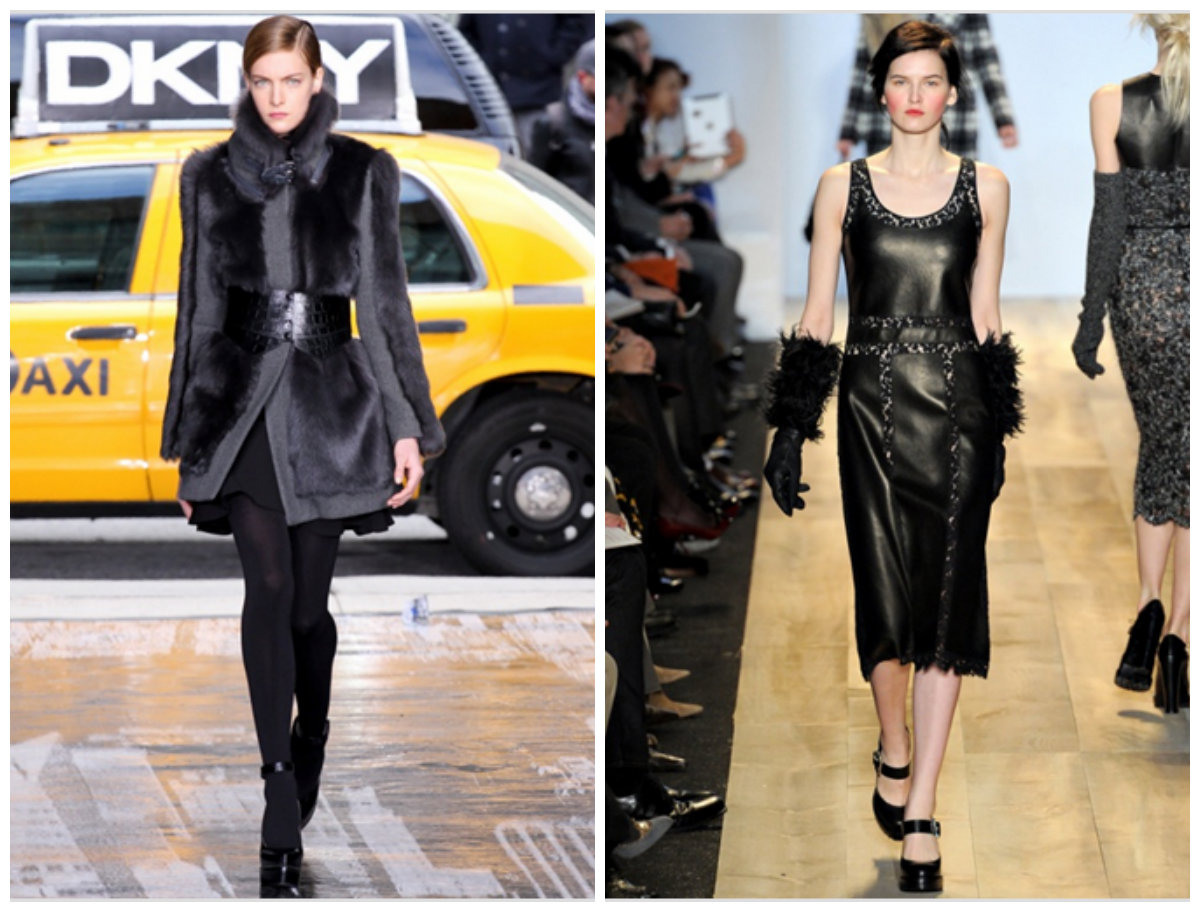 Speaking of suede, I just came across faux suede for $9.99 a yard at Vogue Fabrics, and there are a ton of colors. Of course, authentic leather is going to cost you quite a bit more. I found this great place in NY called Leather, Suede, Skins, Inc. They have everything! I must confess the leather I bought back in 2009 still sits beautifully on my shelf because I can't seem to make up my mind what to sew. Please tell me I am not the only one that has this problem.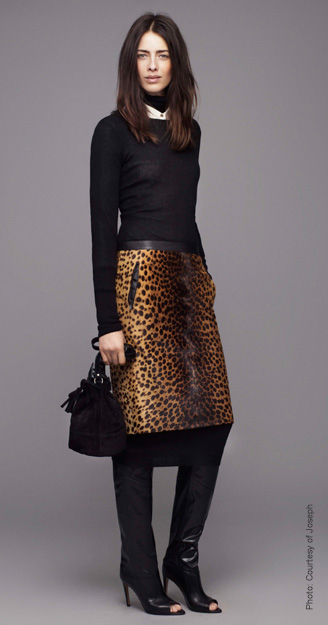 Joseph. Photo from Style.com
Then we move into the animal prints. I love the Joseph faux fur skirt shown above, very sleek with the black accents. That particular skirt is just a simple design, meaning it could be adapted to any basic skirt pattern. Keep the color-blocking theory in the back of your mind, as that is a really great way to add a specialty fabric to any garment.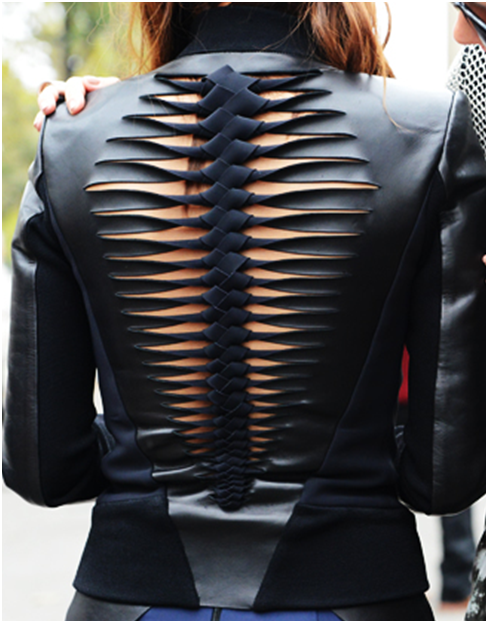 Pattern Ideas…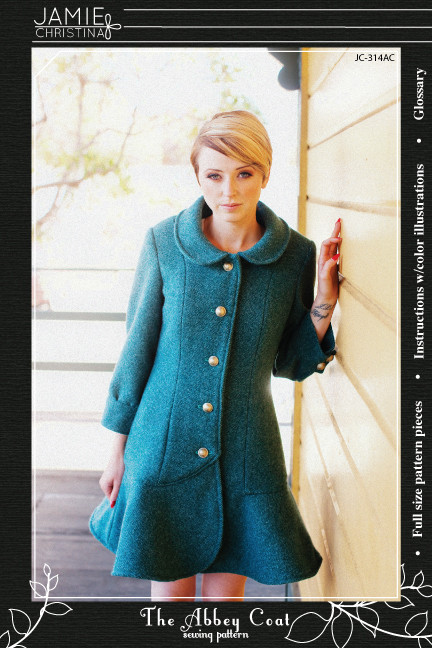 The Abbey Coat by Jamie Christina. Another great jacket for this season!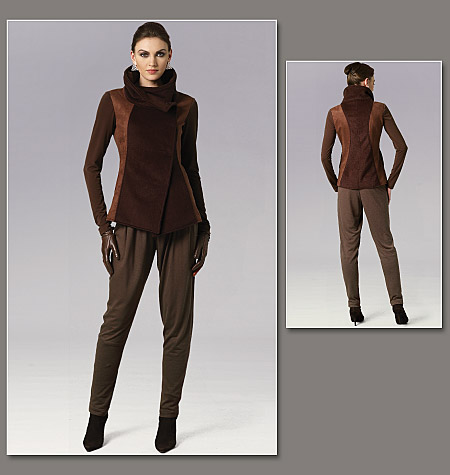 Vogue 8757. This style of jacket is popular right now and a great opportunity to combine different fabric textures, including some fur.
Well, I hope that gives you some fun ideas for your next outfit. And for those of you in the warmer climates, leather is not just for winter anymore… I spotted some cute leather shorts on the Spring 2013 runway!
The Fashion and Trends column will be adding a new feature in 2013: "Ask Angela".
Lately, I have been receiving so many emails with questions regarding sewing, fashion, and pattern ideas. Some of the questions are fantastic, and I thought it would be fun to share them with others. So, I am adding a question/answer section to each column. I will handpick a few of the best questions each month to include here. Leave a comment below with your question.
Next month: Pantone announces Emerald as the color of 2013.
Join me on Facebook, Twitter, and Pinterest, or sign up for sewing tips and class updates on my blog.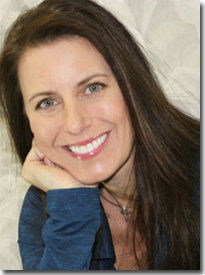 Cheers! Angela
Angela Wolf is the designer and founder behind ABO Apparel, Angela Wolf Ready-to-Wear and ABO Sport. An A-list clientele has given Angela more than fifteen years of experience dressing and fitting many diverse women and has enabled her to understand the different styles that compliment each individual woman.
Angela also has a new line of patterns. You can see them here.
See Angela's classes on PatternReview.
Join Angela on Facebook, Twitter, Pinterest, and her blog.
Missed Angela's previous columns? You can still read them!
Prints on the Fall 2012 Runways
Oversizing the Runways
Sheer Madness
Mixed Media
The Classic Skirts
The Top Fashion Trends for Fall/Winter 2012
Pantone's Color of the Year... Tangerine Tango!
Accessorize With the Scarf For Any Season
Fabrics for the Holiday Season
Faux Fur
A Few Fall 2011 Fashion Trends
The 70's
White, it's Everywhere... How to Wear It
How Will the Royal Wedding Affect Fashion?
A Touch of Glamour
The Love/Hate Relationship With the Popular Trends...Wide Leg Pant and the Skinny Jean!
Fashion Tips & Trends with Angela Wolf