"One is never over-dressed or underdressed with a Little Black Dress."
Karl Lagerfeld
How It Started
The Little Black Dress...it all started in 1926 when Vogue published Coco Chanel's sketch of the must-have garment that would revolutionize women's wardrobes.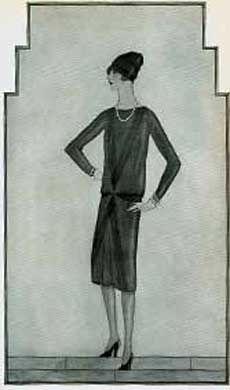 Coco Chanel's Little Black Dress, 1926
Up to that point, black was worn only for mourning (according to protocol, 2 years or more). The large number of widows wearing black in public came as a result of World War I and the Spanish influenza epidemic, making black dresses for women more common. Chanel herself began wearing black after her lover died in 1919. After the Great Depression, women became more frugal, and multi-purpose black dresses championed by Chanel became popular. The best recognized and most admired little black dress is the black Givenchy cocktail dress Audrey Hepburn wore in the film "Breakfast at Tiffany's".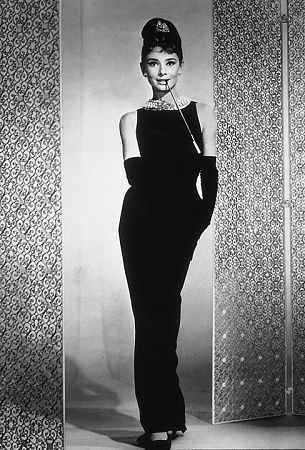 Audrey Hepburn in Givenchy
Today, clothing is less expensive, and not many of us have only one dress to carry us through our lives. But, we appreciate what a little black dress, suitable for every occasion from christenings to funerals, can give us: the perfect thing to wear.
PatternReview members value what a good little black dress means, and there has been a lot of discussion about making the perfect little black dress.
What Style to Choose
The type of little black dress you choose depends on several things. One is your age. The dress you want to wear in your 20s is not necessarily the dress you want to wear in your 50s. For one thing, your 20s dress will probably be shorter. And both dresses will reflect the types of events that you'll be going to. Of course, with the wealth of patterns out there and assuming that you will still be the same size at 50 that you are at 20 (it could happen!), you can choose a pattern for an LBD that will last your lifetime.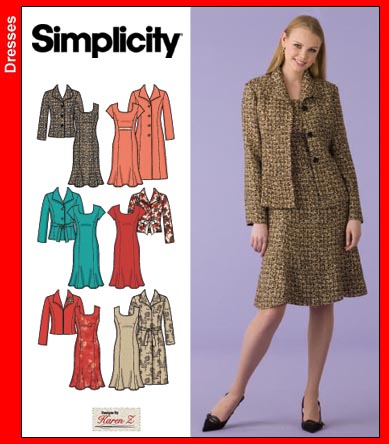 Simplicity 4014 for your little black dress?
Members recommended patterns like Simplicity 2917, Burda 7137 and Burda 7327. Simplicity 4014 is also a possibility and comes with several jacket styles to maximize your wearing options.
What Fabric to Choose
You'll also need to pick the right fabric for ultimate wearability. Do you want a formal look, a flat look, a shiny look? Naturally, the events you plan to attend will influence your choices.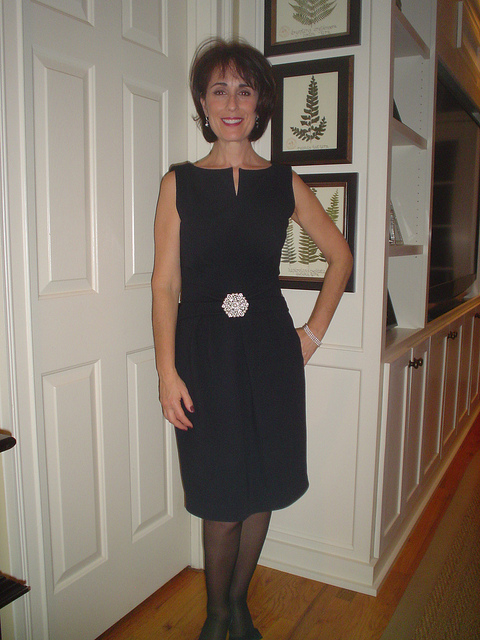 Jstarr4250 chose a black wool ponte knit for New Look 6067
You'll also need to pick the right fabric for ultimate wearability. Do you want a formal look, a flat look, a shiny look? Naturally, the events you plan to attend will influence your choices.
andye did some research and learned that these fabrics are suitable: Wool Crêpe, Silk Jersey, Silk Crêpe, Silk Dupioni, Silk Charmeuse.
Elona seconded the Wool Crêpe. She says, "This fabric has the advantage of being packable and non-wrinkly (unlike linen and dupioni), matte (no accentuation of curves, depending on your wishes), and supple without being sloppy. It is simply a grownup, dressed-up fabric that suits pretty much all occasions."
Carlo likes black eyelet with a black silk cotton lining and says it makes, "a great three season dress for the humid southeast U.S. It's comfortable and dressy, but not overly formal and not shiny."
chelsy21 purchased cotton twill with lycra double cloth to make her LBD.
Inspiration
To see little black dresses, look no further than the galleries of the Little Black Dress Contests that PatternReview holds every year. Not only can you see photos of the dresses, but you can read members' reviews that detail what it took to create them. You can see the gallery for the most recent LBD contest here.
Read what members had to say about Little Black Dresses.
Read about the recent Little Black Dress Contest.
Read what PR members posted on Facebook about the Little Black Dress.