We have new Simplicities!
This collection emphasizes dresses with a sprinkling of tops, skirts and pants. There are also a number of patterns for kids, including doll patterns and oh-so-cute baby shoes.
Fashion celebrities are represented too! Project Runway alum Suede weighs in with a pattern for grown misses as well as one for little misses. And Leanne Marshall features a sophisticated yet flirty dress, skirt and top combo and a full skirted number with a V-neck surplice blouse. Let's not forget Cynthia Rowley's dress with the sweetheart neckline.
And Simplicity gives a nod to vintage sewers with a 1940s blouse pattern.
It's too bad that Christmas is over and football season is almost over, because Simplicity has a pattern for accessories for the tailgating man in your life. There's always Father's Day, right?
Here are a few patterns that caught our attention, thanks to Noelle Mac!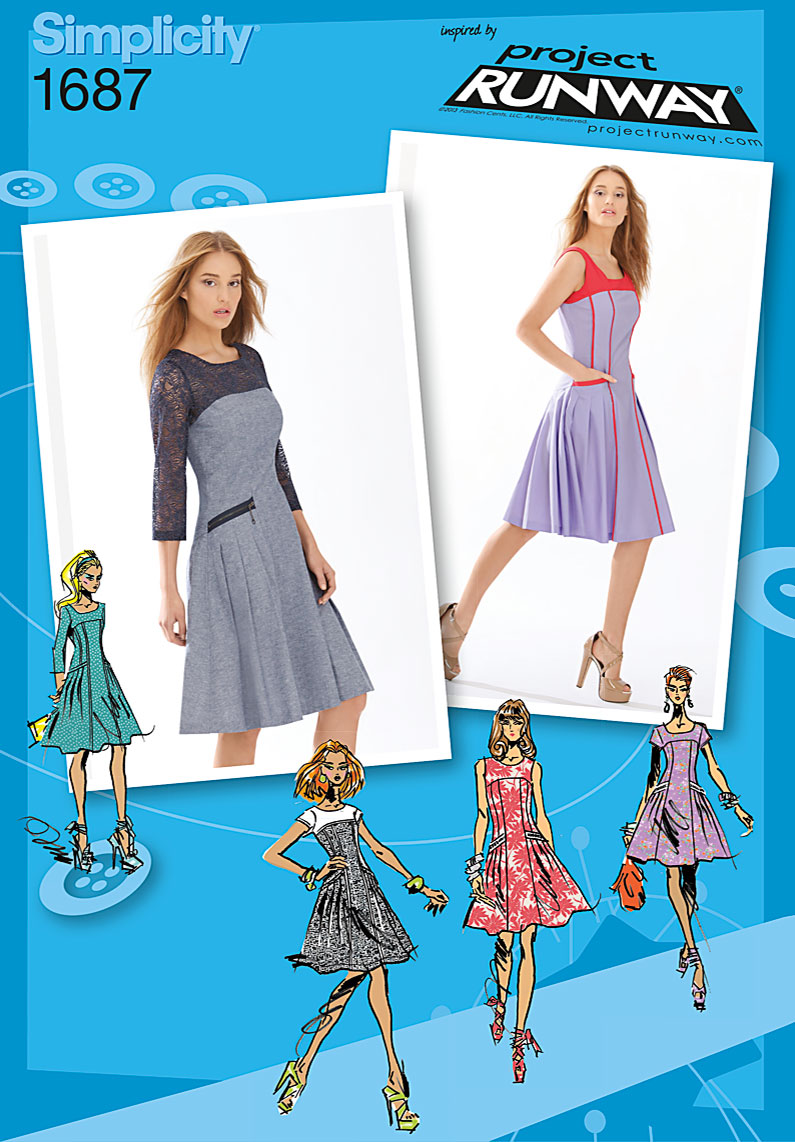 Simplicity 1687 Misses' & Miss Petite Dress
Project Runway Collection
Sizes: 4-12, 12-20
Love the skirt, love the yoke, love the zipped pockets, love the princess seams.
Misses' and Miss Petite dress with seamed bodice and pleated, flared skirt. Design elements include upper bodice with neckline and back variations and long or cap sleeves. Great for day or evening. Croquis Kit included lets you be your own designer.
Suggested Fabrics: Cotton and Cotton Blends, Laundered Cottons, Batiks, Chambray, Pique, Poplin, Sateen, Laundered Silks-Rayons, Silk Linen, Voile, Brocade, Satin, Shantung, Taffeta, Linen and Linen Blends, Upper Bodice A or B and Sleeves also in Lace.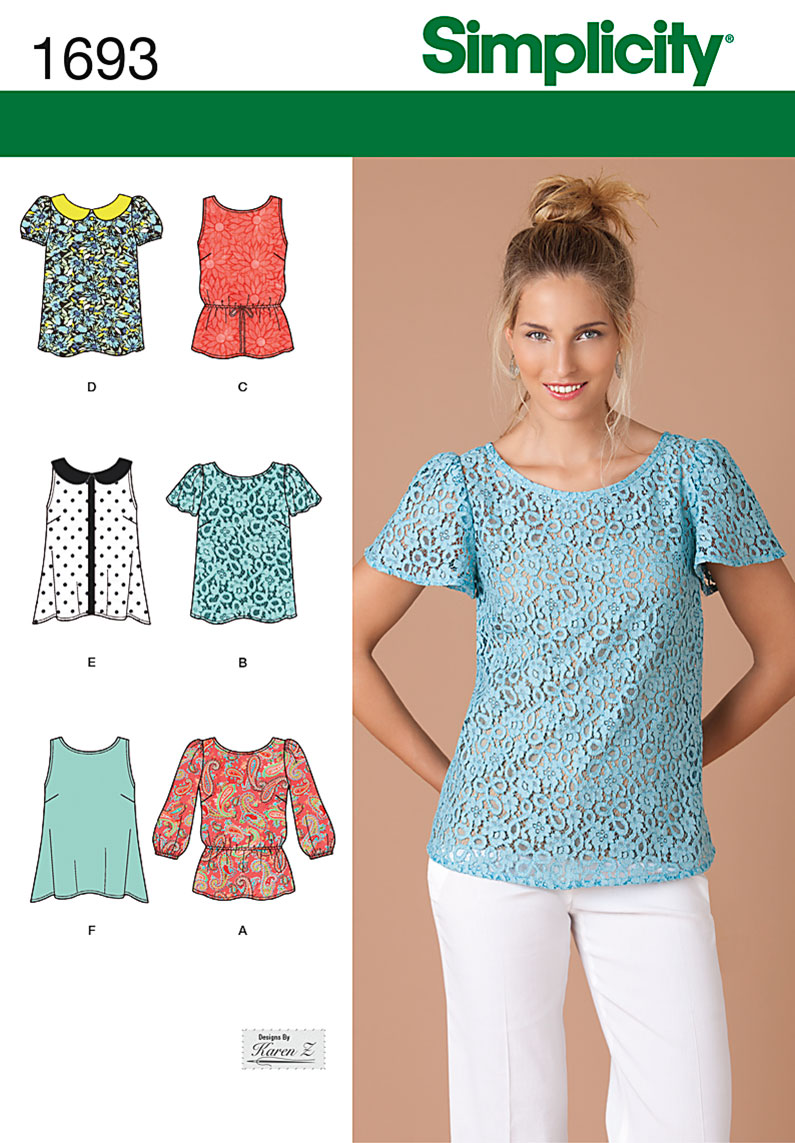 Sizes: 4-12, 12-20
Buy this pattern, and you'll add six different tops to your wardrobe! We love the featured lace version with the flutter sleeves.
Misses' pullover tops have round necklines with or without collar, back button and loop closure and can be made sleeveless or with long, short or flutter sleeves. A, C elastic waist forming a blouson; E, F have an easy swing shape.
Suggested Fabrics: Laundered Cottons, Charmeuse, Challis, Crepe De Chine, Jacquards, Laundered Silks-Rayons, Gauze, Voile, Double Georgette, Novelty Sheer Fabrics, Handerchief Linen. B also in Lace.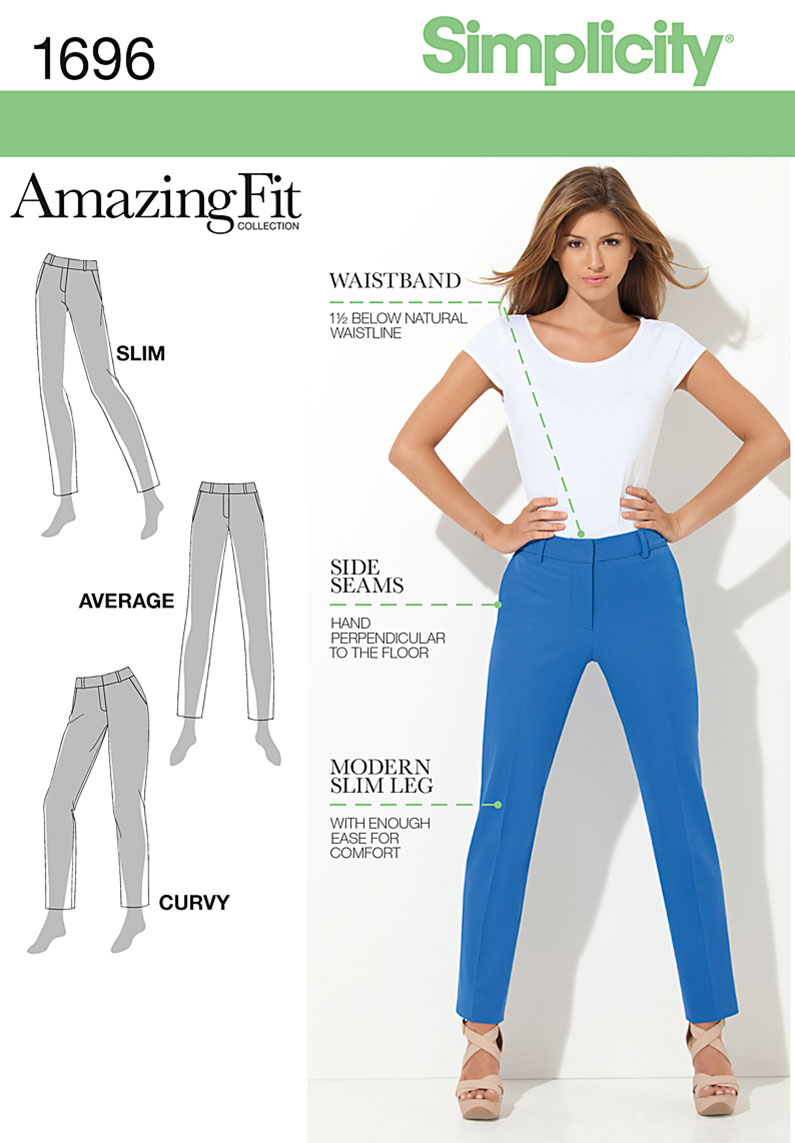 Simplicity 1696 Misses' & Miss Petite Pants
Amazing Fit Collection.
Sizes: 8-16, 14-22
These slender leg pants are another installment in the Amazing Fit Collection, which lets you custom tailor your pattern to your body. Adjust these pants to slim, average or curvy fit, whatever suits you!
(Check out the other Amazing Fit pattern in this collection, the Simplicity 1686 Dress.)
Misses' & Miss Petite pants slim pants have fly front, contoured waist band and front slash pockets. Individual pattern pieces included for slim, average and curvy fit.
Suggested Fabrics: Laundered Cottons, Batiks, broadcloth, Calico, Chambray, Lightweight Denim, Corduroy, Damask, Pique, Poplin, Seersucker, Sateen, Twill, Stretch Woven Fabrics.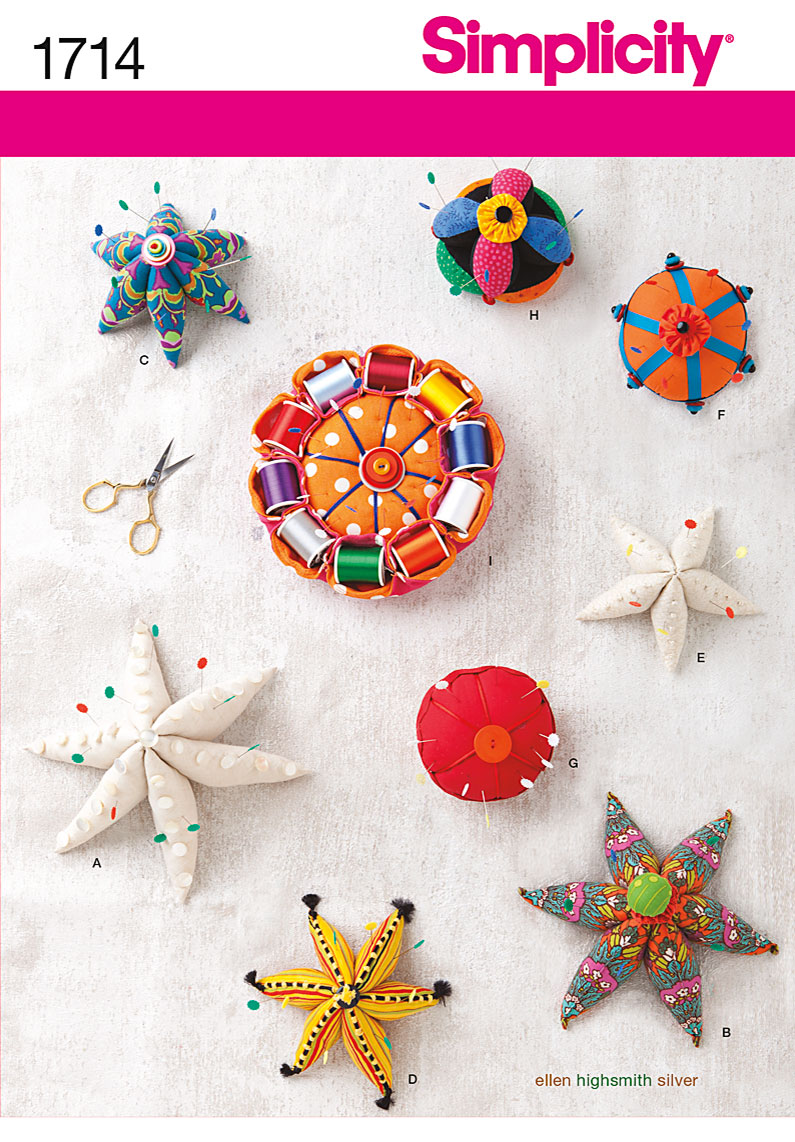 Size: One size
We couldn't resist this one, and we know you won't either. What PatternReview member could? These folksy and fancy pincushions of yesteryear are the perfect accent to your sewing space (and practical too!).
Vintage Reminiscence. Pin cushion collection, including classic combo with thread holder and six point star, inspired by one from the Civil War.
Suggested Fabrics: Cotton and Cotton Blends, Broadcloth, Calico, Chambray, Lightweight Denim, Twill, Gingham, Poplin, Sateen.
See ALL the new Simplicity patterns on sale through December 31st!