As you know, Brother donated an embroidery machine, the Brother PE500, a $299.99 value, to PatternReview for us to raffle off to a PatternReview member.
Well, we have a randomly chosen winner: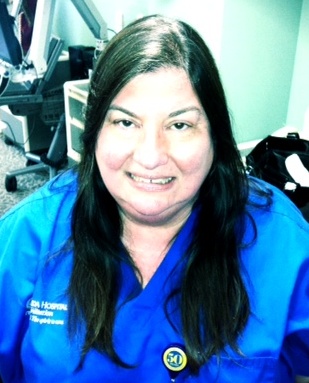 (known to family and friends as Karen Famularo).
She says, "Oh, my gosh!!! I can't believe it!!! I am just on a sewing high right now!!!"
Congratulations, kfams1!
kfams1 wrote the following for her entry:
"My first sewing machine that I owned was a 158 green Kenmore that was straight-stitch and zig-zag only. A friend bought it from a garage sale and gave it to me because I was using her old White. I had learned on a black Singer and a Singer Junior. Then my mother got a Touch & Sew but I wasn't really fond of it.
"I was so excited to have a heavy sewing machine. It didn't even have a case. I sewed constantly on it night and day for my babies' bedrooms and for all my Christmas presents in my extended family. Sadly, the bobbin winder snapped off, even though it was made of metal. I thought I couldn't sew with it 'cause how could I wind the bobbin?
"I ended up buying a new Simplicity and throwing my Kenmore away. The Simplicity was never the sewing machine the Kenmore was. Of course, now I have a 1050 Kenmore and an 1803. I always wanted more than a zig-zag stitch and was jealous of someone that had a cam. I highly recommend any old mechanical Kenmore.
"In my quest to buy an embroidery machine, I bought the 1803 to use the fancy stitches and monogramming. If I owned the Brother, I couldn't imagine a fancy stitch bigger than my cam stitches. It would be amazing. And to monogram a whole name without stopping and measuring would be great.
"I would use it to make presents, especially the Disney designs. I would also monogram leg loops, bed loops, walker/wheelchair bags for patients that are on my stroke unit. I actually get to sew at work for the patients to increase their mobility in bed and to assist with transferring to wheelchair. I have been eyeballing this machine since I saw it at Walmart.
"Thanks for the chance to win this sewing machine."
Karen, it sounds like the Brother PE500 will keep you very busy! We hope you'll write reviews for what you make and post pictures too!
Thanks to everyone for sharing your stories with us! Read them all, if you can. They're very inspiring!
And thank you, Brother, for giving us this great machine to raffle off!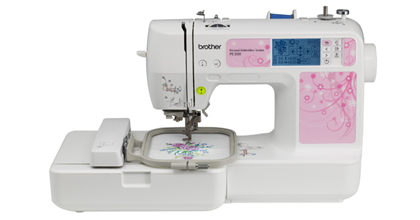 Learn more about the PE500 Embroidery Machine.
Go to the Brother website and click on Videos to see the PE500 in action and learn about the projects you can make!