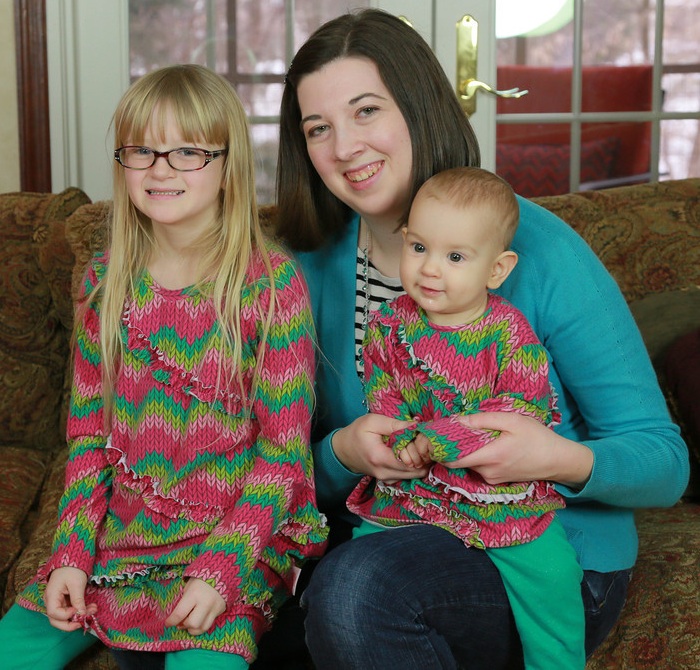 CaraSkates and cousins wearing Knit Dress and Leggings and Kwik Sew 3607
Your PR Name: CaraSkates
Your Full Name: Cara Scudner
Member Since: 2005
Your Birthday: November 4th
Your Facebook Page: http://www.facebook.com/caraannedesigns
Your Website: http://www.caraannedesigns.com
How did you learn to sew? What's your sewing/design background?
My mother taught me to sew as a preteen. I started off making doll clothes and costumes and progressed to clothing. I sewed a lot for my younger sister and cousins and still do sew for my littlest cousins and goddaughter. I love children's clothing! I love to teach myself new sewing skills - mostly by coming up with an idea and then doing research to figure out how to make it happens! I also "make it up" as I go. It works out for me 99% of the time!
I graduated in 2012 from Moore College of Art & Design in Philadelphia, PA with a BFA in fashion design and a minor in graphic design. I focused on childrenswear for my senior collection and was privileged to win both the Janneman Best Construction Award and the Charming Shoppes Best in Show Award.
You have a sewing business. What do you sew?
My business is called Cara Anne Designs and focuses on figure skating apparel. I make custom skating dresses for skaters of all ages and levels and just recently started doing boys/men's apparel and a practice wear line. I also do ice show costuming. My focus is skating apparel but I have also made gymnastics leotards and "super suits", compression garments for kids with sensory disorders.
How did you decide to go into a sewing business?
I started figure skating at age 14 and a few years later, in 2006, started making my own dresses. My first attempts were pretty awful - sewing with spandex is hard at first! I expanded to making dresses for friends and started getting compliments on them. I made dresses part time all through college and then started doing this full time in May. I couldn't be happier - this is my dream job.
What are the some of the challenging aspects of a sewing business?
For me, it's doing it all...right now, I do the design work and the production. In the future I hope to get my practicewear line manufactured, but I plan to continue doing the custom outfits. It's also challenging when I get a great idea for a project - but I have to finish my work with deadlines before I can create something new! I wouldn't have it any other way though - it's definitely hard work but it's so worth it to me.
What do you like about sewing custom figure skating apparel?
I love coming up with the design for each outfit and then making it come to life. Figure skating is a performance sport; my clients are portraying a character or personality in each program and I love being a part of that.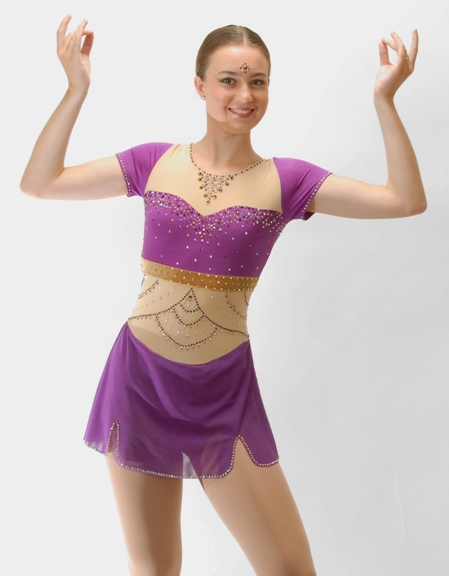 What's it like to see your custom figure skating apparel worn in performances?
Seeing my work at competitions and performances is one of the greatest feelings. It just ties the whole project together - the music, the costume, the skating, I love all of it!
How has the Sewing as a Business forum on PatternReview helped you?
I've only been a member for a few months but I got a lot of great ideas from reading the archives - there are so many talented members running businesses and everyone is so willing to share ideas! I hope I can help contribute also!
What advice would you give to someone who is considering sewing as a business?
Make sure it's something you truly love. I know that I would get tired of sewing all day if I wasn't creating something that I love. I enjoy sewing many things - but the only one I love enough to do as a profession is skating apparel!
What aspect of sewing do you find most challenging?
Hand sewing! I just don't have the patience for it...I usually try to find a machine-sewn way to achieve what I want and if not, I suck it up and put on a good movie while I sew.
Which sewing book do you refer to most often?
I own many sewing books but I find myself reaching for The Complete Book of Sewing by DK Publishing time and time again. It's great for when you need a reminder of a construction method or are trying something new. I also have several patternmaking books that I refer to frequently.
What are your sewing goals for this year?
In 2013, I'd like to further develop my practicewear line - maybe add coordinating jackets and introduce a few off the rack dresses. I'd also like to make time to sew for myself! I have all these great plans for my own apparel that get pushed aside because of other things I'm working on!
What are you sewing right now?
Right now I am sewing things for the PA Figure Skating Championships in February. This is the first "big" competition of the year, and many skaters get new outfits to start off the season. I am sewing up practice wear for my booth there and also working on custom outfits for five skaters. Lots of fun apparel, so make sure to check out my Facebook page to see them at the competition!
Pick your favorite pattern (only one please).
Ooh, that's a tough one...I most recently made this Ottobre jacket from the 04-2008 issue and I'm in love with the details! I want to make one for all the little girls in my life!
How big is your business fabric stash? Your personal pattern stash? What's in them?
I have a stash problem...I love fabric! My stash of spandex and other skating fabrics is huge...I have about 10 bins (think big plastic storage containers) of spandex - sorted by color of course! I was actually gifted most of it - a wonderful woman (my skating coach's mother actually!) used to make skating dresses as a business. She is no longer able to and had held on to her collection of fabric, trims, a sewing machine and dress form for years, waiting for the right person to give it to. In 2010, she gifted me with this great treasure. It was truly the best gift I could have ever received. I think of her every time I sew!
My personal stash is a little smaller...but not much! I worked at a fabric store in high school and spent most of my paycheck buying fabric! I love knits, so I have a lot of cotton/lycra prints and solid colors. Plus anything else I found that "needed to come home with me"!
What you love most about PatternReview?
I love reading other member's reviews - it inspires me! Also the message boards - there is so much sewing knowledge on this site!
Any hobbies?
Figure skating of course.
I skate 4-5 days a week and coach learn-to-skate twice a week. I also enjoy recreational running, ballet and I love a good book - or five!
Your profession, where do you live, etc.
I live in Central PA - grew up here, headed off to Philly for college, and came back.
I love living in a small town - but I also love to visit Philly!
What would PR members be surprised to know about you?
I'm really into social media right now - I use Facebook, Pinterest and Instagram every day and I've just started a Twitter account. Take a look if you want to follow my sewing creations!
Is there anything else that you'd like to tell us about yourself?
My dogs are my faithful sewing companions - they are sure that I need their help to sew. Somedays, I spend more time yelling at them for eating my scraps than sewing!
Thank you, CaraSkates!