Social Media
-----------------
Twitter: @patternreview #prwknd
Facebook: https://www.facebook.com/events/544895068868756/
Flickr: http://www.flickr.com/groups/prw2013/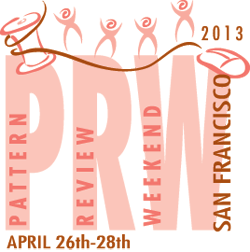 Where: San Francisco, CA
When: Apr 26-28, 2013
Fee: $125




Already registered? Grab a badge for your blog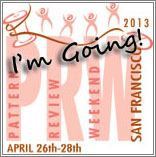 PR Weekend is a weekend get-away held to bring the PatternReview members closer, support local sewing-related businesses and share our love of sewing.

As always, this PR Weekend promises to be a fun-filled time with lots of activities, fabulous shopping, great food and plenty of time spent with fellow sewists, talking and learning and feeding on each other's creativity.

Read on to find out what has been planned for you!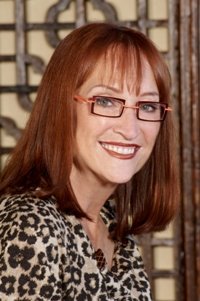 The highlight of this year's event is a whole day seminar with Sandra Betzina!

Our guest speaker event (Friday, Apr 26th) will be held at The Marine's Memorial Club.

Sleeping rooms have been also been reserved at The Marine's Club. Refer to your registration e-mail for more information on how to book your room.
Breakfast and lunch for the PR Weekend are on your own.

The PR Weekend registration fee is $125 (non-refundable) and includes:


Dinner at a local restaurant on Friday night
Conference Room Rental
Full-day seminar with Sandra Betzina with refreshments
Prizes and Souvenir
PR Weekend Program Guide Booklet

Sounds like fun, doesn't it?

Spots are limited, so register now!





When we've filled the spots, we WILL close the registration. So make sure you register sooner rather than later.

Program

Thursday, April 25th 7PM and Friday, April 26th AM

Registration and packet pick up at the Marine's Club.

Friday, April 26th - Seminar with Sandra Betzina
8:00 - 9:00 Registration and Apron Photo Shoot
9:00 – 9:30 Opening and Introduction by Deepika
9:30 – 12:30– Spend the Day with Sandra Bezina
Morning Session
Sandra will begin the morning showing a new approach to fitting, how to identify crucial fitting areas on several patterns in relation to fitting issues on your body. Next you will see pattern adjustments on a large screen for: dart manipulation to eliminate a dart, reposition, or make larger or smaller, narrow shoulders, broad back, muscular arms, how to enlarge pants for the tummy and high hip without affecting the style or size of the leg, neckline changes and so much more. Sandra will choose a few bodies as examples of problems discussed and host a question and answer portion as well.
12:30 – 2:00 Break for Lunch
12:30 – 2:00
-Pattern swap
-Apron contest voting
-examine clothes from Sandra's closet
-try on pants and jackets in different in different sizes from the Today's Fit sizing blocs so that you will know what size/sizes you need and alterations to make without making a pretest
-purchase Power Sewing books/DVDs and Sandra's favorite notions
2:00 – 5:00 Spend the Day with Sandra Betzina
Afternoon Session
The afternoon session will be composed of a trunk show, techniques for stretch free neck and armhole bindings, tips for working with stretch mesh, how and why to line pull on pants plus more. Toward the end of the session, Sandra will host a question and answer session.
5:00 – 5:15 Apron show and tell
5:15 – 6:00 Break for drinks, apron voting, dress up for dinner
6:30 onward – Dinner at Buca Di Beppo. With fun raffles and apron contest winner.
Saturday, April 27th Shopping in the Bay Area with local PR Weekend Volunteers
Starts 9 AM

Questions about PR Weekend? Join the discussion.

Registration for the weekend is $125 (no refunds). Register early!

PR Weekend Discussion on the Forums
Show your PR Love Apron Challenge
Submit your Bio for the Attendee Booklet Your PR Cards